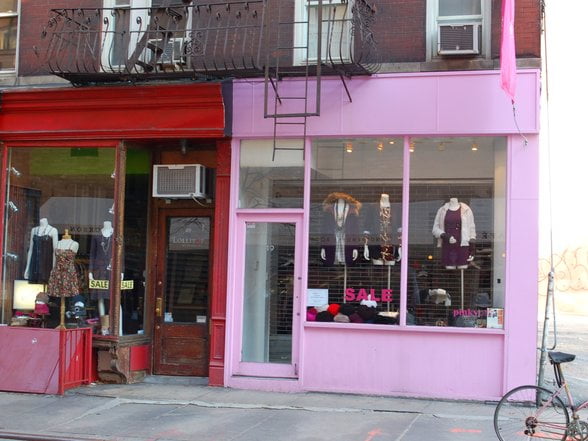 Infomation
Nolita, short for "North of Little Italy," is a small, downtown nabe that blends relatively seamlessly into neighboring SoHo and the Lower East Side. The nabe is most well known for its designer boutique shopping. While not as touristy and hectic as SoHo, Nolita is still a busy neighborhood full of visitors shopping. The nabe is quite convenient with many trains offering access to the rest of the city.
Top Votes – Score out of 100
Charming 98%
Shopping 96%
Dining 94%
Nightlife 84%
Public Transportation 83%
Lowest – Score out of 100
Families 46%
Quiet 46%
Parking 21%
Green space 21%
Income 15%
Top Reviews from Travel Rentals Neighborhoods
Great Neighborhood

I really loved living here- It is in a great location downtown and close to SOHO,NOHO, the Village, the East Village, and the Bowery. But what is really great about Nolita is the unique blend of cute, trendy shops and hip people combined with a real community feeling. I lived on Elizabeth Street and knew some of the older residents who had been there since back when it was part of Little Italy. They instilled a sense of what the city used to be like decades ago when local neighborhood personalities hung out on their stoops and socialized. The juxtaposition of these old-timers with the uber-cool fashionistas against the backdrop of the small cafes and shop-filled streets provides a broad sample of New York's historical and cultural richness all in one wonderful, little package. Oh, and if that isn't enough, they just got a Whole Foods within walking distance on Bowery 🙂

Gabriel B.
Nolita, "North of "https://nabewise.com/nyc/little-italy">Little Italy," is a small neighborhood sandwiched between SoHo, Chinatown, the Lower East Side andLittle Italy. It's not as well-known as its neighbors but it has just as much to offer in the way of restaurants and bars. But lately it has become a hidden hub for some of the city's top-tier, off-the-radar dining options. Rent is pretty high considering the amount of room apartments have to offer, which is not a lot. The area is ideal for people who want to be close to SoHo and the East Village but not necessarily pay those prices. Those in their late 20s and early 30s will feel most at home. Young families are also a nice fit.Beverly W.
Meh. I think of this as the space between SoHo and the Village. Pretty pricey around here, but nice to live if you're off of the Broadway area. Lots of tiny apartments, near Whole Foods.bbb
Real Boutique Shopping

This nabe has made a name for itself because of its boutique stores and great little restaurants and businesses. The housing is mostly low rise; the streets are mostly tight, but that's how this nabe is. It avoids a lot of the hustle and bustle you may find in other places like wall st. and Harlem, but it still captures something uniquely New York – the power of the individual.

Richard H.
The Treasure of Downtown New York

Not many people know where Nolita is exactly- the borders are East of Broadway, South of Houston, West of Bowery, and North of Broome… Where lies, in my opinion, the most unique neighborhood in Manhattan. My favorite restaurant is Cafe Gitane on Mott Street near the corner of Prince- the sidewalk cafe has the best daytime people-watching and tastiest mix of flavors to ever quench your appetite. In the winter, Nolita has the coziest streets in NY…with indie designer boutiques, eclectic restaurants, bookstores & cafes, not to mention the new Crosby hotel, etc. Nolita is a place where you see a couple walking hand in hand, and it defines the atmosphere- you can feel the romance.

Dana Power
beautiful neighborhood

Beautiful neighborhood with a character

alisa o.
Cutest little neighborhood

Everyone knows about Soho and all its big designer and clothing chain stores. But Nolita is just a few blocks over and it's soooo much cuter and still for some reason, the tourists don't really know about it. I've heard that Soho started off the way Nolita is today.

Nolita is a lot of up and coming designer boutiques, some actually quite established like, Tory Burch, but smaller shops than what you'll find in Soho and on cute little streets. The shopping is still super expensive, but the neighborhood has so much charm and the shopping experience is less stressful and feels more personal. Plus, this is where the serious fashionistas come. You'll see lots of models, europeans and trust-fund kids here. Super trendy, so there's a fabulousness you can participate in. It's a small neighborhood -only a few blocks or so. There are also some cute cafes and restaurants, so it's easy to take a break for a snack.

A very romantic, girly and fabulous neighborhood to spend an afternoon exploring. -you'll feel like you are in a movie.

Shout out to Prince St Cafe which has a semi-secret room in the back with free wifi. Fantastic place to do casual meetings or hang out. And shout out to Veka, a gorgeous bridal boutique where I found my wedding dress (after much searching).

bbb