Most Beautiful Indiana Waterfalls
by nabewise

Nobody thinks of waterfalls and Indiana together but the Hoosier State has a surprising number of waterfalls considering its flat landscape and a couple of these falls are true beauty's.
Indiana is generally thought of as a flat Midwestern state and is not known for its waterfalls but the state does contain a few pretty and somewhat high waterfalls and some of its state parks come alive with waterfalls after rain.
Big Clifty Falls
Big Clifty Falls drops some 60 feet along Clifty Creek in Clifty Falls State Park in southern Indiana just outside of Madison right over the border with Kentucky along the Ohio River.To reach the park just follow signs from Madison you cannot miss it. The best view of Big Clifty Falls is from the overlook.
Cataract Falls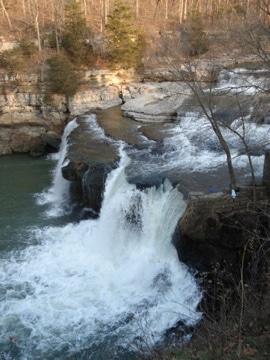 Cataract Falls is the largest volume waterfalls in Indiana. It is located along Mill Creek in Cataract Falls State Park southwest of Indianapolis. To reach the falls from I-70 take the Cloverdale exit Routes 43 and 231 south for roughly 7 miles and turn left onto Cataract Falls Road. There are actually two falls here. The upper falls drops some 30 feet and the lower falls about 15 feet.
Tunnel Falls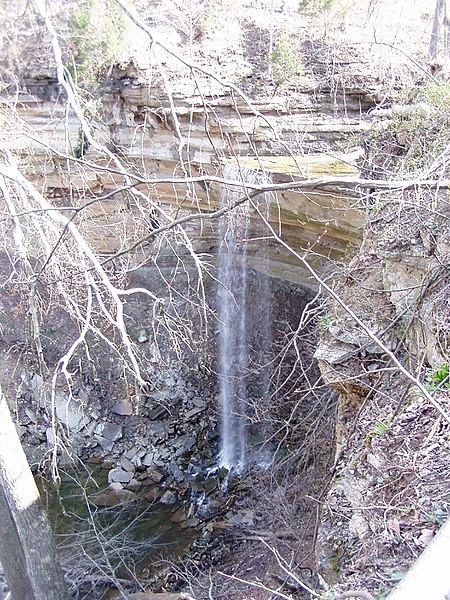 Tunnel Falls drops some 83 feet along Deans Branch in Clifty Falls State Park in Madison, Indiana. The falls is named for a nearby 600 foot long railroad tunnel that was abandoned before being completed.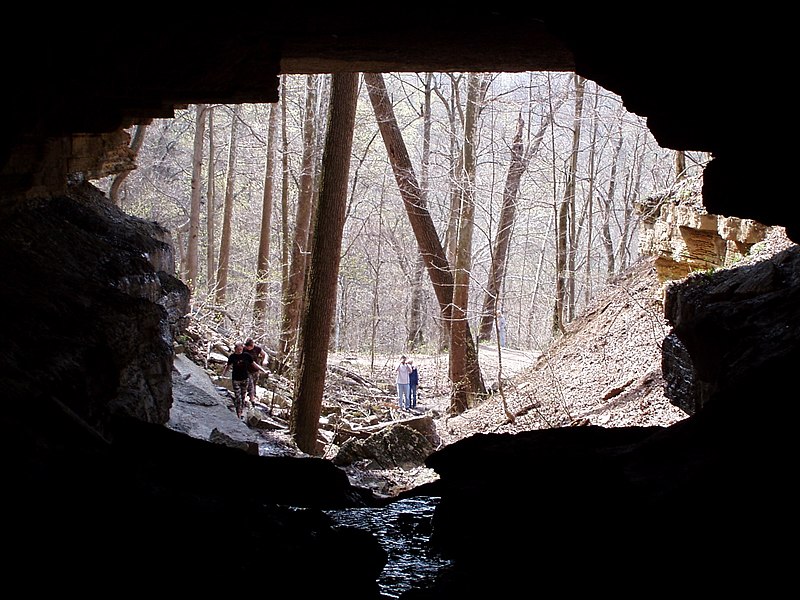 McCormick's Creek Falls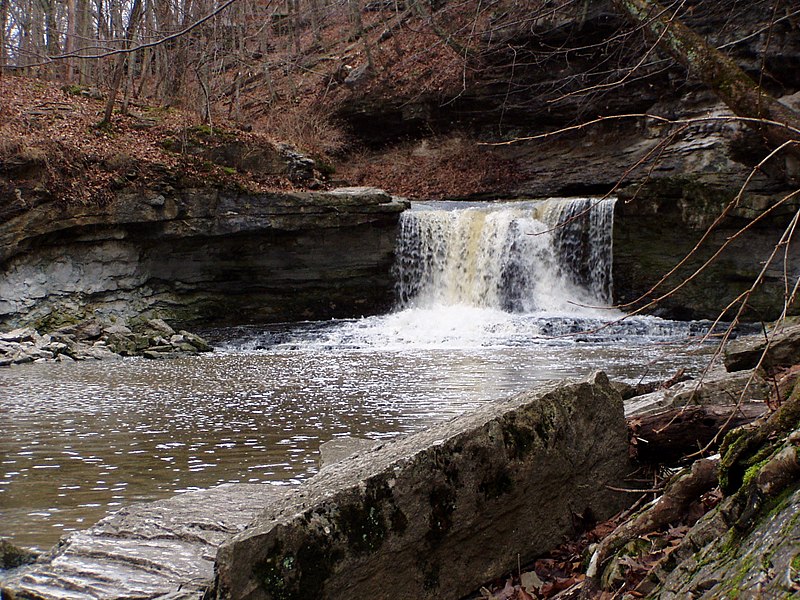 McCormick's Creek Falls is located in the oldest state park in Indiana, McCormick's Creek State Park (1916). The falls and park are located in northern Indiana just west of Spencer along 46 where you will see the entrance for the park. Though McCormick's Creek Falls is only some 12 feet or so in height the canyon around the falls is pretty interesting and there is a very minor waterfall just above the one seen here.
Williamsport Falls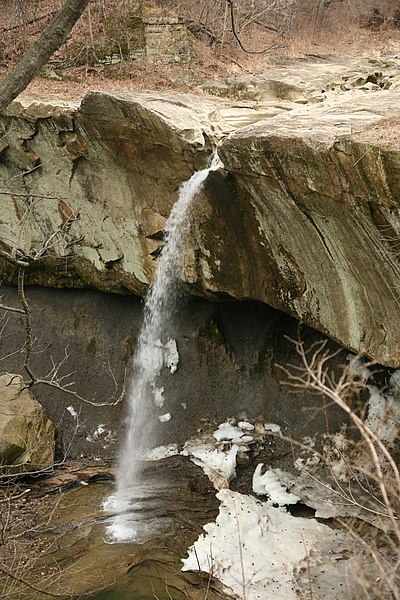 When it is flowing Williamsport Falls is easily one the most beautiful and impressive waterfalls in the state of Indiana. At 90 feet in height it's the tallest free-falling waterfall in the state and is located right in the town of Williamsport in western Indiana right off Monroe Street. There used to be a quarry at the base of the falls and a mill further downstream. Today the falls are often dry so if you want to see Williamsport Falls flowing visit during or after a nice rainfall or during the spring run-off.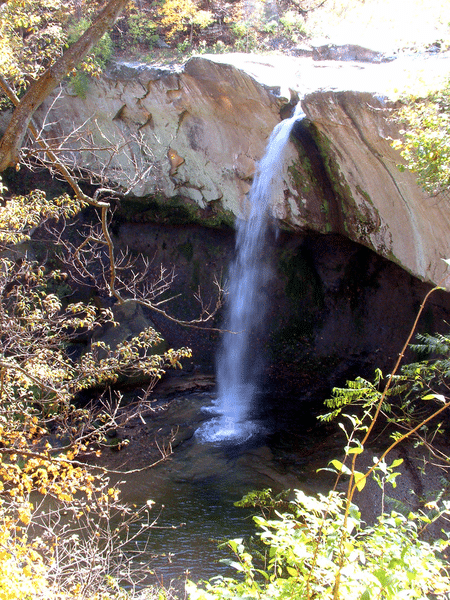 Turkey Run State Park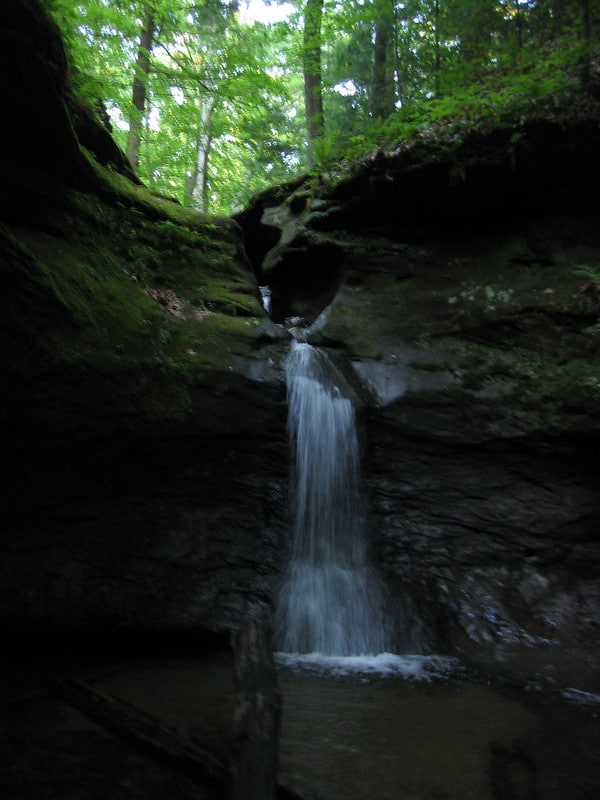 Turkey Run State Park in western Indiana contains a series of gorges and when rain comes to the area a number of waterfalls can be found in the park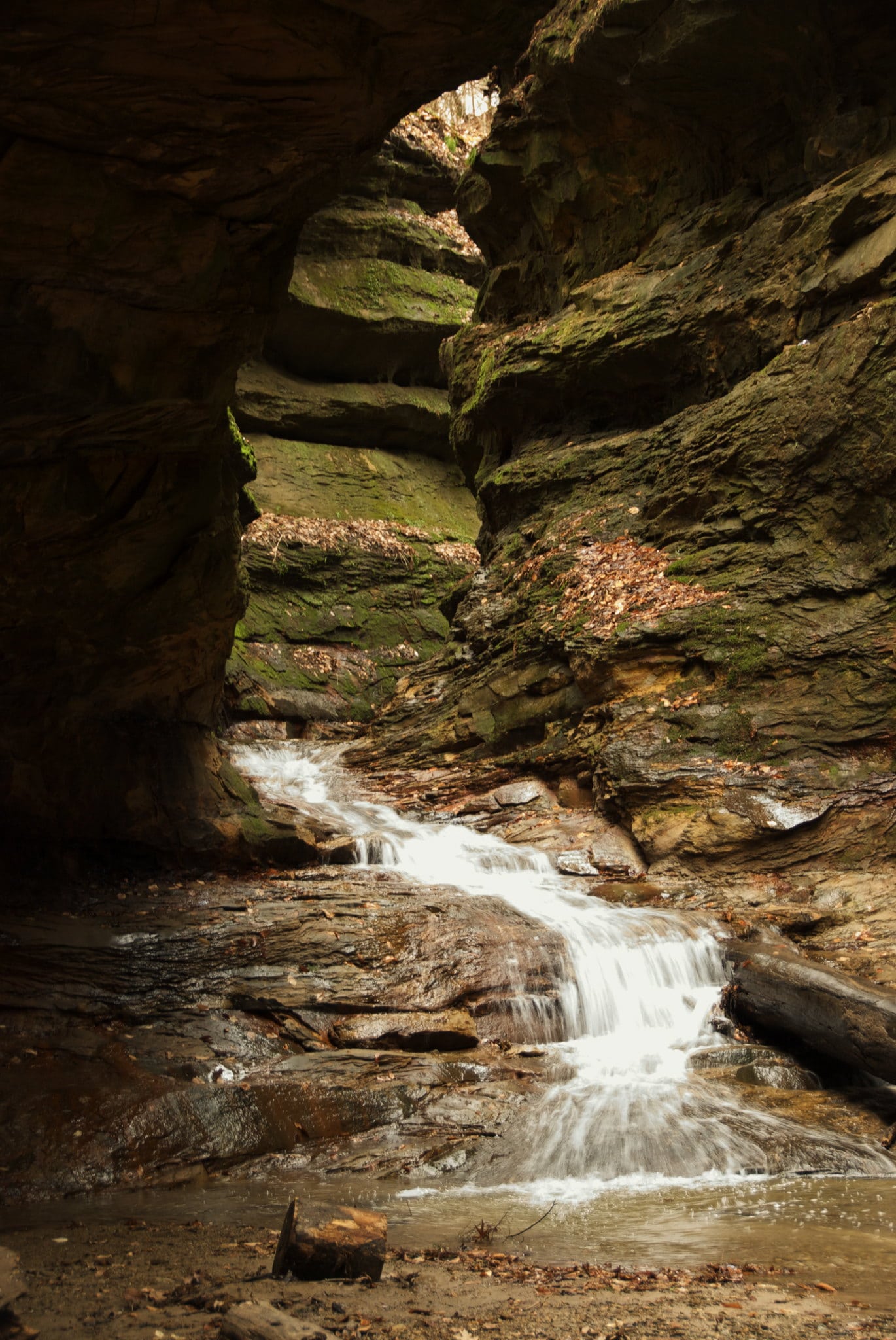 The gorges alone are worth seeing but if you want to see waterfalls here come after rain and be careful. Turkey Run State Park can be reached from I-74 by taking either 41 or 47 south and the park is located where the two routes converge and entrances are located along both roads.
Shades State Park Falls
Shades State Park in western Indiana near Crawfordsville contains steep ravines and canyons and when the rains come so too do the waterfalls in the park like the one above. Shades State Park is located close to Turkey Run State Park and shares many similar features. To reach the park from Crawfordsville take 47 south or west and then turn right onto State Road 234 which will take you right to the park.
France Park Waterfalls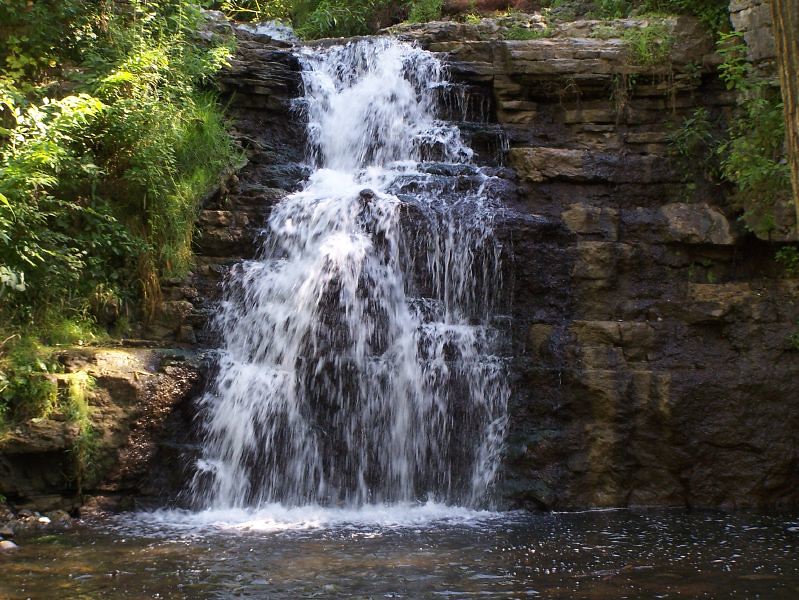 France Park Falls is located in France Park in north-central Indiana along Highway 24 about 4 miles west of Logansport. The drop of the falls is roughly 15 to 20 feet.
Bridgeton Falls
Located right in the town of Bridgeton just below the covered bridge in western Indiana is the Bridgeton Falls.
Indiana University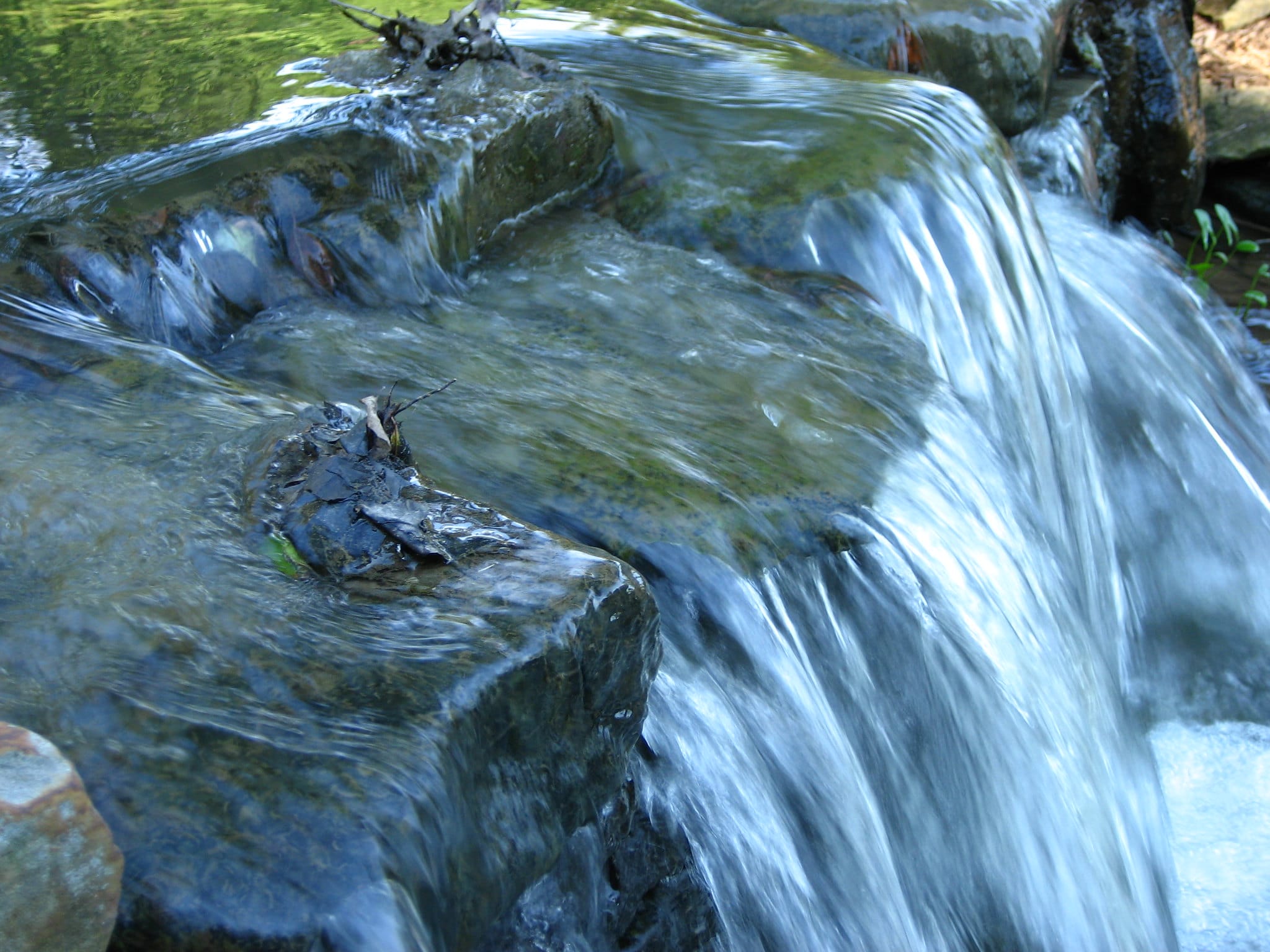 Waterfall located on the Indiana University campus in Bloomington, Indiana.
Anderson Falls
Anderson Falls drops some 15 feet along the Fall Fork of the Clifty Creek in central Indiana south of the town of  Hartsville. This 100 foot wide waterfall reportedly flows well all year long and can reached by taking 46 west out of Hartsville and then turning left onto county road 300N and then right onto county road 1140E where you will eventually see a sign for the falls.
Stockdale Mill Falls
Stockdale Mill Falls was originally built in 1857 and is located along the Eel River near Roann in north-central Indiana right along 16.
Spring Mill Falls
Spring Mill Falls is located in Spring Mill Falls State Park in south-central Indiana just east of Mitchell along Route 60. In addition to the waterfall the park contains a number of caves including the Twin Caves which can be toured by boat.
Canal Walk White River State Park Waterfalls
Located along the Canal Walk in White River State Park just west of downtown Indianapolis are a number of man-made waterfalls.
The original canal company that started the canal project went bankrupt back in the panic of 1837 and the only portion of the canal ever built was in Indianapolis. Today in addition to waterfalls the park contains gardens, museums, the Indianapolis Zoo, a military park, sculptures and more.
Mishawaka Dam Falls
Located in Mishawaka in northern Indiana just east of South Bend is the Mishawaka Dam Falls.