41 of Most World Unique Hotels That'll Infect You With the Travel Bug
by nabewise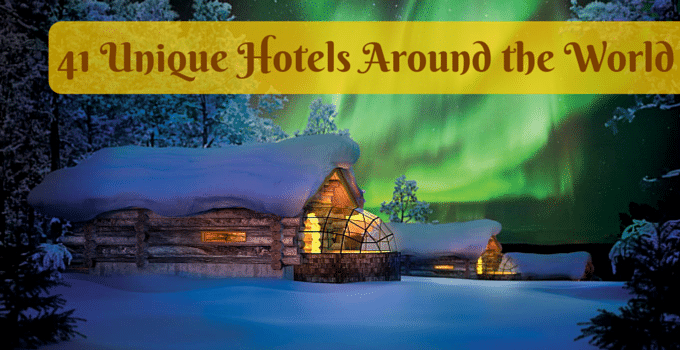 Human beings and travel go together like peanut butter and jelly or buttcheeks (thanks, Alicia.) But what happens when the usual, sterile hotel experience just isn't enough to pique our innate, nomadic interest anymore? Sometimes, we need a little weird to get back into the spirit of traveling, and these unique hotels, motels and, well, "other" have got what it takes to get even the most jaded of seasoned travelers back on the road.
1. WHITEPOD ECO-LUXURY HOTEL IN SWITZERLAND
Overlooking Lake Geneva in Switzerland are the stilted, geodesic pods of the Whitepod Eco-Luxury Resort. The hillside is dusted with simple, two-room pods, which are heated by wood burning stoves and isolated from the other pods for privacy. This non-traditional hotel experience is sure to pique the interest of environmentalists or world travelers looking for a unique stay in the scenic Geneva region. Pods for singles, pairs and families are available, but you should book well in advance as the pod reservations fill up quickly. You'll want to pack your hiking boots and ski gear, since you'll be hoofing it up to your pod from the main building (called the Pod-house) once you've checked in. For a natural, but not too natural, mountain living experience, definitely consider the Whitepod Resort when planning your Swiss trip.
2. THE CASTLE HOTEL IN CHINA
A truly modern castle, the Castle Hotel in Dalian, China, is opulence at its best. Scraping the sky with its fairy tale spires, the Castle Hotel will make you feel like royalty from the moment you step inside. Its amenities are pretty standard for a luxury hotel, but the interior and the view provide a magical experience for any traveler to northern China. You can get your king and/or queen on for as little as $130 a night in their deluxe rooms; you'll have access to an almost 5,000-square-foot indoor pool, a Kaiser SPA and, at their Royal Cellar restaurant, home-brewed German-style beer. They've got four other restaurants to choose from if German food's not your thing, including Zhen Bao, the authentic Cantonese restaurant that serves freshly caught seafood. If you really want to feel like a monarch, the Castle Hotel will definitely do that for you.
3. THE OBEROI RAJVILAS IN INDIA
The Oberoi Rajvilas in Jaipur, India, is 32 acres of fancy built around an 18th century Shiva temple with just about everything you could possibly want to help you relax in this remote area. Need a massage? They've got a spa with seven types of therapies available for you. Since it's built around a temple, you can take part in real Hindu practices, meditations and yoga sessions. If you want to really shell out some cash, you can rent the Kohinoor Villa, an 11,377-square-foot enclosure with a private pool and dining pavilion, for around $5,000 a night. The Rajvilas also has private cooking classes available, as well as a guided morning walk through an herb garden, so it's perfect for people who are looking for a gastronomic experience as well as a straight-up fantastic vacation.
4. SOLENT FORTS IN ENGLAND
Ever wanted to sleep at sea? Maybe in some sort of round, fort-like facility just off the coast and only accessible by boat ride? Then the Solent Forts in Hampshire, England, might be just the thing for you. It's a bit claustrophobic, and all of your activities will take place in whichever fort you choose (there are two you can stay on: No Man's Fort and Spitbank Fort), but if you're comfortable with a structured itinerary (kinda like a stationary cruise), this'll be perfect. You can wander the surface of the fort, looking out over the sea, or take a boat ride to the Horse Sand Fort museum and tour it with a group. This is really a one-of-a-kind experience, as you're staying in an over 150-year-old repurposed military fort first built when Napoleon was gallivanting all over Europe (although they were completed after the threat of invasion had passed). You can rent the whole place for about $7,000 for one night, or you can rent one room for $500 a night.
5. MIRA MIRA IN AUSTRALIA
The Mira Mira "Accommodation," located in Gippsland Region, Australia, is probably the weirdest bunch of buildings on this list. Choose from one of three themed "retreats" in the middle of the Australian bush to sate your need for nontraditional travel. Stay in the Cave House, whose front door is the mouth of a . . . screaming? crying? maybe just yawning? person named Magog. Inside, you can choose from two bedrooms: one, the "Bedwomb," possesses a double bed, and the other, the "The Naughty Room," features a queen-sized bed with leather and chains (for funsies, I guess). If that's not your thing, book the Japanese Zen Retreat, which is situated on a picturesque pond and has a more traditional interior than the Cave House, albeit themed Japanese-style. The final choice, the "Tanglewood," is an Antoni Gaudi-inspired live-in sculpture on the edge of a forest. Inside, you'll be privy to a beautiful, fairy tale-like array of lights and the ability to sleep under the stars in the "Crystal Bedroom" with a glass spire above your head. It's cheaper to go mid-week, and it's about $152 a night with packages requiring a two-night stay. This is definitely the right place for someone looking to enjoy large-scale art installations while also enjoying Australia's natural beauty.
6. KEIO PLAZA HOTEL IN JAPAN
The bright and colorful Keio Plaza Hotel's exhibits are enough to entice even the gloomiest traveler to smile. But what makes this hotel "weird" isn't its cultural celebrations, but the special rooms you can rent that will transport you into a children's TV show: the Hello Kitty rooms. Fluffy, pink and positively adorable, the Hello Kitty rooms and suites are the perfect getaway for a big fan or just for someone looking for the princess treatment while in Japan. Everything, and I mean literally EVERYTHING, is Hello Kitty themed, right down to the lampshades and humidifier. There's even a swag bag of Hello Kitty themed stuff you can take home with you when you leave (and they sometimes have special edition Hello Kitty dolls depending on the time of year). It's a pretty rad setup, and, if you're at the Shinjuku Keio, you'll be smack in the heart of one of the most bustling, exciting cities in the world.
7. HUILO HUILO BIOLOGICAL RESERVE IN CHILE
In the Huilo Huilo Biological Reserve, deep in the Patagonian Rain Forest of Chile, you can stay in a beautiful lodge room suspended in the trees above the ground. Not only do you get to sleep in an absolutely beautiful natural environment, but the money you spend goes to support conservation efforts to protect endangered wildlife, like the Huemel, a species of deer that lives the farthest south of any in the world. If you're more of an athletic person — which, if you're not, I would recommend you become before taking the journey to Huilo Huilo — you can stay for as little as $55 per night in the Canopy Village accommodation and live in a group setting, almost like a rain forest hostel. If you're looking for a more private experience, the Reino Fungi lodge is a great place to stay, with a beautiful view of the forest from its balcony. No matter what kind of vacation you're looking for, be it hiking in the mountains or relaxing in remote wilderness, the Huilo Huilo Reserve is a terrific locale for the traveler seeking an unconventional vista.
8. LA BALADE DES GNOMES IN BELGIUM
Built by an eccentric architect who originally opened a restaurant in the Durbuy, Belgium area, La Balade des Gnomes is a ten-room hotel with rooms starting at $56 a night. The rooms are all fashioned after myths or fairy tales, including Le Cheval de Troie (the Trojan Horse) suite where you literally stay in a giant wooden horse with windows. Other rooms involve a bed "floating" on an indoor pond, gnarled, wood-carved rooms like a witch's cabin and the Sur un quartier de Lune, a room meant to make you feel like you're sleeping in fantasy space. Its creator, Dominique Noel, said, "I wanted the hotel to be almost imaginary, with a youthful essence and work harmoniously with nature," and I think he achieved just that. It's a fantastical, beautiful, weird place, and it's perfect for the unconventional, quirky traveler.
9. GAMIRASU CAVE HOTEL IN TURKEY
Situated in Cappadocia, Ayvali, Turkey, and originally a monastic retreat used in the Byzantine Era, the Gamirasu Cave Hotel is a unique experience, partially because of its history and partially because you're actually staying in caves. They've been smoothed down and hollowed out, but you're inside a mountain nonetheless. It's also the only hotel in the Cappadocia region to have a Byzantine Orthodox church from the 11th century. It also hasn't been renovated much, so the kitchen and the dining hall are actually the ones the monks used, so if you're into religious historical sites, this is a great place for you. Rooms start at around $210, but for the experience, that price is definitely worth it. You can even get a bit of a farm-stay out of it by traveling to the local farms and learning to make wine, jam and bread from locals.
10. THE FIVE HOTEL IN FRANCE
Much like the Keio Plaza Hotel, the Five Hotel's exterior is fairly innocuous. But, as we all know, what's on the inside is what counts. The Five's rooms are something straight out of Star Trek, complete with slick silver accents and spacey mood lighting. Luxurious, comfortable and futuristic as hell, the Five's minimalism makes it one super stylish place to stay in France. Now, Paris isn't a bizarre place to stay or even a relatively exciting experience for the seasoned traveler, but the Five Hotel is a fantastic place for the newbie who wants a strong start to their travels. The "Cocooning Classic Room" designed for one person on a double bed is around $160 a night, with the most expensive room, the "One by the Five Suite," maxing out at around $500.
11. KUMBUK RIVER HOTEL IN SRI LANKA
An eco resort on the Kumbuk River bordering Yala, Sri Lanka's wildlife sanctuary, the Kumbuk River Yala Hotel in Butalla will provide you with an authentic Sri Lankan village experience (you know, with people serving you while you relax in a renovated truck) with local food, local wildlife and local events. If you've ever wanted to sleep inside a giant thatch elephant or in a reproduction of a traditional Sri Lankan farmer's home, you are in luck. Other events include ziplining and heading down to the local surf town, Arugam Bay, which is largely considered one of the best surfing beaches in the world. The cost to stay is steep — $250 per night for their least expensive rooms — but if you've been looking for a premiere jungle vacation, the price may be worth it for the pampering you'll receive and the ability to tell your friends you slept in a mammoth's skull.
12. PANTONE HOTEL IN BELGIUM
Do you like colors? Do you like it when things are color coordinated? Are you a fan of monochromatic color schemes? Look no further than the Pantone Hotel, a hotel dedicated to showcasing color in a unique and cute way. Located in Brussels, Belgium, the Pantone Hotel provides guests with simple, minimalist rooms in monochrome, giving each color its own time in the spotlight. It's a fairly modern experience and probably the tamest on this list, but it gets weird points just for the theme. It's kinda like sleeping in an Ikea, with all the weird furniture in different colors, and it's rather pricey (the only prices I could find were around $550 for a night in one of the large rooms), but if you're into that sort of thing, you should definitely stay here.
13. SACRED HOUSE IN TURKEY
One of the most breathtaking places on this list, the Sacred House in Urgup, Turkey, is clearly made for an ancient den of vampires. The former home of a Greek aristocrat (it's more than 250 years old!), the Sacred House has luxury rooms starting at around $240 a night, which, if you're staying in a village in Turkey, isn't a terrible splurge with how inexpensive everything else is. It's probably the most indulgent hotel showcased on this list thus far, and its interiors and amenities only add to that. The Sacred House acts as home for a library of first edition publications of philosophers, and guests can spend long hours soaking in their massive indoor pool called Inferno. It's a truly medieval experience, although I'd still bring some garlic along just in case my theory about the vampires is correct.
14. FREE SPIRIT SPHERES RESORT IN CANADA
I don't know about you, but I've always wanted to dangle helplessly in a giant wooden pod 20 feet from the ground as part of a relaxing vacation experience. Starting at $132 a night (with discounts for multi-night stays), the Free Spirit Spheres Resort is a project meant to examine the ways in which human beings can coexist with nature rather than mow it all down and build whatever we want. There are three Spheres to choose from: the Eryn, the Eve, and the Melody. Eve is meant more for the single traveler, while Eryn and Melody can sleep two people comfortably, with Melody being more for extended stays for the creative type. Her interior offers a murphy bed with a pull-out work space to do whatever it is you came to a remote part of the Canadian rain forest to accomplish. The Free Spirit Spheres are truly unique and can offer guests a calming, isolated experience. If you like heights, that is.
15. CAS ANUS IN BELGIUM
I bet you were wondering when I'd get to the really weird stuff. Here it is. A hotel shaped like a rectum, ending in an anus. And it's on wheels. You can only stay at Cas Anus if you're a visitor to the Verbeke Foundation Sculpture Park in Kemzeke, Belgium, but you'll be part of an exclusive and elite bunch: according to its creator, only about 200 to 250 people stay there a year. If you've ever wanted to live in a sculpture, this is your chance. For $165, you can enjoy a night's stay in a large-scale model of your large intestine. Don't all line up at once.
16. ANAYELA IN MOROCCO
Sleep in a piece of history in AnaYela, a 300-year-old city palace in Marrakesh, Morocco. It's small, but its authentic Moroccan room styles and architecture give it serious charm factor and the experience of living like Morrocan royalty from ages past. It's ornate, beautiful and has many complimentary amenities, like airport transfers and laundry service. There's even the option of organizing a traditional "soiree" (as the website puts it) with "live music, Middle-Eastern dance, snake charmers, soothsayers and a renowned storyteller who will recount the story of the house." For an experience unlike anything you can get anywhere else, definitely check out of the AnaYela. Rooms start at about $200 a night with double beds and built-in brick tubs.
17. HOTEL JAIL IN SWITZERLAND
One of many former prisons turned into hotels, Hotel Jail was a prison formerly populated mostly by conscientious objectors that was shut down in 1998. A year later, it reopened as a hotel featuring modern, minimalist rooms with basic amenities, some even without electronic plugs for extra realism. The bars are even still on the windows, but the rooms have been renovated to be bright and welcoming; even the former director's office has been turned into a fancy suite. Located in scenic Luzern, Switzerland, rooms start at $98.
18. HOSTEL CELICA IN SLOVENIA
Once an Austro-Hungarian military barracks, then transformed into a prison, the building that is now Hostel Celica housed prisoners for over 100 years, finally abandoned in 1991. It took until 2001 for the building to be made into a hostel, and in 2003, it opened to the public. Its current concept is that of an artsy commune, which makes it a very social place, like most hostels. If you're ever in Ljubljana, Slovenia, looking for a fun, open and accepting group environment with fantastical rooms and great energy (and can book WELL in advance), definitely check out this hostel.
19. THE CLOWN MOTEL IN NEVADA
Are you afraid of clowns? You're not alone! But you should probably not stay at the Clown Motel in Tonopah, Nevada, which is not only full of clowns, but is built right next to a giant graveyard, mostly full of gold miners who died from the plague. Personally, I LOVE this. I would stay here in a heartbeat. It's cheap ($39.50 a night for a single room,) charming, corny and just a tad creepy, and that is totally my thing. The rooms are small and simple, but the best part is the room full of clown dolls (although the next-door graveyard is a close second.) If you're traveling down Highway 95 through Nevada and need a place to crash, you should definitely pop by this lovely piece of Americana for a night.
20. KAROSTAS CIETUMS IN LATVIA
Spend the night in what is actually still a kind of terrifying prison environment. Where Hotel Jail and Hostel Celica have renovated their interiors for guest comfort, Karostas Cietums has embraced its former purpose and mostly offers tours and other activities focused around prison living, like the "Escape from USSR" role play event (dress up as a former prisoner and try to escape … because that's not creepy at all). You can, however, stay for a night for about $20 in a tiny, blue room with two single beds. See, where the clowns don't bother me, sleeping inside a barely-remodeled former Soviet prison where people probably died does. But hey, I won't judge you if you just happen to be in its vicinity (Liepaja, Latvia) and decide to spend the night.
21. ICE HOTEL IN SWEDEN
Probably the most impressive thing about this hotel is that it melts and then gets remade every year. The Ice Hotel, located in Jukkasjarvi, Sweden, is an architectural, sculptural marvel that is well out of the average person's price range. With their snow rooms starting at around $300 a night (you are literally sleeping on ice, btw, and it is COLD in those rooms: -5 degrees Celsius or 23 degrees Fahrenheit), you might get a better deal with the "warm rooms," which are in cabins nearby, that start at $210. In the summer, the prices drop even lower, but that would defeat the entire purpose of seeing the splendid palace of ice these artists carve every winter for people to sleep in. Each year, they design things a bit differently, making no two stays at the Ice Hotel the same.
22. THE UTTER INN IN SWEDEN
In the middle of Lake Malaren in Vasteras, Sweden, there sits a little shack called The Utter Inn where you can stay for $60 a night. It offers the unique experience of sleeping underwater, as inside, there is a ladder that leads into a subaquatic chamber where there are two single beds. You are totally isolated and alone out there; you can pay to have someone bring you dinner by boat, and you can use the inflatable canoe available to you to explore the area, but you're on your own out there at The Utter Inn. To some, this may seem terrifying, but others travel for the isolation. The Utter Inn could be your paradise.
23. HENN-NA HOTEL IN JAPAN
Seemingly normal when you first walk in, guests will notice quickly that the concierges and other staff are not…human. The Henn-Na Hotel is staffed mostly by robots, up to and including the robotic arm that carries your luggage. Located in Sasebo, Japan, inside the theme park Huis Ten Bosch (a Dutch-themed park), the Henn-Na is a weird bit of real estate, if only for the robotic staff. Check in with a mechanical dinosaur (or uncanny valley creepy robot lady) and head up to your room, where a little robot will turn the lights on and off for you. Order room service using a tablet, and it will be delivered by another robot. There are some human staff in case things get messed up or your service is compromised, but for the most part, you'll be without human contact unless you brought someone else with you.
24. DEETJEN'S BIG SUR INN
Officially placed on the National Register of Historic Places, Deetjen's Big Sur Inn story is a classic tale of American integrity. According to the history page on the Inn's website, it was built by a Norwegian immigrant named Helmuth Deetjen and his wife, Helen, who originally lived in a tent by the Castro Canyon Creek, which is up in Big Sur, California. From a barn to a restaurant to an inn, the location attracted all sorts of travelers, becoming a cultural landmark. Its rustic cabins and classic rooms might not make it "weird" per se, but its history makes it well worth the trek up to redwood country and gives it a uniqueness that can't be matched. Rooms start at $125 a night and go up to $290, but you can rent the Castro Cabin for $250, which is located in the same spot the Deetjens set up their original tent home
25. PROPELLER ISLAND CITY LODGE
Bizarre art reigns supreme at Propeller Island City Lodge, with each room designed by German artist Lars Stroschen down to each piece of furniture. Located in Berlin, Germany, each room comes with a list of instructions for how to stay in it, and no two rooms alike. Many of the rooms have suspended beds or funhouse-like mirrors or illusions designed to remodel the average guest's idea of what it means to stay in a hotel. Personally, I like the description for the "Two Lions" room (bolding mine):
Dual cages, situated in the centre of this spacious menagerie, rest on stilts measuring 1.5 meters tall and await applause from the neighbouring guest(s). Your curtain presides over what your audience sees and whatnot! The roomy bathroom has a toilet that thrones atop a tower and permits peeks into the golden bathtub. In the cages kids love to sleep, otherwise the room is for two.
Any hotel that recommends kids sleep in cages deserves a place on this list. Rooms start at $88 with the "Mirror Room," which is a room with walls entirely made of mirrors, if you couldn't guess.
26. PALACIO DE SAL
Made entirely out of salt (including the furniture) and designed by Juan Quesada Valda, the Palacio de Sal is the first salt hotel in the world. It is built on the edge of Salar de Uyuni, the world's largest salt flat (it can be seen from space!), in Uyuni, Bolivia. It's an extraordinary feat of engineering that every surface in this hotel is made of carved salt blocks, and it's definitely worth a trek out to see not only the hotel, but the salt flat beyond. It's almost like an alien world — unless you live near a salt flat, then it's just like home. Room rates start at $176, and your bed will literally be made of salt. If you do stay here, just remember: don't lick the furniture.
27. HAVENKRAAN (HARBOUR CRANE)
If you've ever wanted to sleep in a piece of heavy construction machinery, you're in luck! The Havenkraan or Harbourcrane is available for $356 per night in Harlingen, Netherlands. Formerly an actual, in-use crane, the Havenkraan was used to unload timber freight from 1967-1996. It was purchased by its current owners in 2001, and it took two years to renovate, opening in September 2003 as a hotel. There's even a mechanism to allow you to swing the crane around, letting you choose your view of the sea. This is definitely an unconventional hotel experience, one machine enthusiasts and thrill-seekers will love.
28. HOTEL MARQUES DE RISCAL
Designed by Frank Gehry, the Hotel Marques de Riscal is an architectural marvel on the outside, but a fairly tame luxury hotel experience on the inside. If you've ever wanted to experience Gehry's work, this is the place to do it. You can even stay in the Gehry Suite, a sharp, modern room with adjoining living room and lounge for real luxury. You'd probably never need to leave the hotel, but you should for the surrounding Elciego, Spain, and its local wines and culture. The Marques de Riscal is pricey, with rooms starting at $335 a night, but if you're an architecture buff, it's well worth the stay.
29. SHERATON HUZHOU HOT SPRING RESORT
Because who doesn't want to sleep in 27-story half-eaten donut? The Huzhou Hot Spring Resort is another Starwood Hotel, like the Castle Hotel in Dalian, and I still can't figure out why it's called the Hot Spring Resort. As far as I can tell, there are no hot springs involved in the architecture or even nearby surrounding area of this hotel. If you enjoy being deceived by fancy titling AND sleeping in a giant, half-eaten donut, then the Sheraton Huzhou Hot Spring Resort is the place for you. Interestingly, Huzhou, China is a 2,300-year-old city (formerly Wuxing, but it was renamed in 602 BC) that claims to be the birthplace of tea culture and is also known as the City of Silk (with a history of silk cultivation dating back 4,700 years).
30. AMSTERDAM ZAANDAM
Yo, dawg, I heard you like houses, so I put a house on your house so you can house while you…you get the idea. The Amsterdam Zaandam Inntel Hotel is a truly Dutch bit of architecture with a beautifully rustic, modern interior. Rooms start at $156, and you can splurge for the Founders Suite for $215, making your stay in Amsterdam even more comfortable. The concept of the hotel is to showcase the Zaan region of the Netherlands, famous for its local crafts and houses, by placing the area's style front and center. Inside the rooms, guests are given glimpses of history in the form of pictures of craft workers and their products. It's a quaint, historical setting with a quirky twist that provides comfort and luxury to guests to the area.
31. ARIAU AMAZON TOWERS HOTEL
Located on the Rio Negro in Manaus, Brazil, the Ariau Amazon Towers were apparently inspired by Jacques Cousteau's ventures into the Amazon. Suspended on stilts above the river, the hotel offers guests a pseudo-authentic rain forest living experience. While there, guests stay in relative comfort (although recent reviews on hotel websites indicate the hotel's a bit far behind on renovations) while the Amazonian wildlife serenades them. There are 288 rooms, including cabins, and seven towers, all raised 10 to 20 meters over the river, although sometimes even this height isn't enough to avoid the annual flooding of the Amazon. Tours of the rain forest and other activities are available a la carte or in vacation packages, and the experience of staying literally on the Amazon River sounds amazing for anyone interested in our planet's ecosystems.
32. KANDA CAPSULE HOTEL
Welcome to Fhlosten Paradise! No, just kidding, this is a capsule hotel. If you're familiar with the capsule concept, then you know it's meant for short stays, maybe a quick overnight or a few hours, not for extended use. If you're not familiar with capsule hotels, then here's a crash course: you show up, you pay, then you get assigned a literal hole in the wall for you to sleep in, complete with mattress and television (maybe with a shelf) with a glass door with a curtain. They're mostly used by business people too tired to go home or travelers whose flights arrive early and their real hotel room isn't ready. It's a super neat concept that I think everyone should try at least once, although I think Japan is the only place you'll find them. The Kanda Capsule Hotel is highly rated and has a bit a futuristic bend to it, which is why I'm featuring this one and not, say, a different one.
33. SUN CRUISE RESORT
Looking like a scene out of a post-apocalyptic movie, the Sun Cruise Resort in Jeongdongjin, South Korea, is a giant cruise ship built on top of a hill. The special bit about this hotel is that it's the first of its kind in the world, and they take their theme pretty seriously. Speakers play the sound of waves around the hotel; they even put salt water in the swimming pool. Otherwise, this is a pretty standard luxury hotel experience. The Standard room starts at $154 a night and gives you a great view of both the gardens and the ocean.
34. HOTEL JESTED
On top of Mount Jested near Liberec in the Czech Republic sits the almost alien-looking Hotel Jested. Designed to withstand the harsh temperatures at the summit, this hotel provides its guests with a fantastic view of the surrounding countryside and the experience of dining above the clouds. Now a national landmark for the city of Liberec, Hotel Jested is a unique place to stay, accessible by road or cable car with a nearby ski resort for sporty types (the Nordic World Ski Championships held an event here in 2009). Rooms start at $107, and parents will be pleased to hear they offer free beds for infants.
35. KAKSLAUTTANEN ARCTIC RESORT
Sprawling across a vast, snowy expanse are sparkling glass igloos and warmly lit cabins that welcome guests to their stay in the Finnish wilderness. The Kakslauttanen Arctic Resort, near Saariselkä, Finland, is a truly singular experience. As a fan of vast, snowy expanses on frozen, wild landscapes, I envy anyone who gets to spend even one night in this gorgeous place. Travelers can choose to sleep under glass ceilings open to the sky or choose from one of the many styles of log or earth cabins to luxuriate in during their stay. Igloos start at $220 a night, which is a small price to pay for the privilege of sleeping in such awe-inspiring surroundings.
36. WAYPOST FARM GLAMPING
Up for a quaint, quiet stay in the English countryside? Then check out the Waypost Farm Glamping in Stone-in-Oxney for two lovely choices: the Strawberry Shepherds Hut and the Strawberry Roan Horsebox, both trailers converted into comfortable rooms for two. Personally, I would live in these things for the rest of my life, but the Hobbit lifestyle isn't for everyone. For $127 a night, you can cozy up in one of these cute little houses in the country and experience simple living.
37.  THE PANDA INN HOTEL
So many people are SUPER into panda bears. I don't really see the appeal — they only eat bamboo and they're so lazy that they can't even be bothered to breed. But people really, really like them. So much that they're cool with staying in a hotel with people dressed up in giant panda suits. Yeah, you read that right. The staff at the Panda Inn dress up in people-sized panda costumes to serve you in the panda-picture-covered hallways and rooms of this serene Chinese hotel. It's located at the foot of Emei Mountain in Sichaun, two hours from the Chengdu Research Base (part of the panda population revival effort) and 100 miles from Sichaun Giant Panda Sanctuaries. Stay for $110 per night and have giant panda people wake you up in the morning, if that's your thing.
38. CINDERELLA CASTLE AT DISNEY
The elusive and much coveted Cinderella Suite in Cinderella Castle at Walt Disney World in Orlando, Florida this room is only available via giveaway, and only for one night at a time. Most people will only ever see the inside in pictures, so enjoy them while you're here. Located on the fourth floor of the castle, this suite is truly fit for a Disney princess, so keep your eyes peeled for Disney giveaways online for a chance to win a stay here.
39. LEGOLAND HOTEL
With plenty of kid-friendly themed rooms to choose from, the Legoland Hotel is a playground for all ages, designed after everyone's favorite childhood building bricks. Stay in the brand new Lego Friends Rooms at the Carlsbad, California, resort, or check out other suites, like the Pirate or Kingdom themed ones. The resort is part of Legoland Park and Water Park, so it's generally for families on vacation. If you've been thinking about venturing out to Cali with the kids, definitely give the Legoland Hotel a try.
40. THE MADONNA INN
Not named after the singer, this hotel sports an eccentricity unlike any of the others on this list. With gaudy, sometimes mismatched furniture and boasting 110 unique rooms, the Madonna Inn sets itself apart with its eclectic atmosphere and wine country charm. If you've ever wanted to stay in the hotel equivalent of a carnival carousel, the Madonna Inn is perfect for you, if only for its decorative sensory overload. The Madonna Inn is located in San Luis Obispo, California.
41. THE QUEEN MARY
If you like giant ships, ghosts or war memorials (or all three), The Queen Mary in scenic Long Beach, California, is absolutely the place for you to stay. Now a fancy hotel, haunted tour and World War II museum, The Queen Mary was once a luxury cruise vessel recommissioned as a war ferry in WWII, transporting more than 800,000 troops during her time in the military. Home to around 150 known and sighted ghosts (if you believe in that sort of thing), she's one of the most visited places in the United States, offering guests a wide range of experiences, from ghost hunting to historical education. The Queen Mary is most definitely a unique experience, and one I'm happy to end this list with.