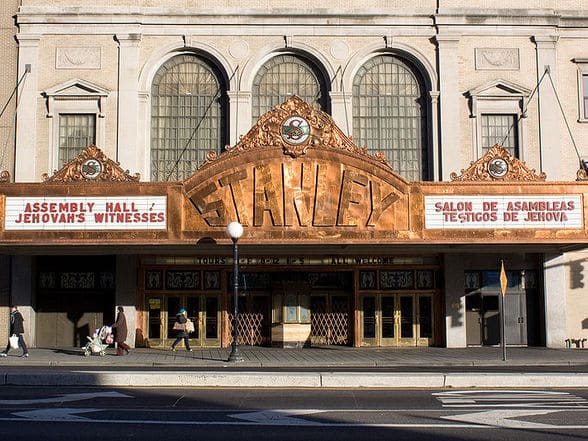 Bergen / Lafayette
by nabewise
Infomation
Bergen/Lafayette is a compound of primarily residential nabes in the south of Jersey City. It borders Liberty State Park and offers inspiring views of Ellis Island, Liberty Island, and the Lower West Side. There are a mix of styles here to inspire the architecture buff – from Victorian to Art Deco to classic rowhouses. The commute is easiest by car, but can be accomplished by PATH train or bus.
Bergen / Lafayette, Northern NJ Data : Neighborhoods & Travel – Score out of 100
TOP ATTRIBUTES
Singles 69
Nightlife 69
Liberals 63
Blue Collar 63
Community 63
LOWEST ATTRIBUTES
Clean 50
Empty nesters 48
Seniors 46
Quiet 38
Income 0
Bergen / Lafayette, Northern NJ Reviews
Diverse
I think Bergen/Lafayette was historically pretty "urban" (like they say in 30-Rock) and maybe a little run-down, but has been in recent years fixed-up quite a bit especially around the historic districts, with people moving in and seeing potential in some of the old houses. In these areas, like around Summit Ave., you can find some newer Asian markets and restaurants that I guess are migrating down from the Five Corners area.
Coco P.
Varied
Let me clarify a few things about Bergen/Lafayette because it's made up of a lot of different pieces. Basically those would be Bergen Hill, Beacon, Communipaw, and Claremont.
Bergen Hill, or The Hill, is identified mostly by its historic district, running up along Summit Ave. above Grand Street, and is full of nice old houses that kind of sit up above the rest on a little hill ascending up into Five Points.
Beacon encompasses the area of the old Jersey City Medical Center and around, but it looks like they call that "Liberty Harbor" here which I'm not so sure about. I guess that makes sense because it's kind of a new re-development that stands on its own in a way.
Communipaw spreads upward from Communipaw Ave. to Montgomery Street, east of Bergen Hill and all the way out to Liberty Park in the west. It's still pretty historic but maybe not as snooty and renovated as The Hill, so it offers more modest old streets and parks (Lafayette). There is the Communipaw-Lafayette historic district, but I'm not sure that people use Lafayette much anymore as part of the name. Also, sometimes you might hear it called "The Junction" or "Communipaw Junction" but that just refers to the sort-of triangle intersection below Bergen Hill where Grand, Summit, Garfield and Communipaw intersect.
And Claremont, though I guess there might be differing views on this (some people think it's in Greenville, so maybe half in and half out) is the place below Arlington Park, mostly west of Garfield Ave. It's a residential area with good location and plenty of potential, but I think there were some issues in the past with crime. Haven't heard too much about that lately, though, so it might be improving.
Stacey A.
BL
I like Bergen/Lafayette because it has a historic character all its own, but is also still growing and changing. I think as people increasingly get priced out of Manhattan and hipstered out of Brooklyn and yuppied out of Hoboken, they will be looking for places like Bergen Hill that they can fit into and also make their own. I hate to use words like "real" but it definitely seems less affected than other places in the area, and i think it has a lot of potential.
jon d.