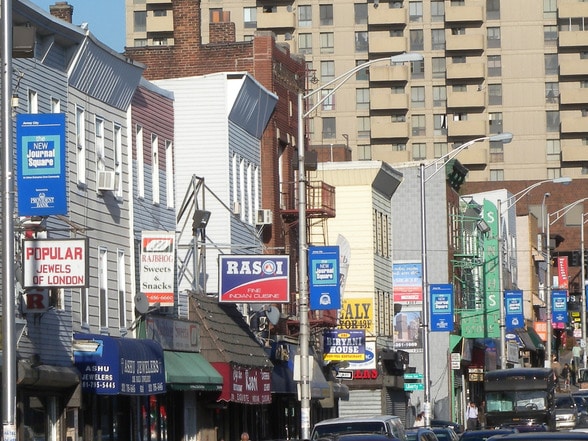 Infomation
Little India is a bustling nabe bisected by Newark Ave, and is technically still part of greater Journal Square. Defined by a myriad of small businesses, Little India is constantly ablaze with the spirit of entrepreneurship. It is one of the most pedestrian heavy–and also pedestrian friendly–areas in Jersey City. And as a result, traffic can be slow at times. Also, as you might imagine, the food is as delicious as it is plentiful.
Little India, Northern NJ Data : Neighborhoods & Travel – Score out of 100
TOP ATTRIBUTES
Charming 88
Dining 81
Community 81
Shopping 75
Public Transportation 69
LOWEST ATTRIBUTES
Green space 50
Clean 38
Quiet 25
Parking 13
Income 12
Little India, Northern NJ Reviews
FOOD!
Food food food. Food food. INDIAN FOOD! Love it! Go to Rosoi. Now.
monica a.
Newark Ave. has everything…
Little India is pretty much what you would expect from the name. This section of Newark Ave is kind of like being on Canal Street, with all the people and the signs and the weird little stores that sell everything from fabric to electronics, and everything in between.
Coco P.
Cool place
This is a fun and energetic area to visit, eat, and shop. In terms of living here I'm not so sure. It's kind of a hassle to get to, as traffic can be slow and the PATH stop isn't too close. But it seems pretty cheap and also, unlike other cheaper places in JC, also seems safe. So definitely worth investigating if you are thinking of moving to theJournal Square area.
jon d.