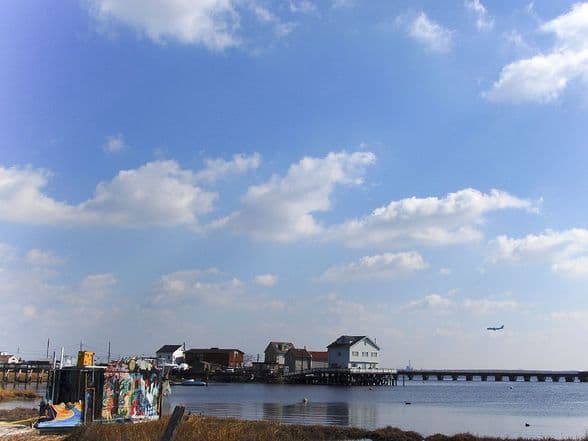 Broad Channel, Queens
by nabewise
Infomation
Perched in Jamaica Bay upon Rulers Bar Hassock is Broad Channel, an island community that exudes the charm of a maritime fishing village. Although built on the only inhabited island in Jamaica Bay, Broad Channel has its own subway stop and is connected to the mainland by two bridges. Just north of the neighborhood is the Jamaica Bay Wildlife Refuge, where the faint skyline of Manhattan is the only reminder of the neighborhood's proximity to the city.
Top Votes – Score out of 100
Pet friendly 88
Quiet 83
Green space 67
Community 67
Clean 63
Lowest – Score out of 100
Families 35
Income 15
Empty nesters 8
Seniors 6
Singles 0
Top Reviews from Travel Rentals Neighborhoods
Unique neighborhood

This is a great little island and very unusual. The community is very close and it reminds me of a remote little fishing village up north. The houses are on stilts and the area smells like seaweed and ocean and in the summers it smells like barbecue. There isn't much to do here, and it isn't exactly easy to get around, even with two bridges. But cute and unusual, so worth visiting.

marcy p.
Broad Channel's a different nyc

Broad Channel's one of those neighborhoods that nyc "city folk" (i.e. myself) come to and say "Wow! It doesn't even feel like I'm in New York right now!" Well, you're certainly not in well-know urban New York when you're here. I think there's something really magnificent about this place though—it's almost magically under-appreciated, and I think it'd like to stay that way. Parts of this place actually remind me of Hamtramck in Detroit—it's got this very tight, suburban (but still squeezed close together!) 70s vibe.

I would say that Broad Channel's not a destination nabe (not much in the way of food/dining/nightlife/shopping), but the Jamaica Bay Wildlife Refuge is nearby, and it's one of my favorite spots to go in NYC on days when I need to think, be alone, and maybe not get swarmed with people. Going to the wildlife refuge in the winter is actually a lot of fun—there's hardly anyone there but you and the birds. Am I starting to sound a little emo? Whatever, I'll embrace it. This is a good place to write a sad but reflective song on acoustic guitar, or take "deep" instagram shots.

Hmm, my sarcasm is taking away from how kickass this place is. Please ignore, and do visit.

What's awesome

quiet, solitude, vintage vibe, wildlife preserve

What's not so awesome

there's not much shopping/dining/nightlife happening here. Since it's such a residential quiet spread, it also seems like it may be awkward to go here with tons of people: being loud and obnoxious doesn't seem like it'd fly here.

Katie P.
A Beachy Getaway

Broad Channel is very much an island, oozing with coastal charm. With stilted beach shanties and acres of grassy marshland, it's hard to believe that you're still so close to Manhattan (about an hour on the A train). If you want to make a day of it, take a walk around the Jamaica Bay Wildlife Refuge and watch for rare birds, like snowy egrets, and butterflies in the summer. Rent a kayak and paddle through the backwaters of the bay. In the evening grab some fresh seafood at one of the restaurants along the shore, or catch a three-hour sunset cruise from Pier 2.

Nina B.