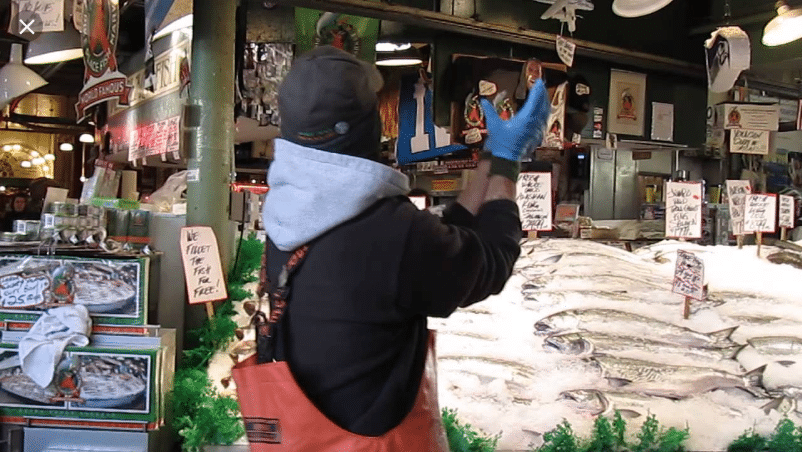 Family Fun in Seattle on a Budget
by nabewise
See Seattle without breaking the bank.
Having family fun in Seattle on a budget.
You're planning a family trip to Seattle and you want the most entertainment for your dollar. Who do you ask for ideas? Locals, of course. Here's a local's list of fun things to do and ways to travel that won't break the bank.
Take a ride on a Washington State Ferry

Leave your car behind and walk on at Pier 52 and ride for $6.70 round-trip ($5.40 for youth/$3.35 for seniors) to Bainbridge Island (30 minutes each way) or Bremerton (60 minutes each way). The scenery as you cross the Puget (pronounced pyu'jet) Sound is breathtaking, and if you choose to de-bark at either destination and walk a few blocks you'll find quaint shops and parks. For a sailing schedule check here.

Check out the world-famous flying fish at the Pike Place Market

Vendors sell everything from fresh flower bouquets to kitsch in three floors of possibilities. Don't miss the fresh doughnuts on the street level and many delicious restaurants peppered throughout the marketplace. Fresh seafood can even be packed up to take home with you or send to your favorite people.

Forget the Space Needle where you'll pay $16 for an elevator ticket

The Bank of America Tower (known to locals as the Columbia Tower) is 76 floors high (almost 100 meters higher than the Space Needle), and you'll pay about $5 to get to the observation deck on the 73rd floor. The only drawback is you'll have to go on a weekday during business hours to take the tour. You can call 1.206.386.5151 for tour schedules.

Downtown buses are free to ride within the "Free-Ride" Zone

This is basically all of the main downtown area. To find out how to get around on the bus you can go here and enter your current and destination locations and you'll get detailed instructions where to go and which bus(es) to ride. You can also ride the Seattle Street Car, a light rail that goes from the shopping district to east Lake Union, or the Monorail from the shopping district to the Seattle Center.

Seattle Center Fountain

On a sunny summer day you can't beat it. Set between the performing arts halls and the Pacific Science Center, the fountain shoots water from hundreds of jets, sometimes choreographed to music. Are you thinking, "I've seen that at the Bellagio in Las Vegas?" This is different- you can descend the steep concrete embankment and cool off in the spray of the fountain. Hours of entertainment for the kids-and it's free. But bring a change of clothes.

Ye Olde Curiosity Shop on Pier 54 (1001 Alaskan Way)

The coolest gross stuff in the city resides in this shop, including Sylvia and Sylvester, the mummies (yes, real mummies) that guard the back of the store, two-headed pigs in jars and an African voo-doo monkey wearing its intestines on its head. A few steps further is Ye Olde Curiosity Shop Too, a continuation of the first. You can just look around or find some very unique souvenirs.

Lunch

While you're down at the piers checking out the Curiosity Shop, head over to Anthony's Fish Bar for amazing fish tacos (it's a Seattle thing) or clam chowder. Or, for the best fish "n chips in town, go to Ivar"s. Nothing at Ivar's tastes bad, and their tartar sauce is arguably the best in the world. Not to mention they've been a Seattle institution for 70 years.

Travel to Ballard and tour the Hiram M. Chittenden locks and the fish ladder

The locks make it possible for boats to pass from Lake Washington to the Puget Sound and back. Boats enter a chamber that seals on either end and raises or lowers the water level to meet the level of the body of water they're heading toward. It's fun to watch and it's free entertainment. Be sure to cross over and check out the fish ladder. During peak salmon season you can peer through windows and watch hundreds of fish as they make their climb to the spawning grounds.

Pacific Science Center

It's a bit of a splurge, but if your kids love to see how things work it's worth the price. Depending on the size of your family it might be less expensive to buy a family season pass than to pay the entrance fee for one day, and you often get passes to the Imax Theater with your pass. Check before you buy.

Experience Music Project

Skip it. It's not worth the entrance fee-you'll be bored within 30 minutes. Trust us on this. No really. Don't do it.

Alki Beach in West Seattle is Prime People-Watching Real Estate

Take a picnic lunch and a blanket. The beach is sandy; there are several restaurants along Alki Avenue and lots of interesting people. If you stay until dusk you're in for an amazing sunset and view of the Seattle Skyline, so don't forget your camera!

Tacoma

If you've seen enough of Seattle you could take a day-trip about an hour to the south to Tacoma and check out the Point Defiance Zoo & Aquarium or watch some glass blowing at the Museum of Glass. You might even catch Dale Chihuly doing his thing.
When you travel to Seattle bring a variety of clothing. If it's the middle of summer you'll still need a jacket for the cool evenings and possibly even the days. Seattle natives know to dress in layers-you'll see a lot of Capri pants, t-shirts, hoodies and wind/rain resistant lightweight jackets. Bring your sandals, but also your socks. It's not a fashion faux pas to wear your wool socks with your Birkenstocks in Seattle. We recommend you also bring or plan to buy an umbrella, even in the summer. We can't keep our beautiful city green without a little rain, now can we?