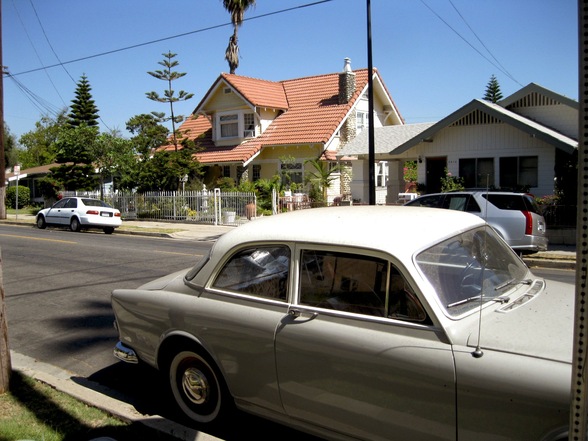 Highland Park
By Nabewise
Offering a small-town vibe only a few miles from Downtown, Highland Park has just the right combination of neighborly camaraderie and big-city action. One of LA's oldest 'hoods, Highland Park has maintained its beautiful historic homes while offering some of the best in local entertainment. Good eats, good drinks, and good tunes are easy to find—and so is transportation: take the Gold Line or hop on the freeway. With its colorful painted walls and vibrant community, Highland Park attracts more Angelenos by the day, making it one of the city's hottest new neighborhoods!
Lowest Attributes
Highland Park Articles and Reviews
Funky surprises in Highland Park
Highland Park is one of my very favorite LA neighborhoods. This place is jam packed with colorful painted storefronts, incredible historic homes, and all kinds of funky surprises. Even the library, one of the first places that brought me to Highland Park, is unique with its historic-looking architecture and two-story layout (best LAPL branch, in my opinion!). There's also several parks nearby, one being right next to library and always bustling with kids and families.
Sure, Highland Park is pretty densely populated and a little gritty in areas, but I've never felt unsafe here. If anything, it adds to the unique nature of the nabe. Driving down York, you'll find lots of small, boutique-type shops with colorful signs and cheap prices. There's also some great eateries and nightlife here…which is part of why Highland Park appeals to so many different kinds of people. And to top it all off, two of my favorite things about Highland Park:
– It has a Gold Line station, making transportation super easy (it's better than driving!)
– Galco's Soda Pop Shop! All the sodas you could possibly want, presented in a 1950's style shop with a super enthusiastic owner. I'm craving a soda just thinking about it…
What's awesome
Supercool funky stores, nightlife, convenient Gold Line station, GALCO'S
What's not so awesome
A little gritty, but in a good way!
Nikki
A Nabe For All!
A few years ago, people were overlooking Highland Park as a viable option for family living. Now, however, Highland Park is a blooming little nabe, full of families, singles, young, old, you name it. The thing they all share? They're quite happy to be living in Highland Park! As people are priced out of neighboring Echo Park and Silver Lake, Highland Park is looking like a much better option.
With a population of artists, actors, and other creative types, Highland Park is surely a nabe to watch as up and coming!
Abigail S.
Old-Fashioned Meets Up-and-Coming
Highland Park has some of the best watering holes in Los Angeles in The York and Little Cave, and boasts more than its fair share of badasses. We're talking people who know a good band or a good beer when they find it, but grew up drinking PBR. The neighborhood is one of L.A.'s oldest, and the local architecture shows it. Highland Park is definitely on its way up, but not so drastically as to destroy the character of the place. Like its neighbor Eagle Rock, it's easy to settle into this neighborhood and make it your own. The Gold Line train runs through and bus service is good too; another solid choice for those who want both cool and comfortable.
Kevin
Highland Park: Suburban Edge
Like most of the neighborhoods of North East Los Angeles (Eagle Rock, Mt. Washington, Garvanza, etc) Highland Park offers its residents beautiful old craftsman homes, in a setting that feels a bit detached from the urban center. Although I reside in nearby Eagle Rock, Highland Park is one of my favorite LA neighborhoods. When you walk down North Figueroa, which is arguably the neighborhood's main drag, you feel a real sense of vibrance. You'll find trendy bars, locals only bars, lots of Mexican food, the amazing, but rundown Highland Theater, tattoo parlours, and a random spattering of trendy boutiques. The area is predominantly Latino (I mean, we are in LA), but is becoming more and more of hub for LA's creative class. Art galleries such as Public Fiction and This make the area an exciting place to be a creative person. Many musicians call the neighborhood home, as well as many visual artists. This has more than a little bit to do with affordable rents, and spacious living spaces.
The neighborhood has its ups and downs. Although it is relatively safe, there is a certain amount of gang violence that goes down in Highland Park. Like in most cases, if you aren't involved you're good, but you will hear some helicopter sounds from time to time. If you like the feel of the area, I wouldn't let that deter you, but it is important to know these things.
Overall Highland Park has more to recommend it than not. The are has two Gold Line stops that will take you to Downtown, and a number of bus lines. York Blvd, which is another commercial drag, also has lots of Mexican food, a couple of appealing bars (The York and Johnny's) and several vintage clothing shops. Wombleton Records just opened up, and has a great selection of rare vinyl, along with some classics. Occidental students can often be found frequenting some of the neighborhood haunts, but they don't distract too much from the local character.
Samantha R.