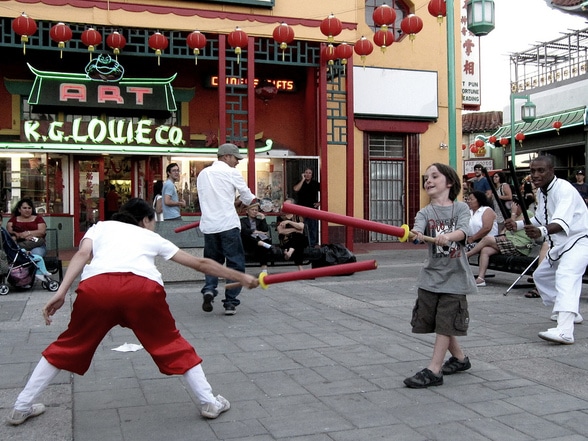 Enter Chinatown and you can instantly pretend you've gone on an international vacay–minus the expensive airfare and crazy customs regulations. Chinatown is a must-see when visiting or living in Los Angeles. Like most Chinatowns across the country, this nabe is lively at any hour of the day or night. Endless food options and shops full of fabulous randomness are ever changing, make every visit to Chinatown unique. Real estate's mostly apartments in this nabe–tight living quarters are the norm. Embrace the hustle and bustle of Chinatown and explore its winding streets; we promise they won't disappoint.
Chinatown Data
Lowest Attributes
Chinatown Articles and Reviews
The Dancing Dragons of Chinatown
Looking up from West Cesar E. Chavez Boulevard on North Broadway facing Downtown Los Angeles you will see two gigantic, twisting golden dragons poised and ready to strike at each other. No, this isn't a horror movie or an ancient Chinese legend come to life. This is Chinatown.
During the day Chinatown is a scene of hundreds of pedestrians crowding the sidewalks, patronizing the local ethnic shops and dining at one of the numerous (real) Chinese restaurants. If you're looking for some Far East herbs or Asian delicacies, Chinatown is the power hub of all of Los Angeles, rivaling and surpassing Little Tokyo (no offense to Little Tokyo – that place is awesome; some of the bars there let you smoke! More on that later).
And if the cultural atmosphere of the day is not your cup of (green) tea, come back when the sun goes down. Chinatown is a completely different beast (dragon! Ha, ok, I'll stop, I'll stop).
Down on Broadway and across from Bamboo Lane right smack dab in the heart of Chinatown on the made-up street of Gin Ling Way is Mountain Bar – one of the best dance clubs in Los Angeles. Mountain Bar has two dance floors, and at least three different bars. But the best thing about this area is the local small (and kinda mysterious) bars and late-closing restaurants. The plaza located next to Bamboo Lane and Broadway is known as Old Chinatown.
Definitely a place to please both tourists and club-goers alike.
What's awesome
Mountain Bar, Chinese Resaurants, Bars
Luis R
A Microcosm of Another World
L.A.'s Chinatown is not as big as those in New York City or San Francisco but it has much of the same appeal. There are plenty of great restaurants, small markets and the ambience you would expect of any city's Chinatown. What sets this neighborhood apart is the hybrid of very traditional Chinese culture and visitors from everywhere else. The L.A. State Historic Park plays host to events ranging from indie music festivals to the circus, while people still flock to the classic French dip sandwich spot Philippe's (open since 1908). Chinese New Year is a massively popular attraction on an annual basis, and lots of visitors stop through on their way to or from Dodger Stadium. You'll see plenty of locals who have been living in the neighborhood for a long time, and many of them keep to themselves. By the same token, Chinatown tends to be a lively and upbeat place, though the housing options are not always the best quality. The place has a bit of a grimy feel at times. Definitely affordable, though.
Kevin
Forget it Jake, it's Chinatown.
This nabe is characterized by its colorful shops and delicious food, which can be found right next to Dodger Stadium and some of LA's busiest freeways. Getting in and out of Chinatown by car can be a hassle, but once you're there it's an exhilarating experience. I could spend hours here just taking in the sights and smells. That being said, I wouldn't really want to live in this area. Apartments are cheap, that's for sure, but the environment is loud almost 24/7 and known to be pretty grimy. Perhaps more a place to visit rather than live in.
Diverse and in the heart of Los Angeles, Chinatown is a must-see. A suggestion for the visitor: stick around until the evening to see the strings of paper lanterns light up, along with bright neon lights that outline the already crazy-cool architecture. It's like you're in another world!
Nikki
Never a Dull Moment
Chinatown is either amazing or a total bust. Either way, there really isn't any "in between" here. Sometimes I go and am in awe of all the madness, in a good way. I love the chaos. I love the random shit that people are selling for dirt cheap. Plus, I find so much inspiration here. All the people hustling to sell their food, drinks, raw meat, clothes, trinkets, etc. It's fun and amusing.
Then sometimes I go to Chinatown and find it disgusting. There is trash everywhere, the food tastes terrible, and the people are pushy and obnoxious. I guess you have to go on a good day and in a good mood. I have to be in the "chinatown" state of mind to enjoy it. Regardless, Chinatown is certainly never dull.
Alex C.