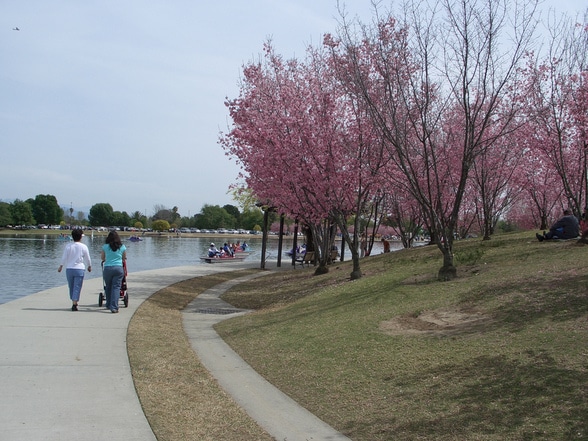 One of the Valley's best kept secrets, Lake Balboa is a beautiful and peaceful haven nestled between Van Nuys, Encino and Reseda. With an impressive man-made lake, colorful cherry blossoms, and flat expanses of greenery, many visitors tend to forget they're even in Los Angeles! Take a bike ride on one of the park's many trails or enjoy a midday game of golf with friends; the recreation options are endless. The residential streets outside the park are quiet and lined with towering trees, giving the entire nabe a unique woodsy feel. Although Lake Balboa is bordered by two of the busiest freeways in LA, noise pollution is hardly a problem in this calm and secluded nabe.
Lake Balboa Data
Lowest Attributes
Lake Balboa Articles and Reviews
the park that made a nabe
Lake Balboa is a lot like Van Nuys next door—I think there's debates actually about where VN ends and this place begins. As you might have guessed, the coolest part about this place is the park, which, in all its concrete glory, is still pretty cool. My guess is that the areas right around the park are gonna start getting nicer and nicer, what's that called? ah, yes, gentrifying. We'll see.
What's not so awesome
the park is really cool, but beware: there are children everywhere
Jack A.
Lake Balboa is one of the most beautiful spots in LA; it's like a little paradise in the middle of the concrete jungle. Residents here enjoy peace and serenity in addition to proximity to the city and fabulous 80 acre Anthony C Beilenson Park which includes:
*Lake Balboa
*Barbecue pits
*Bike paths (yay!)
*A playground
*A special handicapped playground
*A fly fishing area (where else can you find that??)
*A jogging path
*Pedal Boats
*Picnic Areas
*A remote control boat cove
*Some of the city's most beautiful cherry blossoms throughout the park
The park also has its own parking lot so even if you don't live in this nabe you can come visit and take advantage of all of its wonderful facilities!
What's awesome
What's not so awesome
There's not much else…other than the park
Vanessa P.
Be sure to visit in spring
Laid back and outdoorsy is the general vibe around Lake Balboa. This nabe is best known for its expansive park and recreation center right off the 405 and 101.
True, the lake in Lake Balboa is completely man-made (and you can definitely tell), but give 'em credit: it's not very often you get to see such a huge body of water in Los Angeles (besides the ocean, that is). And it's a wonderful place to spend a day picnicking, biking, and kicking around a soccer ball. The environment is friendly and welcoming, a great place to bring the family or walk the dog. Just be sure to watch out for those ducks. It's like they can spot the tiniest crumb on your fingers, I swear!
The best time to visit Lake Balboa is in spring, when all the cherry blossom trees begin to blossom. The burst of color is absolutely beautiful!
Nikki