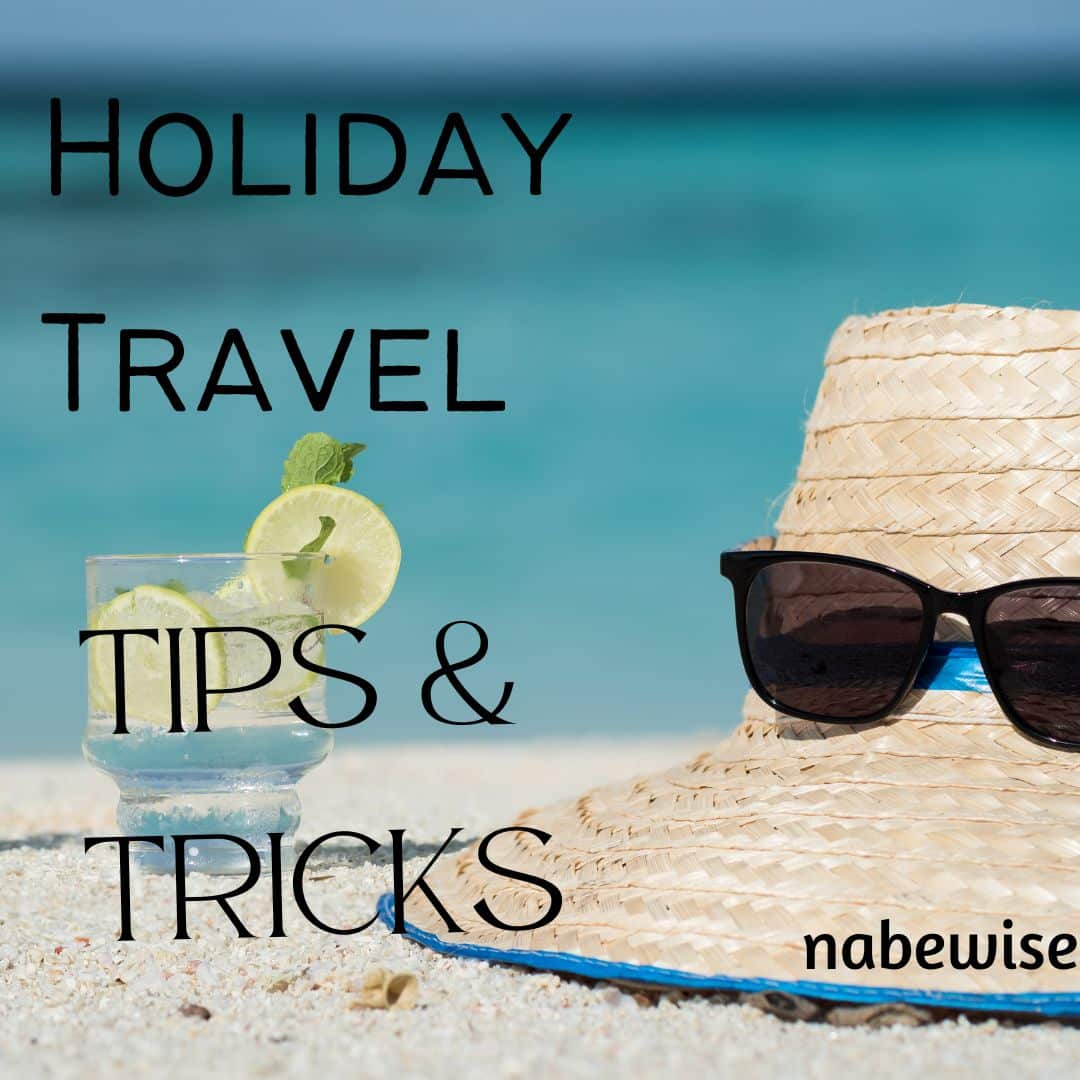 Holiday Travel: Tips & Tricks
By Nabewise
The holidays are great. You get to spend time with your family and friends, and everybody gets to have a good time. When you combine great holidays with significant travel, they become so much better. On the other hand, nothing great comes for free. When combining both travel and holidays, the cost goes up significantly. Don't let high costs stop you from traveling this holiday season. We have many money-saving tips to help you make your holiday trip happen.
WHEN TO BOOK
Right now is the best time to start booking your holiday travel. If you book later than September, flights, and hotels start climbing. The absolute latest you should book your Christmas travel by is October, although you'll still pay well more than you will now. As for the best days and times to book, everybody has their own opinion. A million articles are out there saying "research shows" that (name a day and time) is the best time to book, but that varies greatly. I advise checking every day and looking at websites that will let you set alerts, like Airfarewatchdog. It takes 20 minutes at the very most out of your day, assuming that time is worth saving the money.
BE FLEXIBLE WITH DATES
Although it's probably more convenient to fly to your destination a day or two before the holiday, it's not the cheapest way to do it. Why not try flying in the morning of that holiday? Flying on holidays can be substantially less expensive than washing the day before or after.
BE SNEAKY
Travel websites can be a little shifty sometimes. Some sites use internet cookies and other tools to their advantage, predicting when you are about to buy and raising the prices. To eliminate this risk, clear your cache before and after searching for flights or use private browsing. Some say this doesn't happen, but others have seen and shown it in action. Either way, it's better to take five minutes at a chance to save some money.
BYOB
This is one of those face-palm moments. When flying, you're only allowed to bring a certain amount of liquid in a carry-on or personal item. The fluid can only be in three-ounce bottles, and you can get as many as possible into a one-quart bag. The best part? Liquor is included. That's right; you can bring as many mini liquor bottles (the little 50 milliliter ones) that fit in a one-quart Ziploc bag—no need to pay for drinks on the plane anymore.
RETHINK LAYOVERS
Layovers are annoying; that is established. If the difference between a layover and a direct flight is $10, pay it. Sometimes the difference could be $100, though. If there's a significant price difference and the layover is cheaper, you could save some serious cash by extending your travel day a little more with a layover.
BE FLEXIBLE WITH LOCATIONS
If there are alternate airports within an agreeable distance, check those for possible lower fares. In many places, you can go to a different city's airport while only spending another 20 minutes driving, and less popular airports are more likely to have lower prices on flights. For example, going into Midway or even Milwaukee is expected to save money if you fly to Chicago.
PACK LIGHT AND TRAVEL SMART
If you can't survive on what you can fit in a "personal item" (backpack), compare baggage fees when choosing flights. For example, some airlines give you one or two free checked bags plus a free carry-on. That could be up to a $160 value, so weigh that against less expensive flights. Also, pre-weigh your luggage. Too many people find out their bag is 65 pounds at the airport, then complain about the extra fee.
PLAN, PLAN, PLAN, AND PLAN SOME MORE
Nothing will save you more money than being prepared. Know what you'll do and how you'll pay for it. You don't need an itinerary, but you don't want to spend more than you expected. Plan and plan early. Call ahead to determine your options for transportation from the airport or renting a car. Get tickets ahead of time if you want to see a museum or another popular attraction. Most importantly, don't decide you want to go on a trip a couple of weeks before you want to leave.
EARN CASH BACK
Use cash back credit cards and FatWallet merchants to book your entire trip, save money and earn cash back. Check out the Travel page and look for all the best deals. Book soon, or it'll be too late!