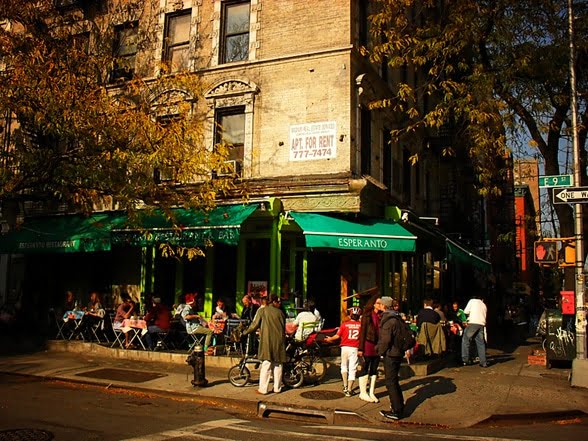 Lower East Side
By Nabewise
Infomation
In recent years, the Lower East Side has absorbed the creative, retail, and nightlife scenes of bordering downtown nabes like the East Village, Chinatown, and Little Italy. Lower East Side locals thrive in this unique nabe and foster a vibrant community filled with trendy restaurants and bars that compete with longtime local eateries, creating a gritty hip vibe similar to Brooklyn's Williamsburg.
Top Votes – Score out of 100
Gentrifying 96
Singles 92
Nightlife 92
Dining 84
Artists/Creatives 73
Lowest – Score out of 100
Seniors 30
Clean 28
Quiet 17
Empty nesters 13
Income 5
Top Reviews from Travel Rentals Neighborhoods
Something Else Entirely

On a Saturday night along Ludlow, Essex, or Rivington, the stylishly sloshed bar crowd might convince you that the LES is romanced by the same vision of the ultimate in taste and beauty as the East Village, but then you remember that the neighborhood was host to the worst smelling block in the city, a stench so powerful it made the New York Times. It's this cohabitation of beauty and disgust that gives the neighborhood its uncanny charm, and I would argue, its soul. For every trendy bar, there's a sketchy massage parlor up the street. For every impossibly attractive model, a cockroach in her apartment.

The face the LES shows to daylight is a good deal more gritty and bombed-out thanSoho or the East Village, its western and northern neighbors. Studded with grim little parks and cramped six floor walkups, the LES demands still greater sacrifices in quality of life from the people who've already given up almost everything they could've had just to live in the center of universe. Rent is cheaper than the EV but not by enough, and the housing stock is on average noticeably worse. But I love this place. I love it.

Old men playing Mahjong across from hipsters playing bike polo (I know, I know). Faces in windows, rapt in bowls of soup dumplings. Drunk girls crying in a pile of broken heels and purses. Crazy people yelling incomprehensible and inaccurate slurs, crazy people spitting at you, crazy people urinating with blissful abandon. All of it. You have to take all of it. And then you just shake your head and say "Lower East Side."

The LES is still dodgy (though very safe), but don't call it underserved. It's bursting with excellent (though not quite world-class) coffee, bars, and restaurants. Essex Market has plenty of bougie staples and is the new refuge of the legendary Shopsin's. The Bowery Ballroom may be the most consistently great venue in the city. There's heavy pollination from Chinatown, giving the neighborhood a cultural backbone and great dumplings. New development is eroding some of the nabe's remaining personality, but I have faith that more Chinatown influence will keep it real.

As for demographics, the population age seems to vary, with newly arrived young professionals as well as older, longtime residents and families. Unlike much of the EV, the LES is not thirtysomething poison, though I imagine it is not an ideal place to raise a family. The benefits of living here as opposed to visiting are clearer compared to the EV and Soho. It's not a community like you'd find in an outer borough, but it does have something. A vibe, maybe a sense of shared adversity. In any case, when Orchard street below Broome transitions from day to night with soft lights and fragments of quiet conversation, it might as well be Paris to me.

What's awesome

The atmosphere, vibe, Shopsin's, Cafe Grumpy, pretty much everything except what's not awesome, and maybe everything if you have an aesthetic sense for decay and grit

What's not so awesome

Little green space, mostly small and crappy apartments, not as conventionally clean as other desirable nabes, depending on where you are subway access can be not ideal

Michael C.
Working in Real Estate in Manhattan, I see just about everything. Million dollar listings in Soho, Park Ave penthouses, and Brooklyn brownstones, but in all the options at my fingertips I wouldn't be anywhere else then the LES. Mixing old Jewish history with 2$ Chinese dumpling joints, Jalepeno 'ritas and dive bars, fine dining on top of dollar stores, and new art galleries galore, this neighborhood is the perfect blend of eclectic and traditional NYC flavor. The vibrant energy of artists, hot fashion, life long locals, and upcoming talented professionals, make the neighborhood so ripe with inspiration that simply enjoying a cup of Gelato (the best in the city actually) from an Orchard St stoop is a blast.

Walking distance to everything downtown, I never have to take public transportation. I pay under market in living expenses and have everything at my fingertips. Needless to say as the professional local staying away from Ludlow and Riv on a Friday night is a given. To avoid the finance "Blue Shirts" or others that tour the LES passing through their beer crawl, below Delancey or east of Essex are the best spots to frequent for the food, nightlife and ethnic qualities that make the area so amazing to be a part of.

Nolita, Soho, G.Village, E.Vill, Chinatown…..all a stone through away. What I love about living here is knowing not only the amazing social spots to haunt, but knowing what the amazing homes look like inside showing my clients the very best of downtown, while enjoying telling the tale of every corner.kira saltzman
LES Still a mixed neighborhood and I like that

I love the mix of hipsters and and natives. No chain stores here- it's really cool how small boutiques (from vintage to dandy-wear to coexist next door to delis, wholesale candy stores and fabric stores that have been in the neighborhood forever. The nightlife above Delancey is great, but can be overwhelming on some nights. The area below Delancey is one of my favorites, all small restaurants and shops, with a more open feeling than above Delancey.

Jessica Milton
If you want to see New York gentrification on fast forward, this is the place to come. A new place will open and be very welcoming because it wants customers, then in a year there's a velvet rope and bouncer out front. Then a year after that it gets written up somewhere lame, and the the people that come kill the scene. Then the marquis changes, and the cycle continues. There are some great holdouts down here of course, like Max Fish. The food can also be spectacular, though expensive. Schiller's, Inoteca, Cafe Azul, and Freedman's are not to be missed. Living in the neighborhood is quite different than visiting for entertainment. When the party dies down, you really are back in one of the grittier neighborhoods of New York, even with the luxury buildings that have gone in. This is a great nabe with tons to offer, but I think it takes awhile to really understand.evan
Trendier than it Ever Was

The Lower East Side has, as of recent, taken in the trendiness of nearby neighborhoods like the East Village, the Bowery and NoLita. While it used to be known as a religious stronghold, it has developed a strong nightlife scene, and many young people have moved in.

The LES has good bars and places to eat, but the kind of people you find here may be considered a bit "too trendy (hipsters)." There are students here, and still some religious people, but the LES is not how it used to be.

You've got the williamsburg bridge right in this area so you're gonna get a healthy mix of brooklynites and manhattan dwellers in this nabe. It is a pretty laid back nabe, with some nice apartments for younger crowds.

What's awesome

What's not so awesome

bbb
LES is unbelievably cheesy.

Some will tell you that cheese is cheese. That the cheesiness you'll find in the Meatpacking District is similar to that available down under the Manhattan Bridge overpass.

But everything is different, and better, on the Lower East Side. Tastes are richer, people are way specialer; overall, you'll experience superior authenticity and maybeeven pay a smaller price for it.

There's no better exemplar of this ripsnorter than cheese. If you find yourself on LESand in need of a grand selection of international, artisan cheeses that are described, cut, and paper-wrapped by Grade-A hipsters, don't panic. (That is, if it's before 7p, or 6p on Sundays.) At opposite ends of the Essex Street Market, Formaggio Essex and Saxelby Cheesemongers hold court. The latter is more popular, I think, owing to its sexier name; I favor the former.

If you'd like your cheese to stay, walk one block north and one west to 'inoteca. Delight spreads across the faces of servers here when you tell them you're there for the cheese and you wish them to select some for you. Or, if you seek quantity over quality, traipse 3.5 blocks more west for a cheesboard at Jadis that's meal enough for two.

The south side of Houston Street is another cheesewalk. The cream cheese at savory and insanely cheap Heaven's Hot Bagels is divine; a deli called Punjabi Food Express—or Seven Rivers, depending on who you ask—purveys fine Indian paneer (only on certain days). Russ & Daughters has ceased schmearing homemade olive cream cheese—which hurt—but there's still a startling selection of gorgeous cheese hunks in their fridge case.

In the evenings, Bruschetteria's unreal happy hour special gets you buzzed with a side of cheese-full bruschetta topping, and pizza cravings are quick-fixed with a moz-smothered, Nonna's LES pie.

I could write about so many quality of life indicators besides cheese that stack up on the Lower East Side. Take, for instance, dive bars, unique boutiques, pleasant places for walking, studio apartments in fire escape-clad, historic tenement buildings, and the nation's foremost feminist bookstore. Subway access may not be over-convenient, but living in a nabe like this, I see no reason ever to leave.

Laura G.
Still So Much to Discover

Looking at the NabeWise map, I am so glad that my current apartment is classified as Lower East Side and not Chinatown!

This neighborhood can really be divided into halves: above Delancey and below Delancey. This busy thoroughfare leading to the Williamsburg Bridge divides the trendy part of the LES from the more quiet, up-and-coming section. Above Delancey, expect to find all those bars, clubs, and restaurants you've read about in Page 6. Once Thursday rolls around the freaks come out, and you might find one passed out on your doorstep in the morning. Below Delancey there are stretches that remain completely deserted at night, but the bars and restaurants you find are intimate and unpretentious.

Some of the lowest prices in downtown Manhattan can be found here. With hard work and persistent Craigslisting, you can find a share for under $1000. This is the holy grail of Manhattan real estate for the young, fabulous, and broke. Plenty of new condos have popped up in recent years, but those are for sell-outs. The walk-ups have charming old-world facades, and some are very well renovated. If you ever feel that your apartment is unbearably small, you can sign up for a tour at the nearby Tenement Museum to see what the nabe's immigrant population had to put up with. (spoiler: you don't have it half bad)

There are some fantastic and reasonably priced restaurants in this nabe, and the bar scene can't be beat. There's something for everyone: underground music, speakeasies, chill lounges, and even bro bars. The main transportation artery is the F train, which the MTA surely labeled for Fun! Service on this line can be extremely confusing on the weekends, so the inexperienced should probably stick to cabs.

Out of every neighborhood in Manhattan, this one has probably found the best balance between old and new. Let's just hope it stays that way!

Alex P.
Live. Love. LES.

There's no better place to be young and in love, with yourself or with anything. Music, booze, art, friends. Everything you need is within walking distance. It doesn't matter if most of the youth who live here are posing for an imaginary photograph that isn't being taken. It's still a rockin' good time, if you've got the funds to be cool enough.

Nina B.
Chilled out a bit recently

The LES is all its cracked up to be for bars and restaurants. My two cents is that I think it's a little less of a keg party now on the weekends since all the financial mess has hit, which is fine by me.

Ronnie G.
It's where I'm from

This neighborhood is about many many things. You can go down one alley and it is filled with nothing but bars and one street has shopping and one gives you a view of the river. Diversity is a part of manhattan and the lower east side represents that.

bbb
OMG, I love it here! I finally moved here from uptown, and I've never had so much fun. You can see any kind of music you want. On the weekend you've got to know your spots though, because EVERYBODY comes down here to party, from wall street guys with the arm candy to Euro tourists. It's fun, but you can catch a lot of attitude and it can get out of control quick. The other thing, it's pricey. I pay 1250 for a studio smaller than the room I grew up in, and supposedly I'm getting a deal. You can also blow a lot of cash just out having a good time. All in all, I couldn't live anywhere else right now.Carrie C.
hipster central

The Lower East Side is hipster central but there are some awesome shows to see down here. The bar scene around the Lower East Side is legendary so this shouldn't come as a surprise but it is pretty busy and not a place I would bring my little brothers, I don't think. It's the kind of place where you find a hookah bar. Cool people wearing cool clothes.

Nick
his is a great neighborhood for those who are young and like to spend money. It's for people who love to see and be seen. Young professionals who are making their small fortunes will get the most out of this area. However there are still possibilities for someone with a smaller budget who likes to dream of living large.bbb
People love to describe this neighborhood as gritty-chic. What was once a heavily immigrant populated area with tenements and mom & pop shops is being transformed into one of the trendiest places to be. Sure the streets are still dirty and there is a hint of grime in the air, but in a really expensive way.bbb
You get what you see here in L.E.S.! Come over here to see what you might get!

You want a bar, there's your drink! Dirty looking wannabe interesting waste of the world's time youth, you can have that too. And if you want other things too, you can get those in pockets here in L.E.S.

If you didn't know that most of L.E.S. is Chinese to the south and Puerto Rican to the East, then you're in for a BIG surprise! A lot of immigrant Chinese and Puerto Rican families live here. Go to Essex Market and you may as well be living in Puerto Rico. Go south of Delancey and you may as well be living in China. Did you know that? Well, some types of white people are filling in the retail and residential space here and there in L.E.S. courtesy of a genuine interest in the area. Come back to this neighborhood in 2020 and you'll think whites always lived in L.E.S.

Well, it wouldn't make sense to talk about L.E.S. without pointing out that each street is almost a neighborhood in and of itself. From Houston to Delancey and Allen to Essex, you get a lot of nighttime activity. The area east of Essex all the way to Clinton has a lot of schools and the Velez community center. On that stretch, Rivington and Clinton have foot traffic and commercial activity. Broome from Ludlow to Allen and Orchard from Delancey to Grand has quite a bit of activity.

I could go into more detail here, but this neighborhood requires being here to know what it is. If you don't live in L.E.S., walk the streets and spend some money here and go East, West, North and South and then you'll know what the Lower East Side Really is. L.E.S. goes from the Bowery to the East River and from Houston to the Manhattan Bridge.

Tommaso
Tragically hip

This place is pretty much the shit!!! My cuz has a badass apartment right on Houston within easy walking distance of so many restaurants and bars. Yes the people are fake and entitled, but so am I, so it works out! If I could afford it I'd totes live here instead of Williamsburg (where people are just as fake and entitled but also bearded).

Ben Hughes