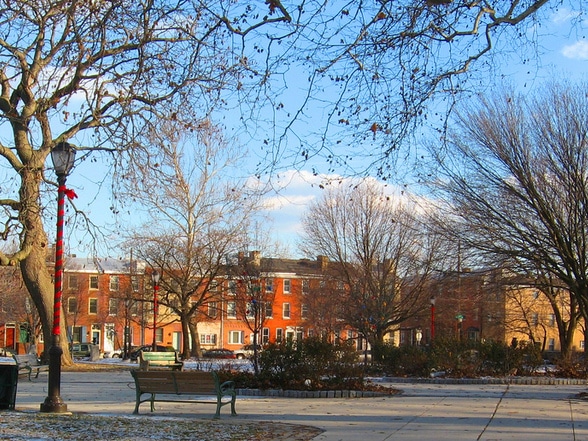 Sitting between hot spot Passyunk Square and the placid vistas along the banks of the Delaware River, Pennsport itself emanates an attitude somewhere in between. Although Pennsport's streets aren't known for reaching high decibels, the nabe is not without low key bars and restaurants that locals are proud to visit. The nabe may be modest, but it contains everything one needs, with the added bonus of friendly neighbors. If you must journey beyond, Pennsport also provides convenient access to the Delaware Expressway.
Pennsport Data
Lowest Attributes
Pennsport Articles and Reviews
Nice to call home
This is one of those nabes that holds no interest for anyone as a destination, but people probably dig living in it. Good local businesses and a mellow atmosphere are nice if you live in it, just dont expect much if you are looking for a destination.
Mark J.
not hip, but it's happy with that
this is not one of the "Cool" philadelphia neighborhoods per say, but in many ways, and for many people, i think it can be ideal. pennsport is a really quiet neighborhood. there are some bars and restaurants, but most of this is residential and has that kinda urban-suburbia thing going on. Most of people have lived here for a really long time and there's a very friendly vibe here, neighbors watch out for one another.
it's a safe place too. i see kids out on the streets and people out pretty late at night without any issues. this is not a place for 'hip' to go, but it is a place for friendly people looking for a safe, quiet, and happy home.
What's awesome
affordable housing, safe and friendly atmosphere, good people
What's not so awesome
public tranist into center city can be a bit of a hassle, there is not too much happening in the ways of bars or shopping, this is a cook dinner at home and then hang out with the neighors place.
Kevin D.
Row after Row
Philly row houses and little delis populate Pennsport, a residential feeling locale that's pretty quiet save the occasional watering hole or low-key restaurant.
I'd say Pennsport's good for day to day living, quaintly squished up next to your neighbors in the way only Philly's row houses will do. Not really the "it" place to visit when touring the town, but if you're looking to Philly to settle down, Pennsport's a common-man urban respite.
What's awesome
near parks and greenspaces, cool industrial relics, low-key, not up and coming but not down and out, unassuming awesome in South Philly, access to Delaware Expswy.
What's not so awesome
Delware Expswy runs right through it, casinos looking to move in (depending on your views, this could be awesome, not awesome, or negligible)
Hannah R.