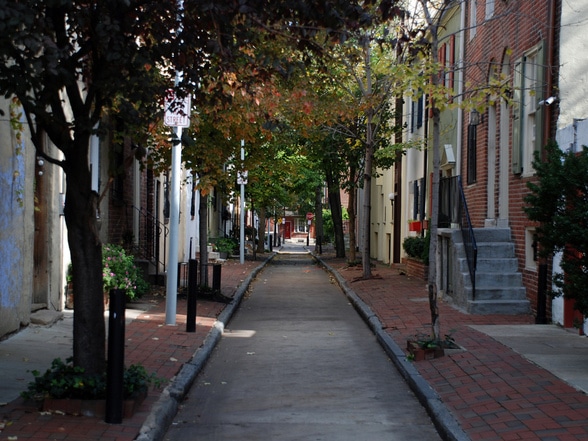 Society Hill holds a sense of charm we thought only existed in storybooks. Lined with cobblestone streets and beautiful brick row homes (many originals from the 18th century!), this historic nabe conjures an almost European sense of sophistication. Society Hill enjoys a seemingly endless supply of old-world romance, yet remains steadfastly anchored to the urban center of the city. If residents ever tire of sipping tea or taking lovely strolls through Society Hill's tree-lined streets, they can journey over to Old City or South Street for dining and drinks of the finest kind.
Society Hill Data
Lowest Attributes
Society Hill Articles and Reviews
Well-manicured semi-urban life in America's 5th largest city
If you visit Philadelphia as walk through Society Hill, you'll be blown away by how peaceful, how green, how charming, and how well put-together everything is. The houses are built in the old colonial rowhouse style, with colored shutters and reddish bricks. The trees are perfectly spaced along the streets. The sidewalks are made of bricks, each in good condition. All the people walking the streets seem to be in a good mood.
I once had someone tell me that Society Hill is the ideal neighborhood in Philadelphia. On the surface, it might seem like this is the case. But scratch the surface a little bit, and you'll realize that you've scratched everything away. There's nothing left underneath. There are no corner BYOBs, no interesting bars, no clothing stores, no strong arts community. This helps keep the neighborhood quiet, but it also precludes most urban recreational activities.
The neighborhood is not so named because it is the home of Philadelphia's 'High Society'. It's named after the Free Society of Traders that was located in the area all those centuries ago. But today, the 'society' in Society Hill might as well refer to the wealthy, as you need deep pockets to buy or even rent in the area.
Society Hill is beautiful, sure. But it really isn't anything more than that. That's why I prefer not to live there, but to venture through every once in awhile to admire the old houses and the lush trees. But for everything else that you expect from city life, there are far better neighborhoods.
What's awesome
Beauty
Calm atmosphere
Nice houses
What's not so awesome
Superficial
there's no THERE there
Andy F.
this place makes me want to speak in a british accent
i love walking around here! society hill has an old-world fancy/sophisticated charm (cobblestone streets a must!) that feels similar to brooklyn heights in ny or georgetown in nyc.
I mean sophisticated in the truest sense of the word. People here have antique furniture, really well lit apartments, nannies, there's something almost british-feeling about it.
What's awesome
beautiful vibe—the old rowhomes here and really well kept and the place feels a bit magical
What's not so awesome
there aren't lots of singles here, it's expensive, it's kind of "don't wear your ratty jeans here" neighborhood. there's lots of diversity here, but it's cleancut diversity—not a place to be dirty or drunk
Amy C.
High Society
You know the perfect little towns inside all those Christmas snow globes?
They were all modeled after Society Hill.
What's awesome
It's a perfect, pristine, pleasant, family-oriented atmosphere in Center City, near the heart of it all, but quiet within itself.
What's not so awesome
Only those with deep pockets need apply.
Hannah R.