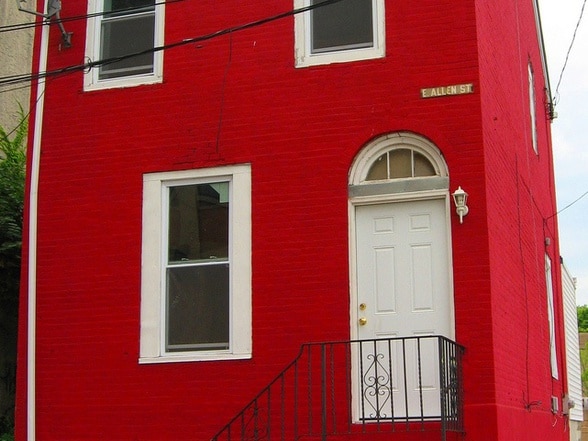 Once the center of a booming fishing industry (how'd you guess?), Fishtown is now known for its industrial vibe, Irish pubs, and steady rise in popularity. Covered in tightly packed row homes and a few modern lofts, Fishtown totes a trendy-grunge vibe that welcomes in all sorts of folks. While many artsy spots have made a home here (think little coffee shops and vintage stores), Fishtown still maintains a low key gritty nature that's keeping locals hooked on this spot along the river.
Fishtown Data
Lowest Attributes
Fishtown Articles and Reviews
Hipsters vs. Locals
As a buffer zone between the yuppies of Northern Liberties and the grit of the great northeast, Fishtown has been changing rapidly over the past 5 years. This area has not been gentrifying as quickly as NoLibs, but the lively nightlife scene & cheap rent have been attracting a young (and hipster) crowd.
It's not an area that I particularly enjoy walking around at night by myself (though I have done it), but things are getting safer. That said, my friends who (still) live here have had their house broken into, but you're pretty much taking that chance anywhere in Philly.
Even if you don't live here, visiting Fishtown is worth the $1.55 El train fare. If you like indie music, dancing, and good happy hour deals, then this nabe is probably one of your best bets in Philly. The Barbary has a different themed dance party every night, and Kung-Fu Necktie & Johnny Brenda's host local and some more well known bands regularly. The El Bar is one of the most laid-back places to grab a (cheap) beer with friends. Plus, they have carry-out beer in case the local bodega is closed.
So, next time you find yourself sick of overpaying for drinks in the NoLibs Piazaa, take a walk into Fishtown… if you have a group of people with you.
What's awesome
Johnny Brenda's, Barcade, Barbary, right off the subway
What's not so awesome
Still pretty sketchy
Lauren M.
Fishtown = East Williamsburg
somewhere past "half way gentrified," Fishtown is becoming exactly what east williamsburg is: getting there, fast, for better or worse.
While still on the cheaper end of the spectrum, it is safe to assume that rents will rise steeply over the next few years. So buy some property if you wanna make some money.
Now if we could just get the damn casino out of here, everything would be groovy.
Oh yeah, looooove the restaurants in this nabe.
Mark J.
hip but real
i like fishtown more than northern liberties because the hipster culture is a little less IN YOUR FACE i think. It's still there, but it's not like every person you see on the street is 25 and in, ugh, do I even need to describe the outfit? you all know what i'm talking about.
fishtown's really awesome and has killer spots for drinking or going out to dinner, but it also has an authentic philly thing going on—all sorts of people live here and you can meet cool people that have interests outside of your own.
Doug L.
I Caught a Fish and it was T H I S BIG
Then: Fishtown was founded by working class European settlers and groomed by German, Irish, and Polish immigrants who worked the river and loved their religion.
Now: Fishtown doesn't smell like Shad guts anymore, but instead wreaks of young, hip, artsy potential (interspersed with the occasional scent of bygone days when the industrial buildings were actually used for industrial purposes, centered around fishing.)
If I walked into a department store, I'd prefer the "Fishtown Now" scent being sprayed in my face rather than "Fishtown Then."
But it's no tall tale that Fishtown Now is rapidly becoming some of the most coveted real estate to live, eat, drink, and play.
What's awesome
close to public transit (Market-Frankford Line), cool industrial vibe with real roots in a blue collar past, hip nabe spot for food, drink, and merriment
What's not so awesome
As time goes on it's possible the fabric of the working-class, solid neighborhood identity feel of Fishtown will unravel, leaving that vacuous emptiness specially attributed to ardent yuppie-fication, thus condemning its blue collar memories to lives that continue only through tall tales "of when Fishtown was T H I S great
Hannah R.