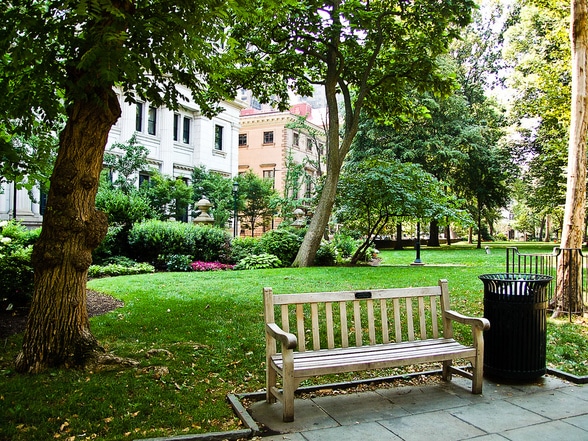 Washington Square West
By Nabewise
Awash in cute storefronts, pedestrian-friendly streets, and park space waiting for picnics, the sun always seems to shine on Washington Square West. Like its neighbor Rittenhouse Square, Washington Square West affords all the amenities catering to the hip and trendy, yet the nabe retains a historic, charming, and slightly quieter vibe. Sip coffee at one of Washington Square West's inviting cafes, take a rest upon its plentiful park benches, or embark on a treasure hunt along the nabe's "Antique Row," the options for delightful ways to pass the time abound in Washington Square West.
Washington Square West Data
Lowest Attributes
Washington Square West Articles and Reviews
pleasantly neighborhoody and stuffed with lots of things to do. Location of this nabe makes it super convenient. It's still devloping in some areas, so there are constantly new bars and eateries popping up.
This nabe is also the center of the LGBT community, most of which is in Gayborhood, the west side of this nabe.
Mark J.
Alliteration for Washington West
Acceptably affordable
Conveniently Center City
More mellow (than Rittenhouse)
Hip hangouts
Parks for play
Gaily Gay
Lovingly Lesbian
Laissez Liberalism
What's awesome
Nice spot in Center City but more affordable than Queen Village or Rittenhouse Square. Feels more neighborhoody and less public/tourist spectacle than Rittenhouse.
What's not so awesome
Parts of Washington Square West get a little sketchy. Keep your head up.
Hannah R.
the great escape from rittenhouse
i love this neighborhood! i live in rittenhouse and i like to take the quick walk to wash.west next door. rittenhouse is an awesome neighbohood—probably one of the top spots to live in the city if you can afford it, but it does have the whole urban/crowds/crazy thing happening. i love that now and i think it's good for someone my age (early thirties), but i also really like coming here. the vibe's magically more quiet, more families walking around, more breathable air, and feels more casual. i like to take a walk around here when i need to think. or to fitler square—it feels a lot like that area too.
What's awesome
park space, urban but more peaceful
Michael L.