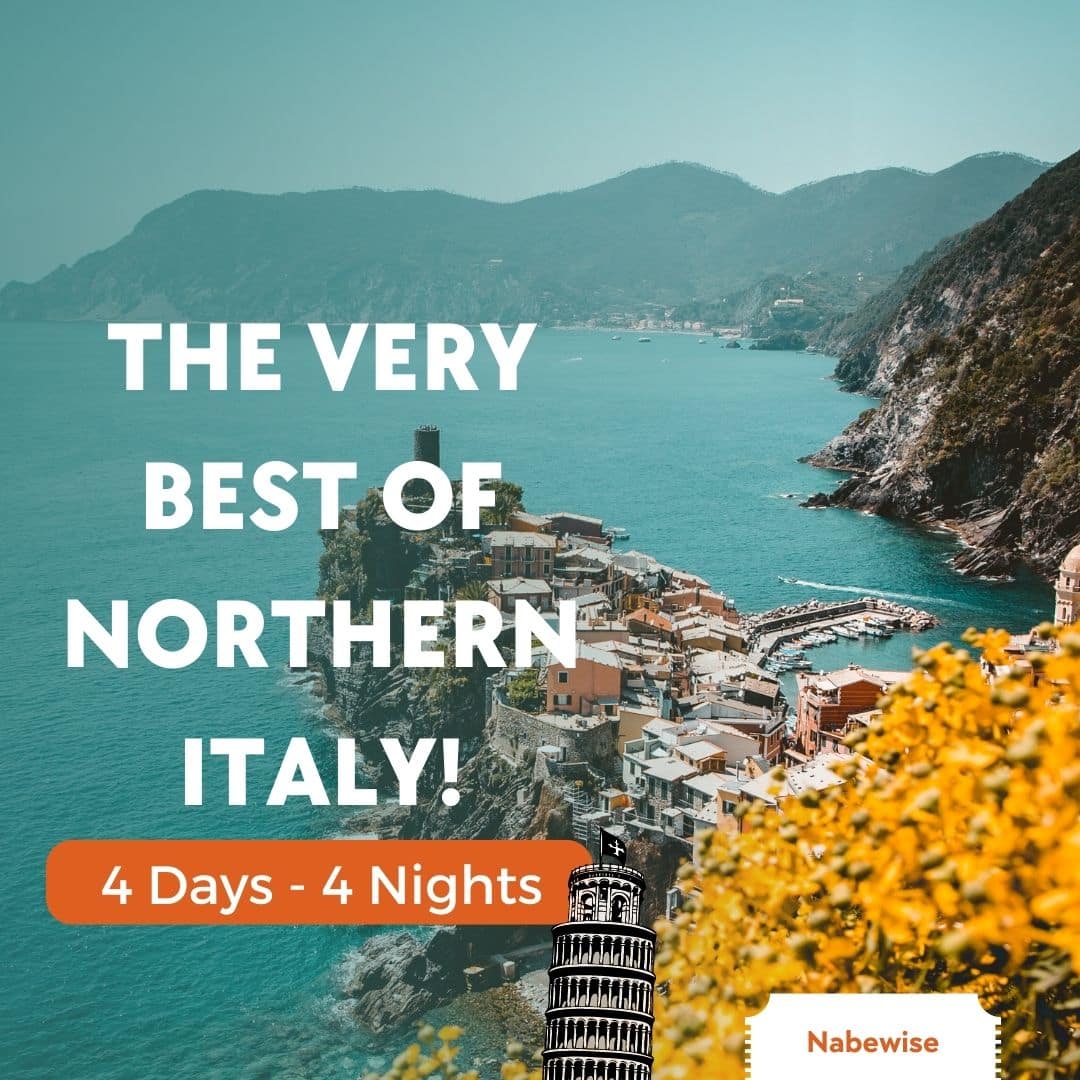 The Very Best of Northern Italy!
By Nabewise
Our very own Danielle Feelings wrote this blog. She's a lover of Italiano and knows this beautiful country's ins and outs; check it out.
Started planning your Euro trip yet? If not, then what the heck are you waiting for? One thing we can be sure of is Italy should be top of your travel to-dos this summer. This beautiful country has it all, from dazzling cities to beautiful beaches. So many places to visit and foods to try it can be hard to know where to begin. Not to worry, we have made you a list (everybody loves a good list!) of things in Northern Italy that you cannot miss, some of which you won't have even thought of.
Experience the Nightlife in Milan
Start your Italian adventure in Milan, the fashion capital, where you're guaranteed a party. Milan is the home of the Aperitivo, which means you buy a cocktail at happy hour and get to eat for free. (Yes, you read that correctly. Free!) Head to the Navigli Canal for a vibrant atmosphere, cheap drinks, and live music. Don't want the night to end? Go Dirty Dancing at Club Haus '80s for the cheesiest party in town. On Fridays, 80's music is king, with a different theme every week; Saturday invites international guests. DJs to keep you dancing until the sun comes up.
Milan might be known as a fashion capital, but it's also home to some of the best nightlife in Europe. From glitzy cocktail bars to underground nightclubs, there's something for everyone. And with Milan's late-night dining scene, you can keep the party going until dawn.
Cocktail lovers will feel right at home at Bar Basso. This legendary bar is known for its Negroni Sbagliato, a twist on the classic Negroni made with prosecco instead of gin. If you're looking for something a little more low-key, head to Biko for creative cocktails and small plates. For a truly unique experience, check out Magazzini Generali. This converted warehouse is now one of Milan's hottest clubs, with three different dance floors and a rooftop terrace with city views. Prefer to do your clubbing outdoors? Don't miss Druids, an open-air club featuring techno and house music. And if you're looking for somewhere to dance the night away, head to Lo FI for electro and techno tunes till dawn. Whatever your style, you're sure to find the perfect spot to enjoy Milan's nightlife.
Get around by Gondola in Venice
On a short train journey from Milan, you will find one of the most beautiful cities in the world. Leave reality behind and relax at the leisurely pace of Venice. Experience this magical city in true Venetian style with a Gondola ride along the Grand Canal. If you thought Venice was enchanting during the day, wait till you see it at night! It is a bit pricier to travel by Gondola in the evening, at €100 for a maximum of 6 people it's better to go in a group. If you're traveling on a shoestring, you can hop aboard a 'traghetto da parade' for just €4 instead. A traghetto is a large gondola that crosses the Grand Canal, so you can get the gondola experience without breaking the bank!
Venice is unique in many ways, but perhaps one of the most distinctive features is its mode of transportation: the Gondola. These long, narrow boats have been used for centuries to navigate the city's canals, and today they remain an essential part of the Venetian experience. While a single gondolier traditionally rows gondolas, many tourists opt for a "Romantic Gondola Ride," which includes a serenade from the gondolier. Whether you go alone or with a companion, a gondola ride is a must-do when visiting Venice. Just be sure to negotiate your fare before you get on board – the price is rarely posted, and you don't want to be taken for a ride!
Explore the Beaches of Elba
Elba is one of Italy's best-kept secrets, a beach bum's heaven. If the crowded Italian cities have left you needing some island life, then this picture-perfect island is the place to be. With over 70 beaches, you can explore a different one every day. Get the ferry from Piombino port to Cavo for around €10; in just 18 minutes, you will find yourself in an island paradise. We recommend getting an ELBACARD bus pass for just €7, so you can make the most of all the beaches! Before you get stuck, why not check out Mistral Café for the best pizza on the island? Enjoy the scenery at Cavo port while chowing for €8 and sipping a licorice mojito. If you're looking to go all out with a glam beach resort, plenty of hotels are scattered around the coast, boasting gorgeous views and poolside relaxation. Although there aren't many hostels on the island, there are plenty of cozy apartments to rent through Airbnb. From the white cliffs of Capo Bianco to the turquoise waters of Sansone, you will never have beautiful views. So what are you waiting for? Grab your bathing suit and dive in!
Elba is a small island off the coast of Tuscany and is known for its beautiful beaches. There are over 50 beaches on the island, each with its unique features. Some of the most popular beaches include Spiaggia delle Ghiaie, known for its clear waters and sandy beaches; Haldane, a secluded beach perfect for swimming; and Santivanzino, which has a spectacular view of the Tuscan coastline. No matter your preferences, you will find the ideal beach in Elba. So pack your sunscreen and your swimsuit, and head to Elba for a relaxing vacation.
Relax in the Hot Springs in Tuscany
Thought Tuscany was just endless rolling green hills? Think again. It is also home to multiple natural thermal pools. Move over to Blue Lagoon; there's a new spring in town! If you're looking for something a bit more off the beaten track, take a day trip to Saturnia, a small medieval town in an area known as Maremma, which overlooks the famous thermal baths. For centuries people from all over Tuscany have come to relax in the steamy sulphuric water fresh from the natural hot springs and enjoy the scenery.
Ah, the hot springs in Tuscany. There's nothing like relaxing in a steaming pool of water surrounded by the stunning Tuscan countryside. The water is just the right temperature, and the views are breathtaking. Whether you're soaking up the sun or soaking in the sights, the hot springs in Tuscany are a must-visit for anyone looking to relax and rejuvenate. So what are you waiting for? Pack your bags and head to Tuscany for a truly unforgettable experience.