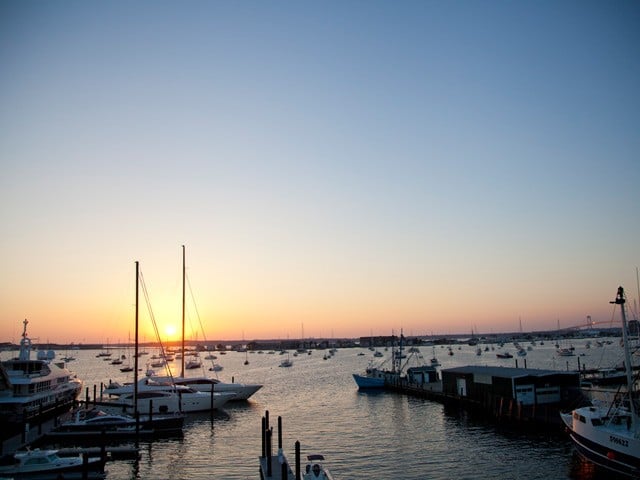 Things To Do In Newport, Rhode Island AUTUMN TRAVEL TIPS
by nabewise
Things To Do In Newport, Rhode Island AUTUMN TRAVEL TIPS
It's really not an exaggeration when people say that New England takes on a magical quality in autumn. With so many deciduous trees dotting the landscape from the rolling hills all the way down to the coast, brilliant shades of yellow, red and orange abound as the season swells.
While coastal resort towns get the lion's share of their adoration during the summer months, September and October are arguably an even more lovely time to visit these picturesque and historic spots from Connecticut to Maine. About an hour south of Boston and three hours north of New York City is Newport, Rhode Island—one such coastal town that's in it's aesthetic prime in mid-October, and rife with fresh restaurants, a host of activities and some of the most gorgeous sunsets you'll ever encounter.
Newport is famed for it's historic mansions—the almost comically large homes built by some of the most important families in America during the Guilded Era, to be used just eight weeks out of the year from July 4th to shortly after Labor Day. While some of these 'summer cottages' are still privately owned, many—like The Breakers, Rosecliff and The Elms—have been turned into museums open to the public.
On any given day from the end of June until mid-October, you can tour the homes that line Bellevue Avenue, and during the off-season, the majestic Cliff Walk remains open—allowing tourists, joggers and locals alike to take in views of the sea and the mansions' ocean-facing lawns at the same time—year round.
While Newport earned it's legendary status as a resort town for the American elite more than a century ago; it has plenty of modern appeal thanks to upscale hotels and restaurants and a harbor that moors exquisite yachts, catamarans and vintage sailboats from end to end. To experience all of these in one place, consider one of the town's newest hotels, Forty 1° North.
Nestled into the shops and docks of Thames Street in the heart of Newport, Forty 1° North is upscale and decadent with a dash of decorative whimsy, and even LEED-certified. The marina hosts moorage for small sailboats and epically grand yachts alike, and a happening after-hours bar on the water draws quite the crowd on weekends.  Rooms are given a luxe-meets-cozy touch with fireplaces and soaking tubs (perfect for warming up after a crisp evening harbor cruise). Springing for a harbor-facing room or suite ensures your morning coffee and evening cocktail come complete with a picture-perfect view.
Those particularly interested in nautical culture can arrange a tour of the International Yacht Restoration School, to see students restoring their Beetle Cats, the Museum of Yachting, as well as the school's biggest undertaking (literally and figuratively)—the restoration of The Coronet—built in 1885—one of the world's oldest and largest schooner yachts.
Dining out in Newport ranges from almost unbelievably historic to top-of-the-line foodie-approved.The White Horse Tavern, established in 1673, is the oldest bar and tavern in the United States—it even stayed open (and boozy) during prohibition. (It's must for anyone seeking a killer burger and classic New England Dark and Stormy cocktail.)
Thames Street Kitchen is a BYOB spot run by young chefs Chad Hoffer and Tyler Burnley—they became friends while working at New York City's BLT Prime—who married twin sisters from Newport that now help them run the intimate dinner-only restaurant Tuesday through Saturday nights. Make a reservation and come armed with your favorite wine—and don't forget to order the scallops.
While Newport is best known for the history it's been host to—decades of America's Cup sailing, The International Tennis Hall of Fame, Bob Dylan "going electric" in 1965—it's appeal today marries the storied landmarks and legends of it's past with modern amenities and natural beauty that ensure it's appeal for generations to come.
By Taylor Davies (@shutupilovethat)
WHERE TO STAY:
Forty 1° North (351 Thames Street, Newport, RI 02840): Book online or call 401.846.8018.
WHERE TO EAT:
Thames Street Kitchen (677 Thames Street): For reservations call 401.846.9100.
The Grill at Forty 1° North: For reservations call 401.846.8018.
The White Horse Tavern (26 Marlborough St): For reservations call 401.849.3600.