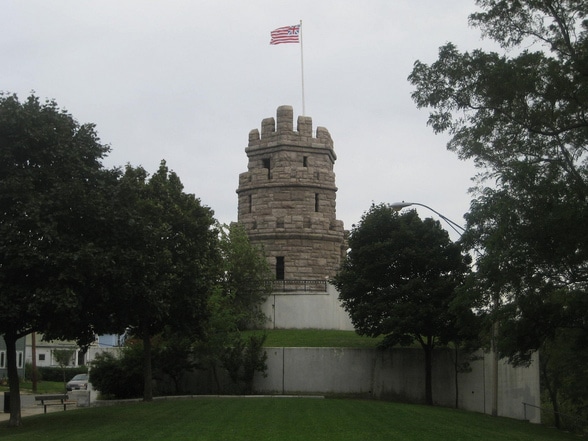 Prospect Hill
by nabewise
Infomation
The Prospect Hill monument and park overlook Somerville's Union Square. The nabe's height once made it a crucial lookout point during the revolutionary war. Today, the hill provides the perfect perch for those celebrating that same war's ending with sparklers, hot dogs, and fireworks. This nabe is at an interesting crossroads as the rising popularity of Union Square brings in new residents and a new vibe–this is a nabe to watch.
Prospect Hill, Boston Data : Neighborhoods & Travel – Score out of 100
TOP ATTRIBUTES
Public Schools 75
Public Transportation 75
Dining 75
Safety 67
Singles 67
LOWEST ATTRIBUTES
Quiet 50
Community 50
Empty nesters 39
Seniors 26
Income 16
Prospect Hill, Boston Reviews
The view from the Prospect Hill Monument provides an incomparable view of Boston, which makes this spot ideal for poets, painters, romancers and revolutionary militias. Throughout it's centuries-old history, this landmark has served each perfectly, and the houses and apartments surrounding the Hill are growing popularly with college students. A good place for young patriots that's certainly on the rise!
Gray H.
Prospect Hill, named for the lookout post used during the Revolutionary war, is actually part of Union Square, aptly named for its use during the Civil War as a recruitment and mustering location for the Union Army. Now that we've got that business out of the way, we can get down to the nitty gritty of what the nabe is like nowadays. Originally a somewhat working class residential center in Somerville, Prospect Hill is now home to a bustling commercial district that includes a number of restaurants, bars, and retail shops. Outside of the town center, there are still residential areas, populated mostly by young singles and couples taking advantage while they still can, of the relatively low rent. The majority of homes are apartments, but there is still greenery to be had and open space to take advantage of. Prospect Hill Park, although quite small, is a lovely little green patch in the middle of the nabe. The area also boasts the headquarters of the Somerville police so you know you'll be pretty safe. Although the area is still a little bit grubby, it's being gentrified and the hip bars popping up in the square make up for it! The nabe is served by several bus lines and the MBTA is planning a green line extension that will serve the Prospect Hill/Union Square area.
Mallory C.