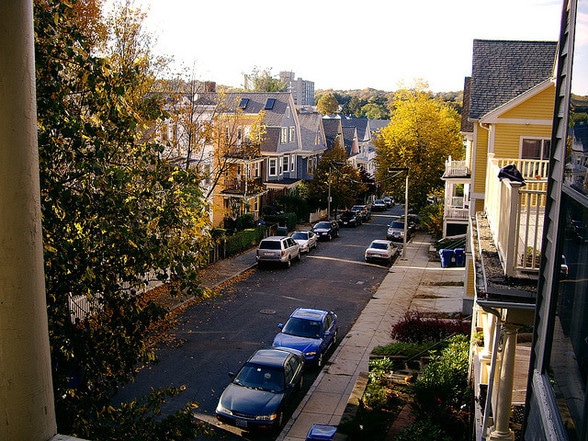 Jamaica Plain
By Nabewise
Infomation
Called "JP" by locals, Jamaica Plain is described by its residents as "neighborhoodie." This nabe is a tight-knit, largely residential community with good shopping, dining, and outdoor parks–especially Arnold Arboretum. On weekend afternoons, there are often block parties and other colorful community events. Jamaica Plain has great access to the rest of Boston via the Orange Line T.
Jamaica Plain, Boston Data : Neighborhoods & Travel – Score out of 100
TOP ATTRIBUTES
Pet friendly 96
Liberals 95
Community 93
Artists/Creatives 93
Trendy 91
LOWEST ATTRIBUTES
Safety 64
Quiet 63
Parking 60
Seniors 56
Income 19
Jamaica Plain, Boston Reviews
Don't Forget About JP!
Here's a neighborhood that deserves a lot more credit than it's getting. Right now, the people who really love JP are the ones who live there. But appreciation for JP needs to expand. My fellow Bostonians, I urge you to hop on the orange line, ride the Southwest Corridor bike path, or find any other way to get yourself over to Centre Street.
Admittedly, I hadn't really explored JP much until recently. But since discovering the allure of this neighborhood, I've found myself visiting again and again. I still have yet to get a taste of everything, but there's plenty of nifty places for shopping like Boomerangs and 40 South Street, quality local and organic groceries like Harvest Co-Op and City Feed & Supply, and lots to eat and drink at Doyle's and new hot spot The Haven. And if you want to treat yourself to a real nice meal, Ten Tables is the place to do it.
JP borders some of the most crime-stricken neighborhoods in Boston, but when you're in the middle of JP, you would never know it. The community in JP is energetic and welcoming. There's usually something fun going on at the Hallway Gallery, and there's always great music at the Midway Cafe. And if you're a biker, both Ferris Wheels and Bikes Not Bombs have helpful and knowledgable employees.
If you've got a Saturday with nothing planned and you haven't been to JP, I recommend taking a day trip. You can check out the shops and restaurants during the day, and as the hours wind down, take a walk down Pond Street to Jamaica Pond and catch the sunset. Don't miss out on a chance to explore a really unique part of the city.
Shane S.
Springtime In JP
Burgeoning blossoms, mild temperatures and the sweet tickle of pollen in the air… It's the euphoric cocktail of springtime that lures Bostonians to the nabe of Jamaica Plain in droves this time of year.
JP's vernal awakening begins in early April to the iconic hum of Boston Police's Gaelic Column of bagpipers at Doyle's Pub's annual five-mile road race. The runners' efforts are further rewarded at the finish line with a pint of beer and an afternoon street party complete with outdoor music and food from Doyle's long-standing menu.
As April gives way to May, the retailers of Centre and South Streets resume their evening bustle as they showcase the work of local artists on the 'First Thursdays' of each month running through September. This year patrons of the event will benefit from the additions of the newly opened Aviary gallery and Monumental Cupcakes at the JP Art Market both located on South Street near the canine-friendly Polka Dog Bakery and one-of-a-kind Hallway Gallery (42 and 66a South Street, respectively) whose wall space to floor space ratio is a true marvel of efficiency.
The nabe's crowning event of the season is the eagerly anticipated Lilac Festival at the Arnold Arboretum on the second Sunday in May. This year it's being held on the 8th. The occasion marks the only day of the year that picnicking is officially allowed on the famed grounds, so pack a blanket and some sandwiches or pick one up at nearby Fiore's Bakery (55 South Street) or slightly more distant City Feed (672 Centre Street). (Note: the 'Farmers Lunch' at City Feed is delicious!) Spend the afternoon wandering the grounds while taking in the horticultural aroma and color of the festival's namesake. It's all part of the aforementioned cocktail that will leave you smiling from ear to ear.
How to get there? On-street parking is available on Centre and South Streets and a free public lot is available between Thomas and Burroughs Streets off of Center. South Street shops and the Arnold Arboretum are each a ten-minute walk from theForest Hills T stop on the Orange Line or via 37, 38, 39 and 41 bus lines. Dedicated bike paths exist on Centre Street and the nearby Southwest Corridor.
Sydney T.
Jamaica Plain: Boston's Melting Pot
Jamaica Plain is being gentrified faster than any Boston nabe right now; but the cultural, ethnic, physical and economic diversity remains intact.
Hyde Square, one of JP's more diverse neighborhoods, is situated along Centre Street. The ethnic diversity is best seen through the plethora of restaurants located in the square, including two Cuban restaurants, an El Salvadorian restaurant, a Mexican restaurant, and Sorrellas, home of Boston's best pancakes. The neighborhood also boasts two excellent bars: the newly opened and renovated Canary Square for food, drinks and great atmosphere, or Brendan Beehan's Pub, which has an extensive beer selection but serves only as a watering hole. Home to many people of Hispanic origins, while also accommodating many hipsters and crunchers alike, Hyde Square is one of Boston's greatest melting pots.
Further up Centre Street is JP's economic center. This neighborhood is at the base of Sumner Hill, which boasts large, beautifully renovated Victorian homes and quiet streets; a popular family neighborhood. Along the main thoroughfare, however, the sidewalks are crowded and the local restaurants and stores are constantly busy with local traffic. Popular spots include, Bukkharra, Boston's best Indian food, The Purple Cactus for enormous gourmet burritos and the original location of JP Lick's for delicious homemade ice cream. Illustrating the crunchiness of the neighborhood is City Feed. City Feed is the local version of whole foods, offering a variety of natural foods, locally grown produce and amazing sandwiches. If you're looking for more formal dining, Centre Street can accommodate for that as well at Ten Tables Restaurant, which was featured on The Food Network. Literally containing only ten tables, this place fills up fast, so be sure to call ahead for a reservation. Scattered amongst the various dining choices, JP also offers many boutiques and unique retailers to poke in and out of while you stroll through town.
In the Stony Brook part of Jamaica Plain, many visitors flock to visit the Sam Adams Brewery. While the brewery tour is fun and offers free beer, there are other not-to-miss places located within the same building. Ula's Cafe makes excellent sandwiches on homemade bread, and Bella Luna is a fun place to stop for dinner or drinks.
Eating, drinking and shopping only make up some of what JP has to offer. Don't miss all of the wonderful ways to spend time outside here. Take a bike ride along the 4.7 mile Southwest Corridor Park, which is also home to many festivals and celebrations like the Wake Up The Earth Festival in May. On the other side of Jamaica Plain, take a stroll around the 68 acre Jamaica Pond and see some of Boston's most historic mansions. JP's largest outdoor attraction is the Arnold Arboretum. With more than 250 acres of exotic plants and trees collected from around the world by Harvard University, the paths of the Arboretum are perfect for walking, running and riding bike. Don't feel restricted to the paths though; the land is open for exploration, and a great place for a family picnic.
Jake S.
My other adopted child is double parked outside in the bike lane, sorry
Jamaica Plain,
well as a transplant from SF I can say that Centre St puts out a Trustfundian/slumming vibe with countless coffee shops, vintage stores and enough "casual fine dining" places to grab brunch to satisfy any one on a Sunday morning.
Although the Queer/Breeder populace—let's just call them stroller people—seem to be displacing the locals to Roxbury and further away as rents rise and communes fold. The orange line and buses are well placed and a brand new bike lane has been put in all the way down Centre st. There are two choices for Groceries, overpriced organic local or "local" Mom and Pop Places. Mine has been a steady diet of Stop N Shop and MEATLAND! Meatland, a classic butcher shop where if you're real nice and tip a little they will do any custom cut or ground.
My favorite bar, bar none is The Galway house with its Reno like feel. The cheesy decor and plasma TV's EVERYWHERE and blue haired Lady's drinking in the corner. Not to mention a great selection of beers on tap, 2 kinds of Fernet equals a happy guy. Oh and Drink specials on Wednesday, cheers.
Peter H.
Diverse and 'Neighborhoodie,' J.P. an Ideal Nabe to Put Down Roots
Ask one of Jamaica Plain's residents to describe their nabe and you're likely to get one of the following descriptors: community centered, diverse, accepting, polyamorous, enlightened, spirited, gay, and environmentally aware. Sounds like San Francisco in 1967? Like an urban Quaker colony? Like a free-lovin', barefoot dancin' 'speak when the sprit moves you' good time? Well, that's just about right, Though I would be remiss in not mentioning the few condo-owning yuppies, reluctantly boogying on the outskirts of the drum circle; even they deserve a little credit, no?
J.P.s highlights include but are not limited to:
-Former breweries that have been refurbished and reopened as mixed use buildings: see Bella Luna Restaurant and Milky Way Lounge.
-EE Cumming's grave stone in the Forest Hill Cemetery, ironically carved in all caps.
-The Footlight Theater, the country's oldest community theater.
– Gays for Patsy, a nonprofit, all-volunteer organization of Country/Western dance enthusiasts dedicated to sharing the joys of dancing while raising funds for local charities.
– Eliot School, a converted schoolhouse offering classes to all ages in green furniture design, quilt making, and graphic narrative writing, among others.
-Ten Tables, a diminutive nook of a bistro serving seasonally inspired bar bites and cocktail flights.
-Thousands of acres worth of green space, including a significant portion of Boston's Emerald Necklace of parks, designed by 19th Century landscape architect, Frederick Law Olmsted.
While most JP community members agree it's all good in the neighborhood, there does exist the very real fear of gentrification. An upturn in the real estate market has led to the conversion of many older homes and commercial buildings into condominiums, and the predominantly Spanish speaking populations, living in Hyde, Egleston and Jackson Squares, risk being priced-out of the very neighborhoods they helped to shape.
Watch this video for a great montage of the many voices and opinions—however disparate—of J.P. residents. Notice the fierce sense of pride that transcends yuppie vs. hippie, working class conservative vs. lesbian, rivalries.
http://www.jamaicaplainspoken.com/
caite m.
Quirky, Friendly and Close Knit Relations in Jamaica Plain
I lived in JP (as Jamaica Plain is known) up until about eight years ago when I finished my work in the Back Bay district. Back then I roomed with an eclectic group of female roommates. JP lives up to its name in terms of accepting everyone. Puerto Ricans, Cubans, Brazilians, African Americans, lost hippie children of the 60s, community activists, and just the downright weird. For example, now they have a shop on Centre Street which sells gourmet food for pets???? Now yuppylike organic food stores with trendy cafes sit across from the cultural icon of the area JP Licks…the best ice cream in Boston when I lived there!!
It is true that it is probably much more upscale now than when I lived there, but I am sure much of what I remember still lingers. At the time I paid, a pauper's rent on the top floor of a triple decker (the unique architectural design for the large three story houses in JP) on Williams Street. I was right next to Franklin Park, 5 minutes from a Boston icon (Doyle's Pub), 10 minutes from the train to work at Green Street and not too far from Centre Street, Jamaica Pond and Arnold Arboretum. It really is a fantastic location in many ways. For example, 5 minutes from the train you can get a free beer on a tour of the Sam Adams Brewery. This is one of the coolest tours, bar none, that I have ever been on!!
All of the 'good stuff' aside, Williams Street where I lived was awful close to Dorchester(on the other side of Franklin Park) and at times I would hear shooting and police chases in the middle of the night. I even had my car stolen. I was foolish enough to have the most stolen make and model at the time (Honda Accord). Despite this seeming ruggedness, I always felt safe walking home from work (as did my female roommates) and there never any problems of physical assault that I encountered or heard of. Community gathering were a regular occurrence. These could be to drink beer and eat bbq or to discuss more grassroots political matters. The charming little community garden on Williams Street coupled with Doyle's pub were key organizing centers of JP. I still feel fortunate to have lived there. It was one of the most undervalued places I have ever stayed…..and since then I have stayed in several places around the world.
Zachary B.
Jamaica Plain's best feature is its huge amount of nature and how bike friendly it is. There is the Arboretum for strolls or a session of book reading under the tree, Jamaica Pond for boating or a run, and the Southwest Corridor which provides a bike path right to Downtown Boston. The amount of greenery is unmatched in the rest of Boston.
JP has an especially large amount of thrift and vintage stores, ranging from a well-edited vintage shop to the chaotic racks of Goodwill. There are a bunch of good lunch spots on Centre Street, though cheap options for dinner are less plentiful. Bella Luna and the Milky Way still anchors JP's nightlife scene with dance nights that cater to its gay and lesbian community, but without the bowling lanes of yore. JP is also rich in classic Boston Irish pubs, epitomized by Doyle's Cafe, which opened in 1882. Hyde Square is representative of JP's Spanish population, with a plethora of good Latin American food. The orange line and the 39 bus serve the neighborhood.
JP may not have the flashiest nightlife around, but the quality-of-life is great for young professionals and families.
Rachel K.
The Locavore's Nest
Within the past two months two art galleries, a knitting store and a combination tapas restaurant and book and record store have opened in Jamaica Plain. If that doesn't say something for JP's art-centric, creative culture, I don't know what does.
Jamaica Plain residents are serious about keeping it local and independent, which creates a very strong sense of community and a bevy of quality restaurants and shops. There's also good mix of families, students and artists who live in JP.
The nightlife isn't exactly bumpin' but local hangouts like Doyle's and The Haven are perfect for a beer or three with friends and the Sam Adams Brewery near by guarantees that the Boston Lager is always fresh. The City Feed and Supply is a one-stop organic grocery store and lunch spot, and places like Ten Tables and Centre Street Cafe dish out even more local, organic nosh.
The Arnold Arboretum is also reason enough to move to JP. It's a huge, beautiful park owned by Harvard, and it offers great views of the city as well as paths for jogging or biking. The massive Jamaica Pond is also a nice respite from city life.
JP is surrounded by some less than good neighborhoods, so it's best to take caution when traveling around at night, but for the most part it's a safe area. You can reach it by the Orange line or bus routes. It can be a bit out of the way if you're coming from downtown, but if you have a bike or car it's not a problem.
Heather V.
Great value, even better place to live
I think Jamaica Plain may have gotten a bad rap back in the day but it is quickly redeeming itself. Yes, it is definitely a little bit grubby but it also has pockets of beauty, hip locals, a really interesting creative scene, and great bars that residents swear by and visitors make the trip for.
My favorite part of JP is the Arnold Arboretum. Even in the winter, covered with dirty snow and slush, the Arboretum is a lovely place to visit. Wait for the spring and summer months, though, and you'll be blown away. The park literally erupts with greenery, flowers, and happy people tossing frisbees and eating picnics. One of the highlights of the season is the lilac festival, when the entire Arboretum is filled with fragrant lilacs of all different sorts of varieties. The blooming trees line the quaint walking paths, as wafts of fresh, sweet lilac perfume the air giving the high sign that Spring is here!
The creative scene is evident throughout the streets in JP, with brightly painted houses, and wacky outfits. I went to an amazing dance show in JP, at a community center that featured dancers hanging from the ceilings and wrapping themselves around swaths of fabric suspended in the air.
If lilacs and dancing doesn't get you going, the bar scene is also pretty fun. There are your dive bars but there are also a handful of lively pubs that are well worth the trip if you live outside of JP.
All in all, this is a great place to live and visit, even if just for the Arboretum. Rent is cheap, public transportation is easily accessible and it's a fun place to live-what more do you need?
Mallory C.
Hyde Square
At the intersection of Perkins and Centre Street, this area really hasn't been the same to me since the Milky Way changed locations. Miami's cuban style food is a gem, and affordable. Brendan Behan Pub, better known as "the Behan" is decent. Very dark and atmospheric, with a nice wood interior, an average selection of beers on tap, and locals in the 26-35 age range. A hipster sighting is likely. Neighborhoods in the area are nice, a little more expensive in some parts.
Tyler D.
Jamaica Plain is a a colorful spray-painted time machine
Jamaica Plain is a a colorful spray-painted time machine! Diversity in these neighborhoods touches upon every imaginable category. Nature is embracing with The Arnold Arboretum peaceful trails, family friendly Jamaica Pond, and beautifully integrated park of the famous Forest Hills Cemetery. Biking, walking, driving, you choose, either way you won't lose. After connecting with nature get ready to wake up your senses and settle your hunger with some of the best food, ranging from traditional Mexican meals from Purple Cactus, to Indian Bistro Bukhara, the exclusive best kept secret Ten Tables, and original JP Licks, all along Center Street. To transition into the nightlife stop by Samuel Adams Brewery a few blocks from downtown, and right next to it the Milky Way lounge, full of themed nights and varied music to enjoy while mingling with a melting pot of personalities. Located just a hop away from downtown Boston, there is a selection of busses and trains that will get you wherever you need to be, although you will want to stay in JP a little longer, maybe to check out the unique boutiques or simply to enjoy your surroundings. For the adventurous outdoors, in addition to Jamaica Plain's several parks, and water fronts, we are conveniently located very close to places like the Quincy Quarries for some invigorating rock-climbing, and even close by beaches. Jamaica Plain has it all, but if you missed it in town you can find it around! and JP makes it easy with the T Orange line. Check it out! love it, come back for more.
nadia b.