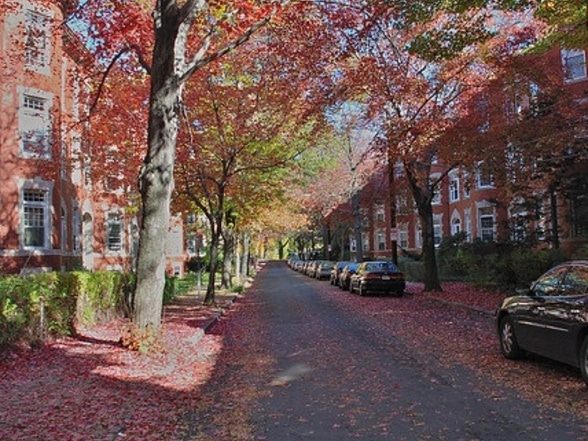 Cleveland Circle
By Nabewise
Infomation
If you find yourself in Cleveland Circle, technically a part of Brighton, you'll notice clean, good looking students scarfing cheap bar food and gulping bad tap beer. Could this possibly be a college nabe? It could indeed. The streets of Cleveland Circle host Boston College students living alongside single and double family homes of working professionals. As with any college town, eating and drinking establishments attract a raucous crowd–especially on game days. Traffic and limited parking options make driving in Cleveland Circle an exercise in frustration, but the D branch of the Green Line T is a popular and convenient mode of transport for the nabe's residents.
TOP ATTRIBUTES
Singles 68
Public Transportation 68
Students 64
Clean 61
Green space 57
LOWEST ATTRIBUTES
Shopping 39
Families 39
Community 36
Income 20
Seniors 18
Cleveland Circle, Boston Data : Neighborhoods & Travel – Score out of 100
Cleveland Circle, Boston Reviews
Around the Water
Cleveland Circle lays claim to one of the best waterside walks in Boston. Looking from the reservoir, you can walk, run or jog around this body of water for about two miles.
On a sunny day, it's a great spot to set up camp for a picnic. Of course, you start feeling a bit guilty after munching into your subway sandwiches and chocolate chip cookies while people jog past you, but the views are sufficient distraction.
When you do decide to engage in some recreational running – or skipping, if that's your fancy – locals love the open air and watching the calming waves of the water.
Word from the wise: Watch out for goose poop and bugs during late spring and summer.
Caroline F.
Cleveland Circle: Where the College Kids Survive
Cleveland Circle, home to so many different types of people, could be considered the true crossroads of the city of Boston. Located between Newton Center and Coolidge Corner, the intersection of Chestnut Hill Ave. and Beacon Street, better known as the "Circle," brings fraternity brothers, the wealthy, and the homeless together in passing.
Cleveland Circle is busy. It's a constant state of rush hour with the sidewalk traffic, automobile traffic, and even green line trains that share crowded streets with cars. Just walking through the place can be a sort of nightmare. If you're not exceptionally good at parallel parking, this isn't the place to bring your car. However, the Circle is conveniently served by the Boston College and Riverside branches of the MBTAgreen line. There are also two bus lines, one of which runs directly into Harvard Square.
The residential section consists mainly of brick apartment buildings with fraternity houses and single-family houses peppered in. Parking is metered, and as scarce as it is anywhere in the city of Boston.
The food options are what you'd expect of Boston College's closest commercial center. Pino's is the go-to pizza joint, while nearby Eagle's Deli was rated the second best restaurant in the world to "pig out" at by the Travel Channel. A couple of really nice sports bars have popped up to compete with Mary Ann's on Beacon Street – the definition of a Boston dive bar.
Because of its position as the middle ground between Chestnut Hill, Boston College, and Brighton, the Circle has a mixed identity. It couldn't be described conclusively as either "safe" or "unsafe," just as it couldn't be described as "clean" or "unclean." It's fast-paced, diverse, and never boring, but when it comes down to it, the Circle overwhelms almost all but the college students, which is probably why it's become Boston College's residential stronghold.
Peter H.
Reserved College Neighborhood
Cleveland Circle is a C-train green line stop that can also be accessed by taking either the D-line to Reservoir or the B-line to Chiswick.
If you live here, your neighbors are most likely going to be BC students or young working professionals. It's somewhat of a confined community, with nothing too exciting to boast about aside from Sammy, the resident kitty cat who hangs out the Olympia Flower shop on Beacon St.
I wouldn't consider Cleveland Circle itself a relatively 'bustling' neighborhood. You're probably going to have to travel the short distance to Brookline/Coolidge Corner for more culture and activity. But overall it's a practical, clean, enjoyable place to live.
What's awesome
Andalus Pizza & Cafe has delicious frozen yogurt treats, also the nearby Reservoir is a peaceful outdoor option for daily walks/exercise.
Erika B.
A cleaner, quieter college neighborhood
Yup, it's another college neighborhood in Boston. But Cleveland Circle is also more than that. Boston College is a stone (or football's) throw away, but it feels more like an established neighborhood with families and young professionals than say, Allston orFenway.
The circle itself is pretty much a big intersection that you often have to Frogger across. It's at the end of the C-line and also close to the B line and bus connections, so Cleveland Circle is well connected. I've had BC friends gripe about how long it takes to get into the city—about 25 minutes—but it's not outrageous by any means.
And you must do, or at least watch someone else do, one of the many fat-loaded burger and fry food challenges at Eagle's Deli. Don't worry about the calories—you can run them off around the big, green Reservoir.
What's awesome
Food, Reservoir, transportation
What's not so awesome
Boring at times, far from city
Heather V.
A more civilized version of Allston
Cleveland Circle is a great little pocket nabe in the truest sense of the word: it's surrounded by fairly quiet Brookline and Newton but has its own little sense of character that makes it a great place to live. Like it's neighbors, Cleveland Circle has tidy little streets lined with ivy covered brownstones however it also boasts a couple of blocks of college student bliss without all of the mess of Allston. In a two block span at the very end of Beacon Street you'll find cheap (but yummy!) food, a couple of bars (one even has roof deck seating!) and even some greenery for a post binge run. Rent is cheap, apartments are large, although some are a little shabby, and the nabe is lively without being too noisy and obnoxious.
Mallory C.
Cleveland Circle: Ideal for Students
While the population in Cleveland Circle spans from seniors, to families, to singles, this neighborhood seems most fit for the college students and recent grads that call nearby Boston College home. While there's plenty of restaurants, shopping, and entertainment available, the quality here is mostly at college level, i.e., you're going to find a bunch of pizza shops and not much in the way of fine dining. Cleveland Circle does have some very nice green waterfront areas though, and there are convenient public transit options into the city.
Katie P.
[/vc_column_text][vc_separator color="mulled_wine"][/vc_column][/vc_row]