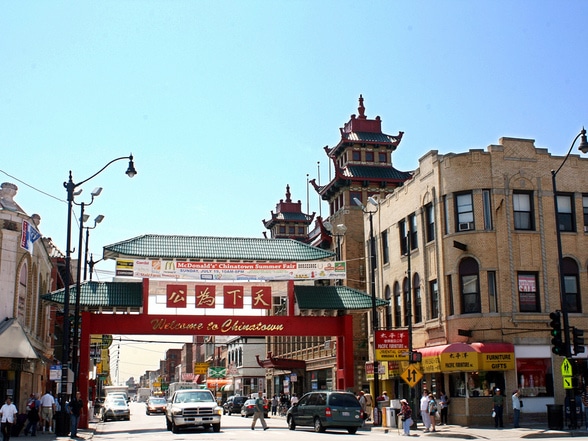 Infomation
Walk through the Chinatown Gate on Wentworth Avenue and you'll enter a world independent from the rest of Chicago. The 4th largest of its kind in the U.S., Chinatown has provided Chicagoans with an authentic escape from typical city life for over a century. Its ornate decor (zodiac sculptures in Chinatown Square, the Chinatown Mural), unique gift shops, bustling markets, and of course, delicious cuisine (everything from all-appetizer spots to incredibly fresh sea food) make this nabe a top destination for both Chicago natives and tourists alike. If you can't get enough of Chinatown, simply travel north to Uptown's Argyle / New Chinatown, a younger version of this Chicago hotspot.
Chinatown, Chicago Data : Neighborhoods & Travel – Score out of 100
TOP ATTRIBUTES
Dining 92
Pet friendly 75
Ethnic 75
Community 67
Safety 67
LOWEST ATTRIBUTES
Green space 46
Nightlife 45
Clean 42
Parking 29
Income 11
Reviews
More diversity than you might imagine…
"HAPPY REPUBLIC OF CHINA DAY," reads an enormous banner covered in Taiwanese flags and draped across the iconic Chinatown Gate. "HAPPY PEOPLES REPUBLIC OF CHINADAY" announces another giant banner, this one decked out in Chinese flags and placed directly across the street from the other. Chinatown was once home mostly to immigrants from Taiwan and Hong Kong, but after China's transformation in the 1980's and 90's, more and more mainland Chinese began to settle in Chicago. Old Chinatown along Wentworth Avenue, whose entrance is marked with the Chinatown Gate, is a charming and dense strip of bakeries, Cantonese tea rooms, and various import shops. It's the classic image of an American Chinatown. New Chinatown, centered around Archer Avenue to the north, hides quite a bit of diversity in its slightly bland, uniform commercial developments. Excellent Sichuanese, Yunnanese, Shanghaiese and northern Chinese food can be found, in establishments ranging from old fashioned and cheap to high-end and chic.
The architecture in Chinatown can be really interesting, but not just for the reasons you may think. Wentworth Avenue is lined with buildings that blend Chinese and Chicago architecture to extraordinary effect, like the On Leong Merchants Association Building. But turn down one of the side streets and you'll be looking at some — and there's no other way of saying this — really weird architecture. I can't describe it, just check it out for yourself! In new Chinatown, developers seem to have chosen the blandest designs imaginable for their condos, but a few people have taken matters into their own hands and really transformed a boring condo into a flashy and memorable building (see my photo).
If you're thinking about cooking Chinese food at home, definitely check out Woks N Things on Wentworth Avenue for some kitchen supplies and then head up to any of the Chinese groceries in new Chinatown. Get a pretty authentic Hong Kong Cafe experience at Saint's Alp Teahouse or brew your own Chinese tea at home after visiting Ten Ren Tea.
The Cermak-Chinatown stop and the Red Line right in the middle of the neighborhood makes it really easy to get anywhere in the city.
Ellis C.
Alive and Kicking/Cooking
Even as a Chicagoan, I can't claim to have spent much time in Chinatown down on the south side of the city. However, I always have a good, mostly amusing, time in this nabe when I do get a chance to trek down there. The major draw as one can speculate is the food, and let me tell you: its impeccable. You can wander through a little cobbled stoned plaza and take your pick from a handful of restaurants cooking up amazing Dim Sum and Cantonese dishes you'd be hard pressed to find on the north side. But this nabe is more than just food, even though that is the first thing (and sometimes the only attribute) that many think of when they hear the word "Chinatown".
The area has some parks, community banks and if you head over to Wentworth Avenue, you'll not only find novelty shops and Chinese grocers, but the Chinatown Gate that spans over the street. Unlike other "ethnic" nabes, this one boasts a population that reflects the namesake, and it never fails to disappoint…unless you really really dislike dank food, because that's just sad.
Marianne L.
Great Noodles, Tourist-Friendly
Chicago's Chinatown is relatively small, and is really only a couple of blocks around Cermak and Wentworth. That said, it's still a great place for authentic Asian food at cheap prices (Joy Yee's Noodles = awesome) as well as interesting architecture and great skyline views in Ping Tom Park. Just get off the Chinatown stop on the Red Line and walk South.
Unfortunately, the neighborhood is very dirty and surrounding blocks are a bit seedy at night (think homeless guys and massage parlors) so be careful.
Liz M.
I shouldn't try to order in Mandarin, it really isn't cute
Oh my goodness how I love Chicago's Chinatown. There's neat little gems all over, like the Sun Yat Sen museum. Behind the gate is a more "traditional" setting with ornate, wonderfully over-the-top dim sum houses, herbalists, the cultural center, etc. Chinatown square is younger, hipper and flashier. The restaurants are smaller, impeccably designed and lit, delicious and so so inexpensive. The neighborhood is bustling in the day and dead at night. There seems to be like, one bar/lounge that's pretty hard up. I notice a lot of Mandarin spoken, with a lot of food from the North of China as well as the obviously well represented Hong Kong and Szechuan province.
As a neighborhood, it's a very tight-knit community, mostly from Asia and China in particular. There are a plenty of residences, parks and community banks. There's some redistricting going on and the residents are fighting for more accurate representation of their community politically. I'm heard (and it's only a rumor) that there is a feeling of, let's say ambivalence among the locals about people from other neighborhoods moving into the area.
It's a spectacular place. I visit regularly. I'd even love to move. It's not far from either the Loop or the Sox and seems like a good place to get along.
Michael
experience chinatown through its food
The general public always has mixed feelings about Chinatowns nationwide: you either love them or hate them. Is every Chinatown going to be crowded and a bit dirty? yes. Is it going to have delicious, relatively inexpensive food? yes. Some people (tourists esp.) come here and walk away disappointed because there weren't chinese dragons roaming the streets and gong ringers dancing around. Hey, umm—this isn't Epcot. It's a real place where people live.
If you'd like to really experience chinatown, my advice is to immerse yourself in the food culture here. Definitely dine in a restaurant or two here, and if possible, do some grocery shopping yourself. The beauties of chinatown (and I think this is true of most chinatowns) are really revealed when you get into their markets—it's a different experience altogether from shopping at your local store. It'll get your nose and tastebuds tingling, and can open your eyes to a lot of really cool culinary options. It's a bit easier to tackle these places when you have some prior knowledge of Chinese cooking, but if you're unfamiliar, take some risks!
Vickie W.