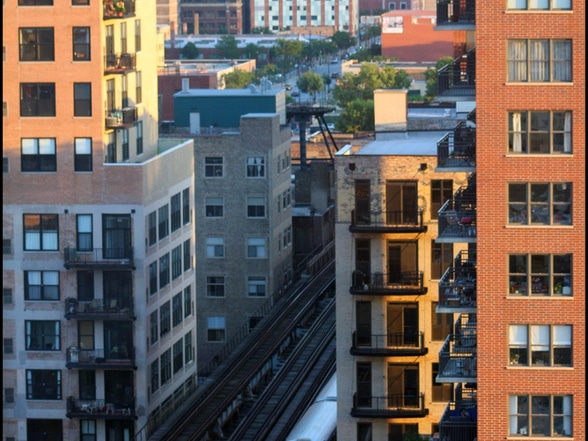 Though it's just steps away from The Loop itself, South Loop has managed to maintain a calm generally reserved for the city's less-central hoods. It's also the top spot in the city to view gigantic beasts: South Loop is home to famed Shedd Aquarium and The Field Museum (you know, the one with giant dinosaur skeleton). This urban nabe may be peaceful, but it's also hip. Columbia College and School of the Art Institute populate the area with new artists, and the nabe's real estate is largely made up of cool warehouse to loft conversions. South Loop shares a similar mood with close by Near South Side.
South Loop Data
Lowest Attributes
South Loop Articles and Reviews
Lofted and Luxurious
While many assume that the Loop is all business, the South Loop is quickly on the rise as one of the more desirable nabes to set up shop (and home) in Chicago. As the years have gone by, more and more people have begun to inhabit this quieter section of downtown, thanks to loft apartments and a polished industrial feel.
Aside from developers, Columbia College and SAIC have also aided in the influx of residents in the form of art students of all mediums. Surprisingly more mellow than neighboring areas to the north and west, South Loop hosts a variety of cultural attractions such as the Museum of Contemporary Photography, Museum Campus (Field Museum, Shedd Aquarium, Adler Planetarium) and variety of great eats. The nabe is still expanding and saturating the area it already inhabits, but this is definitely a nice urban alternative to noisier and more populated areas.
Marianne L.
Central/South Chicago
The South loop boasts a markedly different character from its famous big brother. It's eerily quiet and post-industrial. The color scheme is red. Tucked here and there are cute restaurants and shops that cater to Columbia college's student body. It's close to the center of the city to the north and Chinatown to the south, and its charm can grow on you, even though some parts can appear to be quite sketch.
Michael
South Loop is one of the most enjoyable places for young people in Chicago, made possible by its Art Institute for culture and Northerly Island Park for exercise and clean air. As the other commenter mentioned, developers have gone a bit loopy (PUN!) with high-rise condos and luxury living. This same process is the all-too-common end game of gentrification that forces out most of the charm a nabe becomes famous for. For a good example of where South Loop is headed, simply take a look at Williamsburg in Brooklyn.
Tom W.
Shhh South Loop!
This Chicago nabe on-the-rise seemed to have gained its popularity (i.e. a bunch of people moved in) because of the highly desirable quiet/close to The Loop juxtaposition. The very popularity that made South Loop the awesome spot it is today may actually be hindering the neighborhood though. So many people love this spot that recently, it's become quite alive with cranes and construction workers, significantly bumping up the volume.
That being said, South Loop truly is an awesome place to live—anyone that has the money to invest in a place should definitely go for it. Once the construction dies down, it's the perfect nabe to feel like a true city slicker while still being able to snatch some sleep at night.
Vickie W.