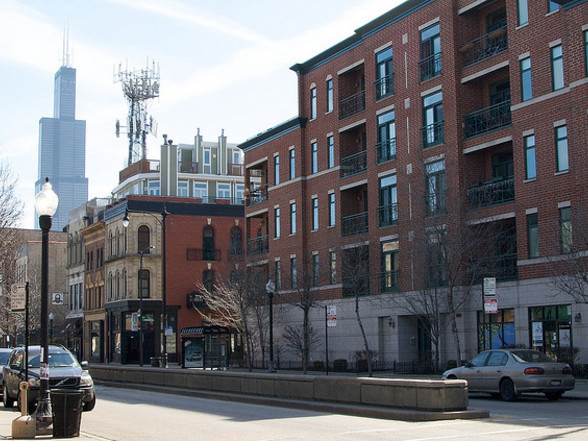 One of the younger Chicago nabes, West Loop is a new city hot spot. Recent warehouse and industrial conversions have welcomed in a plethora of residents and restaurants looking for high ceilings, big windows, and open space. Its proximity to The Loop but relatively quiet mood make this nabe an ideal option for downtown employees. Nothing says something's mainstream cool like an Oprah shout out: her HARPO studios are in the West Loop. This nabe's definitely one to keep an eye on.
West Loop Data

Public Transportation

7.5
Lowest Attributes
West Loop Articles and Reviews
The westward expansion
The west-loop feels emblematic of the northside of Chicago as I experience it. It's just emerging and finding its identity in a treeless, dour deindustrialized square cutting condos and lofts out of disused factory buildings. Depending on your outlook, this is either cool or ugly to look at. It's close to UIC and Greektown and many opportunities and amenities are emerging for new families willing to pioneer the space. I feel like I should visit here more often.
Michael
West Loop; Up and Coming
We moved to the West Loop from Wicker Park about 7 years ago to a new condo construction. We live close to a couple parks (good for the kids), especially the new Sangamon Park. Altho there are parks, I do miss the trees lining the streets in Wicker Park, much of West Loop is former industrial/brick buildings (which is cool), but sparse on trees.
Randolph street has about any cuisine you'd want, and home of the hot new Girl and the Goat restaurant. Just a little bit south is Little Italy and Taylor street has a few nice restaurants too, like Davanti Enoteca.
For groceries, there's a Jewel up on Halsted.. a few Starbucks in the area. West Loop is also home to Greek town, so there are a few blocks on Halsted packed with Greek restaurants (and there's a Greek festival in the summer too)
We live close to Jackson (aka Route 66!), so its usually easy to catch a cab. A blue line stop is only a couple blocks away too.
Eric G.
The Phoenix
This nabe to the west of the Chicago River and The Loop has undergone a huge remodling over the last decade, with home prices tripling and places like grocery stores, restaurants, and cafes popping up like flowers. Most of the metamorphosis has happened around Randolph St in the north, where you will find a mix of suit-n'-ties with peacoated hipsters heading home after work—and we can guess who'll win out. An eclectic mix like this shows how vibrant West Loop can be, even when, further south, it can seem sleepy and industrial. Given ten more years, I wouldn't be surprised to find West Loop indistinguishable from The Loop proper.
Tom W.
Super Cool West Loop
West Loop is one of the most popular neighborhoods in Chicago—it's either going to continue to get better, or it's going to get yuppified, we'll see. Its abundance of converted warehouse spaces (lofts, restaurants, and art galleries) make this one of those uber-urban-chic spots that people today seem to be flocking to. It's like living in RENT, but with real money, so cool!
Young professionals and families are scooping up real estate fast here because of its good schools and proximity to the Loop. Property values are bound to go up soon, so if you're interested, scrape up a place right now.
Amanda M.