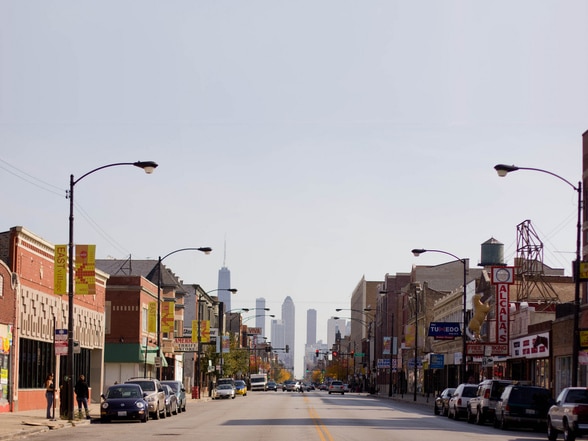 While it is quite residential, East Village's high population density and abundance of bars makes this nabe feel a bit more urban and gritty than other West Town nabes. East Village's blocks of cottage-style homes and apartment buildings have become a prime target for real estate developers. With some of its housing given landmark status though, East Village is guaranteed to maintain its original charm for many years to come.
Public Transportation

6.7
Lowest Attributes
East Village Articles and Reviews
Nicely Gritty in the City
East Village (EV), a small neighborhood bordering Noble Square and Wicker Park may have less hype than larger hoods, but I prefer a bit of grit and less pretension. EV is transitioning to a status somewhere between Logan Square and Wicker Park, which equals a recipe of:
1 part artsy crowd
2 parts grit
1 part Latino flavor which gives the area a kick!
It also tends to blend and meld with the areas around because the actual neighborhood is quite small.
EV offers an interesting mix of businesses, from an amazing pie shop (Hoosier Mama) to fun dining spots and bars (Taco Veloz and Cleos ). EV even offers a huge western wear store as well as a table tennis club.
The neighborhood is primarily inhabited by young professionals, artists and hipsters that bleed over from Wicker Park. A few families are sprinkled here and there, but this isn't really a family centric mini-hood. The main area in transition? Chicago between Ashland and Paulina, though a new library has opened and offers much promise for the once empty space.
Because Ukrainian Village and Wicker Park are so close, the walk to a local gym, multiple grocery stores and more restaurants is only 10 – 15 minutes away. Chicago Avenue also hosts multiple street festivals in the summer and has immediate access to Michigan Avenue and the Hancock Tower via the 66 bus.
Though EV may be a great place for day to day living, it takes time to find the hidden gems and therefore might be less interesting for a one day visit. But if you appreciate accessibility to public transport, good eats and interesting stores, East Village is a place you should try.
Alison
Bordering Noble Square, East Village is definitely on the rise. Not necessarily in the gentrified sense, but this charming little nabe is quickly becoming one of the new hipster hang outs. Charming little shops and restaurants, farmers markets and all that go along with landmarked houses.
Marianne L.
The Next Wicker Park
Attention hipsters: East Village is the new Wicker Park. After years of gentrification, offering low rent and cute houses, East Village is on its way to becoming truly trendy. Right now it's still pretty dicey at night (although somewhat safer than Noble Square to the east), but in a few years it really could be the next big thing.
Liz M.
East of Eden
East village has a "popped" boho strip with more downscale residential streets the further south you go.
Pros
Nightlife
Street fairs
Trendy
Old and new
Pretty architecture
Cons
Not as diverse as northern cousins
Too fru-fru and gentrified
Expensive
Not many public transit options on the Southern end
Michael
The Many Layers of the East Village
More than a century ago, Eastern European immigrants moved into the East Village's workers' cottages and simple two- and three-flats. Chicago's East Village is the east half of Ukrainian Village, after all, and the neighborhood's northern boundary, Division Street, was once known as the "Polish Broadway." Although the East Village no longer contains as many Eastern Europeans as Ukrainian Village proper, remnants of the neighborhood's origins can still be found in several Polish dive bars (look for the ubiquitous Old Style sign with the words "Zimne Piwo" — cold beer) and the old Russian bathhouse at Division and Winchester. Near Chicago Avenue and Ashland, a small but thriving Mexican community provides the neighborhood with numerous tacquerias and restaurants, as well as the iconic Alcala's Western outfitters. Modern three story condos have replaced many of the old workers' cottages, but they only add another layer to the East Village's considerable diversity. The neighborhood's tree-lined residential streets are a pleasure to walk down, which partially makes up for the lack of greenspace.
Thanks to the gentrification of Wicker Park to the north, Division Street has been reborn in the last twenty years and has once again become one of the city's most bustling shopping districts, offering everything from techno-pumping sushi joints to attractive boutiques to handmade craft stores (every September the street is host to the Renegade Crafts Fair). No need to hash out tired stereotypes here, since young people of any lifestyle choice can find someplace in the East Village where they feel welcome. There are supposedly 20 bars in this half-mile square, and they run the gamut from two-story sports bars to cozy neighborhood taverns. As for restaurants, none stand out in particular, but most are decent. Prices can run a little high, but there are certainly enough cheap establishments to satisfy the thrifty local — believe me.
Transportation is no problem since bus routes serve all four sides of the neighborhood, and the Blue Line's Division Street station is located at the northeast corner. Being relatively centrally located also means it's easy to access other parts of the city.
This neighborhood isn't up and coming anymore, it's as up and here as it's going to get. But that doesn't mean it's not continually changing, and new people and businesses are always moving in to replace those who have left. It will never outshine it's northern neighbor, Wicker Park, but why would it want to? The East Village is a diverse, exciting, and beautiful neighborhood on its own, which is precisely why I chose place as my new home.
Ellis C.