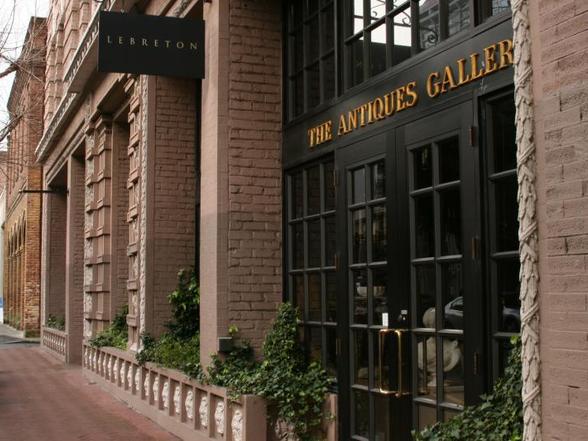 Jackson Square
By Nabewise
Infomation
Jackson Square, an elegant nabe founded during the California Gold Rush, is well known for the historic brick buildings that line its streets. Once known as the Barbary Coast, Jackson Square is one of the oldest commercial districts in San Francisco and a distinguished center of art and antique dealing. Interior design companies, prominent galleries, and architecture firms characterize this compact nabe that hugs the Embarcadero and its famous Ferry Building. Jackson Square exudes the charm of old San Francisco while remaining a vibrant business center for new ventures.
Jackson Square, San Francisco Data : Neighborhoods & Travel – Score out of 100
TOP ATTRIBUTES
Charming 98
Clean 75
Public Transportation 75
Community 63
Safety 58
LOWEST ATTRIBUTES
Green space 25
Seniors 17
Singles 17
Income 4
Families 0
Jackson Square, San Francisco Reviews
Old San Francisco
Jackson Square has the kind of buildings you travel to San Francisco to see. I'm talking red brick, arched windows, the whole deal. Walking around Jackson Square gives San Franciscans a sense of pride and tourists a glimpse into San Francisco's past. It's always a beautiful place to be, day or night.
Chloe N.
All About The Architecture
I don't spend much time in this neighborhood. I was doing some freelancing over this way for a design firm, but only for a few months. The most I noticed was that this neighborhood is rich in unique architecture. It's really "old San Francisco", with tall, brick layered building lining the streets and jagger corners. Surprisingly, this neighborhood has a lot of little businesses, strange as the streets seem somewhat empty.
It has a lot of charm and is really a great neighborhood to visit after work downtown or some time spent in close-by North Beach.
Peter T.
Jackson Square's Historic District, Today
Jackson Square San Francisco defines its own perimeter with the three-story exposed brick buildings, cobble stone ally way's, antique shops, art galleries, modern furniture stores and a lite sign defining "Jackson Place." All breathtakingly held in by Frisco's once-tallest Transamerica building, Columbus Avenue's bustling entrance to North Beach, and finally the neon lights of Broadway's strip clubs. The pre-earthquake Jackson Square is similar to the post-earthquake architecture, as it was one of the few neighborhoods hardly touched by the devastation. It was once home to Frieda Kahlo, Diego Rivera, and the infamous Black Cat Bar, one of the first gay bars in San Fran. As if History doesn't define it unique enough, the current Jackson Square delights me every day on my way to the Champagne Lounge where I work, as I venture under the Jackson Place sign, between two brick buildings, hearing "I left my heart in San Francisco" keying the piano. I can see a line for the well-known Blue Bottle coffee stand and the Italian barista owner greeting each regular customer with a loud "bonjourno" as he makes one latte every two minutes and offers fresh baked goodies. Who can resist feeling the similarities to Siena Italy? It makes me almost want to stop, enjoy my coffee and then walk slowly to work.
Marisa C.