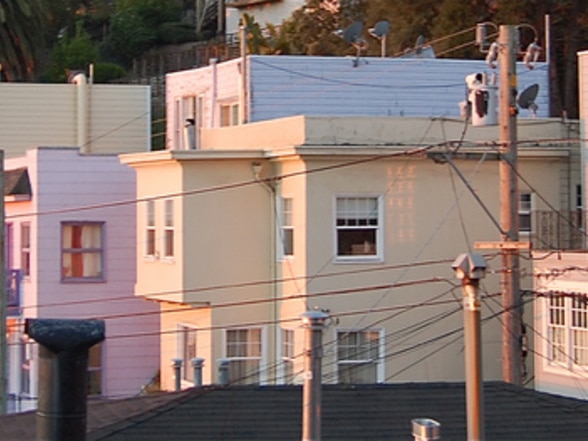 Corona Heights
By Nabewise
Infomation
Marked by a distinctive outcropping of rocks, Corona Heights sits on a windswept hilltop where the views rival those of Twin Peaks. A small, unique nabe often considered part of the Castro, Corona Heights is off the beaten path and feels far away from the hustle and bustle of Downtown. The park is a favorite of nearby residents and dog walkers and a sanctuary for native flora and fauna. Spectacular wraparound views await those who hike to the top and Randall Museum–an interactive art and science museum–has long been loved by locals.
CORONA HEIGHTS, SAN FRANCISCO Data : Neighborhoods & Travel – Score out of 100
TOP ATTRIBUTES
Green space 75
Pet friendly 75
Quiet 75
Safety 67
Income 65
LOWEST ATTRIBUTES
Empty nesters 49
Seniors 47
Nightlife 42
Dining 38
Shopping 38
Corona Heights, San Francisco Reviews
Foliage Fun
"Corona" means "crown" in Spanish, and Corona Heights could definitely be considered a little jewel in the crown that is San Francisco. Though it's often considered part of the Castro, it isn't! Corona Heights is it's own little nabe. But obviously, the Castro is near by, providing endless fun and games. Corona Heights Park is chock full of awesome flora and fauna, with lots of different species of native plants and animals. Butterflies like the Anise Swallowtail, Red Admiral and Cabbage White flutter around the native reptiles and playing dogs, with The Fist (that's the nickname for the peak of Corona Heights) looming in the background. It's often windy up there, but worth it for the panoramic views of the city.
What's awesome
The park The Randall Museum The Chloe N.
Pretty Rad
Corona Heights is pretty cool. It's a rather striking neighborhood with a lot of natural landscapes, flowers and plants. You'll find a community garden on Clayton Street and a couple of parks to meander through. It's way sunny; gets lots of sun in the daytime and is just all out a pretty rad place to spend time. My ex-girlfriend lived in this area and I'd always make some sorta excuse to visit her neck of the woods and leave my more foggy one. If you have some time check out Corona Heights park. It's a great spot to just sit and veg your day away or take some pretty killer shots with your digital
SLR
. I don't know how much the rent is for, like, a home or single bedroom (without roommates) in this part, but I'd think it would be fairly up there considering how good looking the neighborhood is. From what I can tell it has to be worth the price. It's a pretty rad nabe that's surrounded by a couple of the more popular and busy nabes. Peter T.
Hilltop solitude
Corona Heights feels like a hilltop village. There are some great homes and a strong sense of community. The park at the center is totally off the tourist radar so I hike up there whenever I can to soak in the scenery from the top. It has Twin Peaks caliber views with hardly any people. And Randall Museum is a really great art/science museum for kids and adults. It's quiet and peaceful but five minutes down the hill is the craziness of the Castro in all its glory. Gena F.