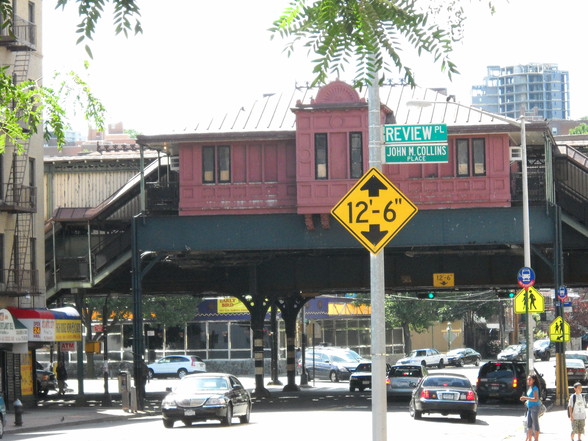 Infomation
Close to both Riverdale and Van Cortlandt Park, Kingsbridge should not be confused with the similarly-named Kingsbridge Heights, which lies just on the other side of the Major Deegan Expressway. Though lacking somewhat in the commercial sphere, Kingsbridge maintains its status as an attractive nabe for renters and homeowners alike. It is served by the 1 line.
Data : Neighborhoods & Travel – Score out of 100
TOP ATTRIBUTES
Public Transportation 75
Dining 75
Ethnic 65
Green space 63
Shopping 63
LOWEST ATTRIBUTES
Clean 50
Safety 45
Parking 44
Singles 43
Income 6
Reviews
Wait, what?
Some people can claim that I'm wrong about this but I don't like Kingsbridge, and don't feel same when I'm in Kingsbridge.
I first visisted the nabe when I had a friend working over on 225th Street at the Planet Fitness that had opened up in the new shopping center that lines the street. I will not lie at first I really liked the neighborhood. It gave me a pleasant surprise because I thought all neighborhoods in this part of the Bronx were typified as "bad." Yet Kingsbridge looked like a popping place. The Planet Fitness was surrounded by an Applebee's, Target, Starbucks, and various other well-known stores. Also just up the block the neighborhood ran into Broadway. However after parking my car and walking to the Planet Fitness I was gwaked at by various guys, cat-calls, and the sort. Then my friend told me that across the street from the shopping center were housing-projects and that there was actually a shooting last week in the area. I was shocked because the area seemed nice, but this information automatically sent off warning signals.
Not to mention this area also brought me into the Heights by accident one day, and it completely freaked me out. OH also the various pot-holes that lie along East Kingsbridge Rd/W 225 Street could totally mess up your car-especially if its an old one like mine.
Helen C.
A note about Kingsbridge's Stairs
If anything can be said about Kingsbridge, it is that the neighborhood has a topography all its own. One always seems to be ascending while here, constantly climbing up long stretches of incline and Tarmac to a destination that is perpetually distant. It gets worse when it's hot, because the sun's regular mercilessness is intensified when hills are involved – believe me.
Kingsbridge attempts to counter its nature by using stairs. This never ceases to make me feel strange, as stairs and the outdoors, to me, seem locked in a constant battle of opposition. That said, the stairs are charming, in their own way, and add to that peculiarly San Franciscan-edge that the neighborhood effortlessly exudes. When the streets suddenly become stairs, you know you're in Kingsbridge. Or Mt. Eden. You might be in Mt. Eden as well.
Ricardo B.
Kingsbridge is a large neighborhood, stretching from the Jerome Park Reservoir to beyond Broadway. It, like many other neighborhoods of the Bronx, is loud and colorful and always brimming with energy.
There are a few things, however, that separate it from other parts of the Bronx. One of these is its topography: Kingsbridge is comprised of several hills. Parts of the area reach over 200 feet above sea level. Many of the streets are connected by staircases; as the hills are far too steep to construct a slope. In this way, Kingsbridge is very similar to certain parts of San Francisco.
Another factor that separates Kingsbridge from the rest of the Bronx are its superb shopping selections. While far less gaudy than nearby Fordham Road, Kingsbridge is home to amazing dress, accessory, and gourmet food shops. A massive Target is nearby, as well.
The neighborhood varies in degrees of safety: toward Broadway and Riverdale, it is much safer and quieter. Toward Bailey Avenue and Kingsbridge Road, it gets a bit hectic. The neighborhood, however, is diverse and comfortable, comprised of many old-time residents mingling with newer immigrant families.
Getting around on foot can be difficult because of the hills, but several bus options make this bearable. The 1 and D trains make stops in the area, and the 4 train is a short bus ride away.
I would recommend Kingsbridge to a host of people, regardless of their status. It is good for families, new couples, and singles… it has a little something for everyone.
Amelia Z.
Kingsbridge, A Great Place to Live
Kingsbridge is a great place to live, with the huge Van Cortlandt Park on the north, and other smaller but nice parks for families with children such as Ewen Park on the slopes up to Riverdale. On its west side Kingsbridge is served by the #1 train, which goes all the way up to West 240th St., while not far to the east there is the #4 train, accessible by the #10 bus and going to the east side of Manhattan. Parking can be difficult though there are places where parking is available, including 2-hour meters. A big ace-in-the-hole for parking is the street bridges over the Major Deegan Expressway and the extensive areas around parks, including extensive parking along the Broadway side of the huge Van Cortlandt Park. If you live in Kingsbridge Heights, the best deal is if you own a house or rent a spot in front of a house or next to an apartment, which are available for as low as $80 a month. Access to the Major Deegan Expwy and the Henry Hudson Parkway makes Kingsbridge a great gateway to places north of the city.
Shopping is pretty fantastic, with a big Stop & Shop on Broadway, and nearly across the street the Garden Gourmet store, known in the neighborhood as the "fruit store." Add to that stores on Broadway such as Conway and Staples, and many smaller shops, so local shoppers do not have to go downtown. The huge Target plaza is on West 225th St, right by the subway, and there are some new coffee shop and restaurant options in the neighborhood. Still, the old Riverdale Diner often is the favorite local spot.
Restaurant and bar life is developing slowly with the old Irish-style bars on West 238th St. competing with a newer bar that caters to the student crowd at nearby Manhattan College. Rents are a great deal lower than Riverdale, just up the hill. Kingsbridge is still about families, with a diverse mix of whites, Eastern European immigrants, hispanics and blacks. Hipsters are in the area, but have not become dominant, enjoying the quick 45-minute commute downtown like everyone else. Rents are still relatively low, with many 2-bedroom apartments and 2nd apartments in multi-family houses renting for as low as $1200 a month.
Howie G.