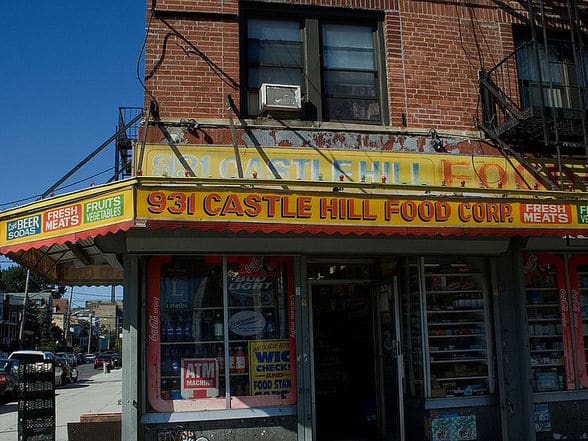 Castle Hill, The Bronx
by nabewise
Infomation
Split in two by the Bruckner Expressway, Castle Hill is populated by multi-unit homes, housing projects, and tenements. Under new and constant rehabilitation and construction, the area has seen improvements to its roads and buildings. Residents enjoy their proximity to the Castle Hill YMCA–the only YMCA in the Bronx–and the Pugsley Creek Park. The area is served by the 6 line.
Top Votes – Score out of 100
Gritty 94
Public Transportation 67
Dining 67
Families 65
Safety 63
Lowest – Score out of 100
Pet friendly 50
Singles 46
Parking 38
Quiet 35
Income 2
Top Reviews from Travel Rentals Neighborhoods
It Doesn't Get Much More "Bronx" Than This

We've all heard it: Latina superstar Jennifer Lopez grew up in Castle Hill. She rode the 6 train daily on her way to dance lessons. Blah, blah, blah— but what does this really mean?

Well, for some, it's the epitome of the Bronx dream. You grow up in a tightly-knit community and become a superstar, but you always return to your roots. Castle Hill is this neighborhood: it has all the charm of a small, working class, ethnic neighborhood but is also quite contemporary. Access to Manhattan is available at many points: it is crossed by the Bruckner and Cross Bronx Expressway, the 6 train makes a stop, and there is the BxM7A express bus available.

Castle Hill has a strong Latino essence, from its bounty of Catholic institutions to its numerous delicious restaurants. One restaurant in particular is Sabrosura, located on Castle Hill Avenue, with an ecletic mix of Chinese and Dominican cuisine. Music can almost always be heard at any time of the day, and the residents are very friendly. Various nightclubs abound, giving the neighborhood a decent sense of nightlife. Apartments are plentiful, but as one travels further down toward the water, private homes become the mainstay.

Parks and playgrounds are plentiful, including several handball and basketball courts for the local kids and teens. The Bronx's YMCA is also located in the area, at the end of Castle Hill Avenue, providing the neighborhood with year-round access to sports and swimming facilities.

In terms of safety, the neighborhood is very middle-class and hardworking, and there is little crime. The only point to note is the public housing, which in comparison to other complexes, is not all that rough.

The neighborhood is warm and charming, but is also quite loud. It is a safe bet for blue-collar workers or middle-class workers who seek a familiar environment with the excitement and mystery that only the Bronx can provide.

Amelia Z.
Castle Hill

I have been in the Bronx for around six years now, specifically in Castle Hill for over two. Castle Hill is located on the more eastern side of the Bronx, very close to theWhitestone Bridge- which makes for a very easy commute to Queens. By car the commute to Manhattan is not too bad when the Cross Bronx isn't terrible, and when the 6 train is express in the mornings getting to Manhattan isn't too bad. But weekend and non rush hour commutes can seem pretty long when you're coming from lower Manhattan.

The people here are very diverse. On a Saturday night you can walk down the side streets and hear music from many different cultures-celebrating birthdays, baby showers and other occasions. Some blocks are quieter than others, which can make it can seem like a completely different neighborhood when you go around a corner. Many people commute to Manhattan or other parts of the Bronx for work, so there are plenty of buses (and the 6 train) to get around with. The Cross Bronx, Bruckner, and Hutchinson are all nearby.

Being on the east side of the Bronx has its perks- it feels a lot safer than some parts on the other side, and it seems to get more quiet the further east you go, towards Throggs Neck and Queens.

There are plenty of barbershops, hair salons, and bodegas. But good supermarkets does seem to be lacking- and if you don't have a car you might get stuck going to an overpriced small supermarket. As far as clothing, there really isn't many retail options-but with Parkchester nearby and the Bruckner Shopping Center not too far- there is always a last minute option if you aren't up to hiking it downtown or to another part of the Bronx. There is a movie theater, which is a plus. A few bars/sports bars and very few night life options. I'd love to see more night life options-lounges, bars, restaurants with outdoor dining options.

The prices are reasonable. You can get a lot more for your dollar here than in a lot of places outside the Bronx. A container of fruit that might be almost 10$ in Manhattan can be found for less than 5$. A hero or sandwich is a lot less. Overall Castle Hill is decent, and has a lot of potential if people became more involved in their neighborhood, got to know their neighbors better, and some better businesses opened up!

Nicole P.
I've been living here for a few years now and find it to be an ok neighborhood. Like another reviewer said there are a lot of clubs which is good if that's your thing but it not then… it could be a problem. There are a few good restaurants like Sabrosura (with Chinese/Latino fusion…mmm), but also a lot of fast food.

A hidden jewel is the park at the very end of Castle Hill Avenue. It's a little bit questionable because you have to go through the projects to get there but it's a nice, quiet retreat to walk your doggie if you have one!

The commute to Manhattan is super easy because all you do is get on the 6 train! It's local though.Josie M.
OMG

i fucking hate this place.. i wish i was back on my westside of the BRONX i miss my 4 train … my 3,35,36,1,2, buses ugh ……… its way different to get around over here … but its where i picked to raise my KIDS at…. The playground i found is kind far like o.d a lil mission what can i do .. i shouldve did more research …. ITs crazy i c alot of familiar faces from back in days when i was on da westside and i love it … I think theres to much 2 do out here @ night tho… they should close down some CLUBs … everybody is out here on da weekend who sleeps not me ….. o well for now castle hill and east tremont it is ……….. ITS OK

closer than i t.