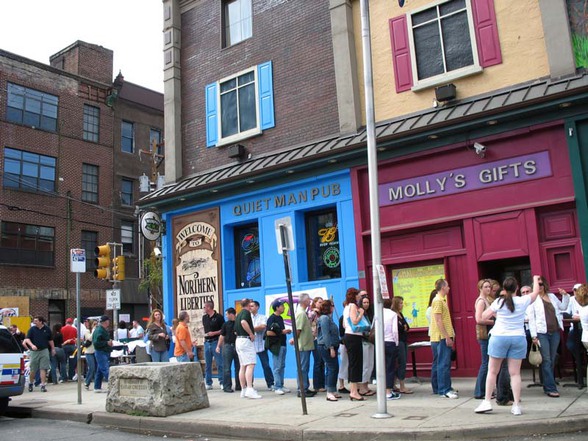 Northern Liberties
by nabewise
Located just north of Old City, Northern Liberties (or NoLibs for those prone to pet names), is a verdant center of activity filled with bustling boutiques, hip restaurants, and lively bars. With so much defiantly beautiful infrastructure left over from this nabe's days as a manufacturing hub, it's no wonder artists, professionals, and designers are swiftly moving in to claim a parcel of Northern Liberties as their own. This happening nabe's proximity to Center City locales and public transit options doesn't hurt either, should you wish to stray outside the borderlines.
Northern Liberties Data
Lowest Attributes
Public Transportation

4.4
Northern Liberties Articles and Reviews
Fun in NoLibs? NoProblem.
Are you a college graduate 5-10 years out?
Are you a young professional who doesn't want to compete with drunken 18 year olds but has too much energy that no suburb could match?
Do you like artsy, DIY-looking spaces where you can discuss whether something is "art" or "vandalism"?
Do you hope to put down some roots, but not yet start a family?
If you answered "Yes" to the above questions, NoLibs is for you.
What's awesome
trendy, still up and coming but rapidly approaching the arrival of "up" without the "and coming" needing to be attached, artsy
What's not so awesome
Artsy but losing its edge with increasing amount of gentrification
Hannah R.
Wow…has this nabe changed!!
Just within the pase couple of years I have watched this nabe go from a run down, artsy nabe to one that is chock full of hipsters and yuppies with babies. That might sound bad, but it's not. It's still a great nabe full of life and art. My boyfriend lives here so even though my address is in South Philly, I might spend equal if not more time up here. There is a lot to see and do, and always new, hip things to try out. I'm obsessed with the Random Tea Room and the Soy Cafe, which are excellent little hole in the wall type places where you can get some quality bev action. We always used to bitch about how we had to get groceries either at the somewhat overpriced tiny markets or the somewhat intimidating and incredibly smelly Asian grocer, but now that the a giant Superfresh has moved in (the building has been built but empty for a few years now), I'm not sure if the convenience is worth it. The constant flow of traffic on 2nd street is obnoxious, and it's definitely taken away a lot of the cute-little-mom-and-pop feel that made the nabe so charming. There's a lot going on, prices are high, and there are dogs and babies EVERYWHERE. Also, I worry sometimes that people feel a false sense of security wandering around the nabe especially at night. Though it feels safe, there is still a lot of crime around, and there have been some instances of violent crime recently that really shocked some people. This is where you want to come, though, if you want awesome, interesting cuisine, a fun night out in a hip environment, or to go shopping for expensive, kitschy knick-knacks.
What's awesome
There's a lot of fun stuff going on here, and some great food – breakfast, brunch, lunch, dinner, or drinks
What's not so awesome
It's less safe than it seems and can be snobby.
Alyssa F.
a really welcoming and changing place, but safety issues worry me
i agree with what's been said already about no.lib. It has a very down to earth feel that i like a lot, a lot of creative people, awesome bars, and it's still growing (well, by growing i mean gentrifying) so you will see new places coming in a lot—it makes for a fun place to visit.
I think that the crime that happens here (some other spots bordering northern lib are not as safe and I think crime bleeds in) is problematic. There have been gun violence incidents where people got seriously hurt. That said, i think most of the crime here is just petty things like muggings, and people don't get hurt a lot. Wow, I'm making this sound so bad! I don't think everyone here experiences crime issues, but it's something to be aware of—there's some risk you're taking being here (of course, that's always an issue living in a city). I think it's a risk most young people are willing to take, but I don't think it's a good place for people with kids—i wouldn't be really comfortable letting my kids run around here by themselves and I certainly wouldn't want to get mugged while im with them.
im giving this place a bad rap though. i love coming here on weekends for really good affordable and creative food.
What's awesome
affordable rent (although this is continuously going up), new restaurants/bars/shop popping up a lot, interesting people, welcoming
What's not so awesome
crime and safety issues. it's also a place where you're going to see quite the fair amount of yuppies and hipster (and the in betweeners that aren't sure what they are), if you're not a fan of this, this is not your neighborhood.
Michael L.