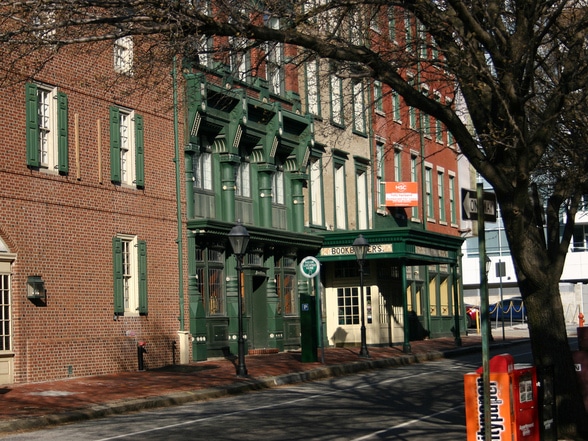 Old City's often what folks think of when they imagine Philadelphia: cobblestone streets, architecture from the 1700s, the Liberty Bell, and a pervading Colonial charm. While this is certainly the spot to see living history (don't be surprised if you spot a Colonist wandering around!), Old City's also fully embraced the modern world. Fine dining and boutiques bring in a classy crowd, while an abundance of bars and night clubs keep this nabe going after dark—what would the Founding Fathers think?
Old City Data
Lowest Attributes
Old City Articles and Reviews
Interesting but Ambiguous
I have often found it difficult to characterize the way I feel about Old City. It's a neighborhood that you can scoff at if you don't look closely, but one that you can absolutely love if you dig a little deeper.
Old City is the center of historic Philadelphia, covering roughly the original city lines at the 1790 US census. But don't let the historical sites fool you, the neighborhood has not been continuously preserved in the same form since colonial times. The historical feel of the neighborhood has been deliberately crafted by Philadelphia's powers that be (with help from the national park service) in order to give the appearance of 'preserved history'.
When I first moved to Philadelphia, people told me that Old City was the center of the city's nightlife. I soon discovered, however, that it was really the center of douchey out-of-towner's night life. Club after club spitting out hair gelled bros and scantily clad New Jersey women. For a while, I wrote the neighborhood off. I assumed that it wasn't really my scene.
But over the last few years, I've spent a little more time there, coming to understand the true diversity of offerings in the neighborhood. I've learned that there's a thriving arts scene. There's a healthy serving of boutiques and bookstores north of market. I've found that for every loud club, there's also a laid-back bar serving interesting drinks to interesting people. Of course, even in craft beer bars in old city, you're going to get your share of fratty people asking for the "Lightest beer you have". But it doesn't have to bother you, because it just means a greater diversity of people having fun.
I'm not sure I'd ever choose to call old city home, but I don't steer clear of the neighborhood anymore. It's fun to bike through there on weekends and smile at the suburban families going for horsey rides down cobblestone streets. Then stop into Benelux for a beer. And to try not to forget that writing an entire neighborhood off is never a very good idea.
What's awesome
Amazing restaurants and bars
bustling nightlife
accessibility to Northern Liberties and Center City
What's not so awesome
Oblivious drunks
Tourist impact
a tad dirty
Andy F.
A Veritable Museum without the Stuffiness
Olde City, Philadelphia: where our founding fathers frolicked and swashbuckled, swigging grog and somewhere in between tripping over clogs on cobblestones and preening their wigs, signed America's future.
Now, by day, there are people who dress up in honor of that rich cultural history, give tours, and direct your attention to cracked bells and old buildings.
And by night, people still manage to swashbuckle, swig, and trip over cobblestones upon leaving the various establishments certified for fun in the city's center.
Olde City isn't hip, per say, just like a museum isn't hip. But it's cool to visit and has all sorts of things to do, just like a museum is cool to visit with all sorts of things to do.
Such is Olde City, a veritable interactive museum- one without pieces that ask the visitor to maintain a 3 foot berth.
What's awesome
History, culture, fun spots for both day and night, being in the center of it all
What's not so awesome
crowds, tourists, high price tags
Hannah R.
"Old City" Doesn't Seem so Old.
Although it is called "Old City," this area has modernized to keep up with the times of today's society. It is one of the city's popular nightlife destinationsthat includes many lounges, dive bars, and quality restaurants mostly along the three blocks from 3rd and Market streets to Front and Chestnut streets. The First Friday event is also extremely popular. This event happens the first Friday of every month, sunshine or rain. It features open houses by many neighborhood art/design galleries and clothing boutiques. The 3rd Street Corridor, between Market Street and Vine Street, is home to many locally owned independent businesses. These art, design and fashion ventures make Old City a sought after destination for culture and commerce enjoyed locally, nationally and internationally.
Jessica
A night out in the 1700's
getting smashed in old town is like getting smashed in colonial philly, which is awesome. it feels really ancient, but is so gentrified it occasionally loses that mystique. Still When I stumble out of bar in old city, it feels like stumbling into a street that likely has horse carriages on it, and I would be surprised to G Washington prancing about in all his shortness. I love the art galleries though, those are awesome. I dont love how pricey rent is, and living in a three hundred year old building is usually not advantageous, but there are plenty that have been well kept.
Mark J.
living history, stumbling drunks
i think we all forget about it since we live here, but Old City's a really awesome area to be in because of all its historic content—although it's kinda hard to imagine "olde" times when you're dodging swarms of tourists or drunkards.
Following a strategy often at amusement parks, I think it's best to come here when the weather's bad: a nice downpour or some bitter snow, the crowds clear out, things get quiet and it's all of a sudden a lot of easier to imagine good ol' Benny Franklin strutting about (did he strut?).
I have to say I enjoy the restaurant scene here—it's quite classy and it's fun to come here for date night if you're interested in feeling swanky and slightly important. The bars here are cool but, you guessed it, pretty crowded and you tend to get a lot of out of towners who are quite focused on getting very drunk.
What's awesome
take some time to wander and find some narrow alleyways paved w/ cobblestones, the "tourist attractions" here are the super legit beginnings of our country, restaurants here are delicious
What's not so awesome
the drunks do come out at night.
Alana P.