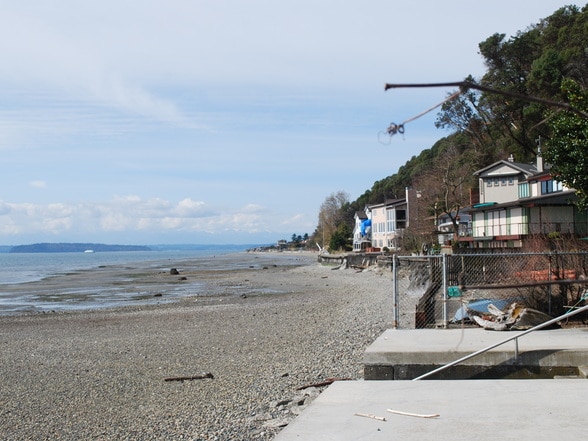 Seola Beach has seen a bit more development than some other struggling Burien nabes. While mostly a residential area, Seola Beach has easy access to the West Seattle staple, Westwood Village. If you plan on living here, a car is a definite need — you'll often find yourself trekking out to other areas both for work and pleasure. Of course, like the name implies, if you want to get your feet wet or just take it easy, the beach is close at hand.
Seola Beach Data
Lowest Attributes
Seola Beach Articles and Reviews
Rarely do I get out to Seola Beach
On the Hill, before the land breaks down toward the Sound, you'll find houses similar to any in West Seattle. The vibe in this area is beachy, but a bit more reserved than it's northern coastal neighbors. As the house slopes down, there are some pretty wonderful views of the water, with houses becoming more and more extravagant the closer you get to the water. Anyone with the idea that places like Alki extend to the south be warned — the beaches here are not public, they belong exclusively to the houses above their sandy presence.
clarence l.
Seola Beach hardly feels like Burien
On the top of the hill, the houses are more modest, 1 story homes. Pretty simple with a real homey feel, but anytime you get closer tot he water, the houses increase in luxury and size. The beaches out to the Puget Sound are all privately owned, so unless you're the owner, or know the owner, don't expect to be welcomed with anything except signs informing you that cameras are filming you. Since the and slopes down towards the Sound, and Seola Beach doesn't really display any amazing commercial centers, a car is a definite need for residents. Street parking is fine — you won't need to worry about spending money on zone permits or searching for hours to park your car.
virginia j.
Seola Beach is less beachy than northern nabes in West Seattle
Seola Beach, located in Burien, is a little different than most Burien neighborhoods. Price tags on homes in Seola Beach are much higher than the average for Burien, and its no huge mystery why; homes here are desired for their proximity to the water, and have a more look that's cleaner, and more put together than other areas of Burien. Where some areas of Burien are 'questionable' in terms of crime rates, Seola Beach does not conform to stereotypical standards.
While the borders to this nabe are somewhat ambiguous, for the most part it seems to be somewhere along SW 112th and SW 116th on the North and South, and Seola Beach Drive SW and 16th on the western and eastern sides respectively. This doesn't make up a huge area, and most of the area in Seola Beach is taken up by residential areas. Although this Seola Beach doesn't have to many features, it's just south of West Seattle hotspots the Westwood Village, and runs along the same coastline as the very popular Alki Beach.
Christopher M