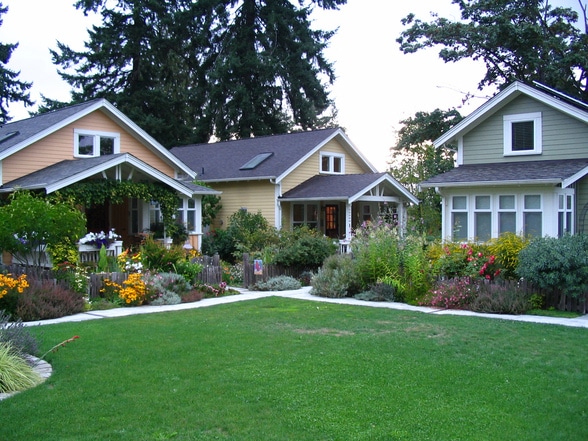 Shoreline is consistently ranked as one of the best nabes in the country by everybody who does such rankings. Just north of Seattle proper, Shoreline is close enough for convenience, but far enough out to offer a slower and more peaceful pace of life. This community centric nabe is well known throughout the Seattle area for its awesome summer events, such as free concerts, parades, and the always awesome ice-cream social. Shoreline is well rounded and has plenty of amenities to keep residents happy.
Shoreline Data
Lowest Attributes
Shoreline Articles and Reviews
Planning on Moving There
We almost moved up here a couple times over the years, especially when the kids got older. It's a great little neighborhood. People always say it's good cause it's so easy to get Downtown but truth be told, if I lived in Shoreline I wouldn't bother with the city anymore. It's a nice quiet suburban place to raise a family and it's close to Northgate for all your shopping needs.
Maybe in a few years I'll get up the gumption and think about moving there again but for now I'll just sleep easier just knowing it's up there 15 minutes North of downtown, all quiet and peaceful like.
What's awesome
nice homes, feels seperate from the city, close to a couple of colleges (North Seattle CC, Shoreline CC, University of Washington)
What's not so awesome
a little expensive, not close to any of the big three (Microsoft, Boeing, and Amazon)
Mike G.
Shoreline
In general Shoreline offers a variety of amenities for a diverse population. It's difficult to rate becuase the neighborhoods/streets within Shoreline are surprisingly diverse. Richmond Beach has incredible real estate, views of the sound, and a very classy atmosphere. Neighborhoods between 5 and 99 are more volatile – in terms of crime and charm.
What's awesome
What's not so awesome
Highway 99 – which runs directly through Shoreline – has its share of smutty stores (porn shops).
kk
Micro-cosmic
Shoreline is a suburb north of the Seattle city limits that offers just about anything you could ever hope for in a neighborhood. Shoreline is technically its own town, and it truly has the amenities to support this. Everything you could want or need can be found in Shoreline, from high-end shopping to thrift stores, from tiny markets to giant organic supermarkets, if you lived in Shoreline, you would likely never need to leave.
However, this is mostly a suburban residential nabe, therefore to get a taste of some real culture, you are gonna have to head down to Downtown Seattle. Luckily, this is only about a twenty minute drive, and bus access is excellent, so a night out on the town is not a big hassle.
Shannon T.
Once again, Shoreline has been voted one of the most livable cities in the Seattle area. Housing is fairly affordable, the schools are excellent, and it's convenient to downtown Seattle, shopping malls, and other activities. Shoreline consists of 14 neighborhoods that are each represented on the city's Council of Neighborhoods. Each one has a mission to improve their neighborhood through various events that make improvements or bring neighbors together. Shoreline Community College has excellent programs for all levels of study. The City of Shoreline Parks Department (with the help of neighborhood volunteers) keeps our parks looking good and making constant improvements. Shoreline Center has a pool, rec center, exercise programs, and activities for all ages. During the summer months there are free outdoor concerts, ice cream socials, block parties, a parade, jazz walk, and more. It's a great place to live, work, and play!
Nan Skinner