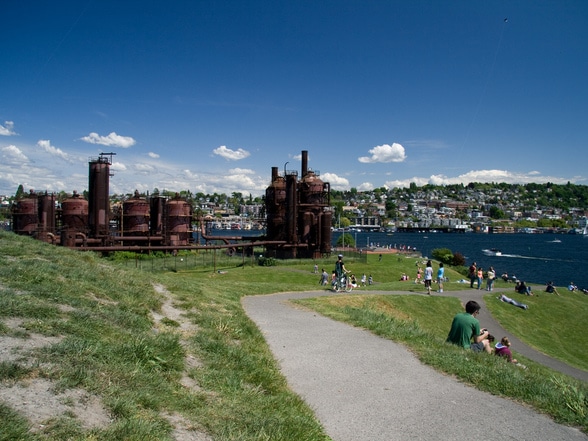 Sometimes people own so much land that a neighborhood is named after them, and residents of Wallingford can thank John Noble Wallingford for this very thing. Located in North Seattle at the southern tip of Green Lake, Wallingford is a laid back, artistic and creative community featuring residential homes, eclectic shops and cafes (along 45th), and the Woodland Park Zoo, which has some of the cheapest rent in Seattle (if you're an animal). Other attractions include Gas Works Park, which used to have a factory, and Wallingford Center, which used to be a school. Quirky Wallingford loves converting things. Will they convert you?
Wallingford Data
Lowest Attributes
Wallingford Articles and Reviews
Pack A Picnic Basket
This place is day trip central. Between the Zoo (a fair sized collection of animals that will make you forget you're in the city), Gasworks (a giant park with a view of the city that will remind you where you are), and all the shops (from surfboards to antiques), this neighborhood has plenty to entertain you.
Beyond that it's just a restful green place to go and relax for a while. The poeple lucky enough to call this neighborhood home all seem to absorb they're surroundings and are friendly and polite when you pass them walking.
What's awesome
The Zoo, Gasworks Park
Mike G.
Perfect for UW students, young families, and empty nesters.
The pros:
Great dining options – Mexican taco carts to upscale Thai.
Close to various grocery shopping options.
Accessible, walkable, good public transportation, close to I-5.
Charming homes, tree-lined side streets.
Developing more slowly than other nabes.
Relatively affordable rental apartments.
Safe, clean, relatively quiet.
Sense of community.
The cons:
Weak nightlife for 20-somethings = poor area for young singles, may be too quiet for some, not many "gathering" spots, not many young professionals in general.
Odd assortment of retail options.
The closer to 45th St. and east by I-5, the louder it is, especially at night – sirens, buses, highway traffic, etc.
45th Street becomes very busy during weekends, events, holidays.
One decent independent coffee shop with Wi-Fi (Fuel) – a little small.
I would encourage young professionals looking to live north of Seattle to look at Fremont or Ballard before Wallingford. It's a great location for students/grad students looking for a quieter alternative to the U-District, as well as young families with children, but not for 20/30-somethings who want an active nightlife, things to do, etc.
Cofy M.
Relaxing and Vibrant! Welcome to Wallingford
As a past resident of Wallingford, I eagerly await the day I can move back. The renovation of the neighborhood from 2004 has led to modern condos, new restaurants (but the good ones are still there) and a vibrant crowd. The cleaning up of the 44 Line has also made a change in the area. It's cheaper than living Belltown, but the cost of rent for the newer places have increased. However, a lot of places have an amazing view of the Seattle skyline which makes having a balcony/ deck worthwhile.
Classic Japanese restaurants like Musashi's (the best and maybe cheapest/ busiest sushi besides Shiro') and Kozue have been around for forever. Chutney's and Rain continue to be really popular restaurants. With the incoming of Trophy cupcake in Wallingford Shopping Center, the incoming for trendy restaurants and dessert came along. Wallingford boasts Joule- the Korean French Fusion restaurant whose chef's competed in Top Chef. It also has Molly Moons, a Seattle ice cream favorite and Fainting Goat Gelato.
It's a diverse neighborhood- there are families, young professionals, college students, and people who have been in Seattle for forever. There is a large QFC right on 45th which allows for easy access to groceries. There are houses, apartments, and condos available which allow for a variety of incomes. A number of buses intersect through Wallingford allowing for easy transport to Fremont, Downtown, UW and Northgate. Fremont bars and nightlife are conveniently within walking distance. This is one of my favorite neighborhoods in Seattle because of the chillness and the food options. It's diverse and safe and easy to access. You still feel like you are part of the city, while still having neighbors and a local ice cream truck drive through.
What's awesome
Sushi, chill bars, Hawaiian Breeze, diversity, safety, bus transport, great view, walking distance to Fremont, Gasworks, and a lot more
What's not so awesome
Wallingford or WallingWINNING?
Wallingford is a north Seattle nabe with severe split personality syndrome. Depending on your location, you could find yourself in a residential neighborhood or in an area that is definitely a candidate for one of the EPA's Superfund sites. Roughly bordered by 45th to the North, Stone Way to the west, Lake Union to the south and I-5 to the east, Wallingford is a great location for families, college students and blue-collar workers.
Boasting light industrial work to the south and west in contrast to the cozy family neighborhood, restaurants/bars and service industries to the north and east, Wallingford embraces the geographic dichotomy to effect. Home to North Seattle's only dump, Wallingford also offers several unconventional activities for the curious. A sizable community of houseboats forms the south-western tip of the neighborhood (on the border of Fremont) that looks suspiciously like a shot from Sleepless in Seattle. To the east is Gasworks Park, one of Seattle's most iconic public spaces. Nearly 20 acres in size, this open space is perfect for flying a kite, soaking in the incredible view, or bathing in Lake Union with the benzene and tar that has an unfortunate habit of occasionally appearing in the water. 45th street and the immediately surrounding area host excellent bars and restaurants with an appropriately bustling nightlife to match. While much of the rest of the neighborhood is purely residential, there are always a few local secrets to be enjoyed. Personal favorites include Tutta Bella Pizza and Kabul Restaurant.
Lacking the dressed-up feel that permeates Fremont, Capitol Hill and Ballard, Wallingford definitely appeals to a much more relaxed crowd. The ease of access to public transportation, north-central location and relatively cheap prices only make this an even more ideal location. Ignore the benzene-infused waters of Lake Union that border this neighborhood and focus on the facts: great location, good food and a laid back vibe.
John V.
On Top of Lake Union, All Covered In Ice Cream Parlors
Wallingford is, first and foremost, a pretty fun neighborhood. This wedge of north Seattle squeezes in between the U District's I-5 boundary and the more rambunctious, larger Fremont and Ballard to the west. What I like about Wallingford is that it really has a bit of everything. Along 45th there range restaurants, cafes, and a smattering of nightlife, as well as the two iconic ice creameries (Molly Moon's and the Fainting Goat, both very worth a visit). To the north and south of 45th, Wallingford is much more residential, the retail core fading to narrow streets and Craftsman homes that haven't changed much since the neighborhoods were established. But if one wanders south all the way to the waterfront, the famous vista from Gasworks Park awaits.
Wallingford is a primarily young, moderately trendy neighborhood. Prices are reasonable for the surrounding area, and most everything (including the still-new-feeling QFC) is within a short walk. Parking can be a bit of a challenge at times, particularly on 45th, but traveling up or down a few streets is almost always effective. Buses pass through often on their way to the U-District or Ballard, so public transit is a viable option for the environmentally-conscious or automotively challenged.
Wallingford on a sunny day is one of the best places in Seattle to be. Grab a scoop a Molly Moon's or Fainting Goat, a latte at Fuel or Chocolati, and take a walk down to Gasworks for incredible downtown views and the best place for kite-flying in the city.
Kelly G.
Craftsman fans will love this neighborhood. Foodies and film buffs, too. It's all here and getting better all the time!
Ricklie
Wallingford: A Blend of City and Small Town
Bounded by two lakes to the north and south (Green Lake and Lake Union) and a freeway to the east (I-5) and a highway to the west (Aurora Ave.), Wallingford can feel like an island even though it sits at the center of the city. Ask anyone who was snowed in for a week or two during winter 2008 — you really don't have to leave Wallingford.
Residents adore their local amenities and, for the most part, applaud the recent influx of acclaimed restaurants and sweets destinations. But they also love how easily they can get away from the traffic and bustle of the main thoroughfares, N. 45th and N. 50th streets, to quiet side streets of mostly modest Craftsman homes where strollers and trikes sit on every other porch. Families flock to Wallingford for its acclaimed public school (John Stanford International), large parks (Gas Works, Wallingford, and Meridian), and walkability.
Read news about Wallingford every day at MyWallingford.com.
Marina
Wallingford
After living on Queen Anne for over a decade I moved to Wallingford and it was like a whole new City opened for me. Living near the Burke-Gilman trail has opened 4 neighborhoods: Wallingford, Fremont, Ballard and the University District. I now walk down to Gasworks Park regularly, watch the Duck Dodge. There is so much going on and I can use my bike now to get to it all.
Fremont C.
Wallingford is a historic community with a funky atmosphere. The business district on 45th St is like a small town center, with plenty of dining and retail options. Gas Works Park on Lake Union is one of many neighborhood parks, and Green Lake is just a short walk to the North. Wallingford is a perfect neighborhood for commuting downtown and still living in a residential area.
Sam DeBord