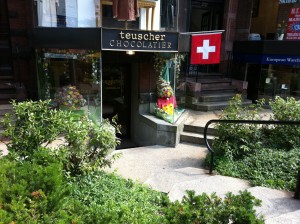 Sweet, Sweet Newbury Street: A Chocolate Tour in Back Bay
by nabewise
Boston sights, the Freedom Trail, historical nabe walks, and harbor tours come to mind. Yawn, right? Luckily, I've found a tour with a sweet edge for those of us that are curious and hungry: The Boston Chocolate Walking Tour Company.
While the company offers several tour routes, I chose Back Bay's Newbury Street: Boston's very own 5th Avenue, complete with perfectly manicured sidewalks and some of the city's most well preserved brownstones. I was sure this tour would please my palette and my love of Boston.
The tour meanders down Newbury Street, providing a glimpse of  the sweet sensations it has to offer…
O & Co 161 Newbury Street: This first stop on the tour and probably the most puzzling since it's a store specializing in olive oil.
The chocolate: A nutella-like olive oil, hazelnut spread.
The verdict: Creamy, delicious and downright addicting (I left with two jars)
Teuscher 230 Newbury Street: The holy land of chocolate, the pinnacle of confection: a Swiss chocolatier and the highlight of the tour, in my opinion.
The chocolate: A champagne truffle made with chocolate flown in from Switzerland and filled with mousse made from Dom Perignon
The verdict: The chocolate is amazingly fresh despite the 3000 mile journey and the mousse is sinfully decadent yet light and fluffy. In other words, the best truffle you can get your hands on in Boston. Yes, that good. A veritable chocolate awakening.
J.P Licks 352 Newbury Street: Now, all of you Bostonians out there are thinking this is an ice cream shop, not a chocolate shop. But really, what's better than chocolate ice cream? I know, two different kinds!
The chocolate: Brownie batter ice cream and chocolate ice cream
The verdict: The brownie batter has delicious, chewy chunks of batter with a rich, dark chocolate taste while the plain chocolate ice cream has a milder, smoother taste. I prefer the plain chocolate because of its out-of-this-world creaminess!
Lindt 704 Boylston Street: We've all heard of Lindt and grocery store shelves are lined with it so I was somewhat disappointed this was included on the tour, but…
The chocolate: So many flavors!  Ex: white chocolate vanilla, dark dark chocolate with sea salt
The verdict: The dark chocolate with sea salt marries the perfect amount of sweet with just enough savory: 100% satisfying. The best part: the founders of Lindt were the first ones to take chocolate from liquid form to bar form-serious kudos to them!
The complete chocolate verdict? Newbury Street's home to some pretty serious cocoa confections.