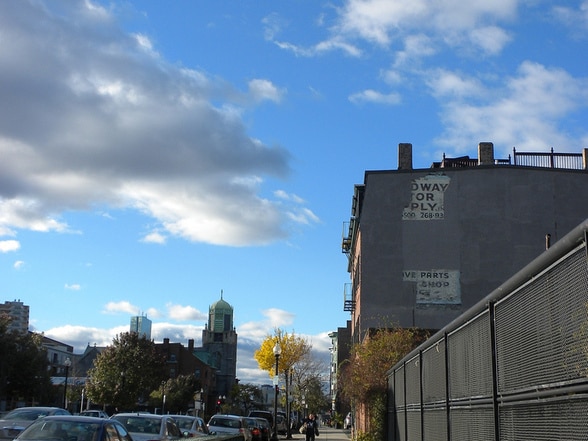 Formerly known as Dorchester Neck, South Boston marks the historic site where George Washington evacuated the British in 1776. These days it is better known as the location of Ben Affleck's more mature works. "Southie" as locals say, exudes a cinematic quality: sweeping views across Pleasure Bay, ample park space, and time-honored homes all converge here in one of Boston's most desirable locations. This popularity has attracted the attention of developers, who are currently inserting large-scale condos, retail, and even an "Innovation Center" in hopes of finding that subtle balance between old and new.
South Boston Data
Lowest Attributes
South Boston Articles and Reviews
The Departed Southie of Old
Given the waterfront location, the great restaurants and bars and the tight-knit community vibe, it was bound to be only a matter of time before South Boston started gentrifying. It's best to erase any images of Southie you have from watching one of the many Irish mob/rough kid from Boston/bank robber movies that are set here because aside from bar fights and groups of restless youth, Southie just isn't like that anymore.
The strong, local community vibes are still there though. There are new grocery stores like American Provisions and restaurants like Local 149 that are true neighborhood joints with a focus on fresh, local food. There are still the famous Southie dive bars like Murphy's Law and Whitey's with plenty of character and then there are the annual South Boston institutions like the St. Patrick's Day Parade, one of Boston's booziest celebrations.
The apartments in Southie are spacious and often beautiful inside, although you can't always tell from the rundown triple deckers. The rent is still affordable, although higher than it once was, and getting here's not so bad, especially if you have a car.
What's awesome
character, bars, waterfront, rent
Heather V.
Everything I thought I knew about South Boston was right… and wrong.
South Boston may be one of the city's most storied neighborhoods. We've all heard something about the area. I will be the first to admit that while my family has roots in Southie, I was hesitant when our Realtor suggested we look at condos there. What I thought I knew about the area was at the same time very right, and very wrong.
From the day we moved into our place on West Broadway (the recently gentrified, yuppified end), I have never felt like an outsider. Like any well-established, close-knit community, you get what you give. I love making small talk with older residents on Broadway or walking along Carson Beach, letting my dog play with school kids waiting for the bus, and getting involved in the local scene at community meetings. Though Southie is far from being the most diverse neighborhood in Boston, it has come a long way in the past twenty years. I really believe there is (figuratively) room for everyone here.
There are fabulous restaurants (Franklin Cafe Southie on Dorchester Ave. is a favorite), great bars and pubs, an awesome running community (the South Boston Running Emporium is a great resource), plenty of green space and access to the beach and water, community centers, and yes… even a bowling alley (it looks like something out of the Departed, but it's really quite charming once you're inside).
The Fort Point area boasts a burgeoning artist community, great restaurants and proximity to the Seaport. East Broadway has good pubs, a great vet (South Boston Animal Hospital), really cute boutiques (Ku De Ta and Habit), and a rather tiny Stop and Shop. A new local, organic market recently opened (American Provisions) and there is a Foodie's opening soon (on W. Broadway), but be sure to visit the market on K and 8th for meats and other staples.
I've heard that rent is less expensive here than other parts of the city, but our condo price was comparable to real estate in the Back Bay and South End— it really depends on what you are looking for. Parking is challenging, but (this is coming from someone with a garage, so bear that in mind) that's half the fun. There is great access to transportation (Red line on the T, buses and numerous taxi stands) and it's quite easy to get from South Boston to 93, 90, downtown, the Back Bay and the South End within minutes.
Come for the character (and characters) or perhaps the parade, but stay for the community.
Elizabeth
New Southie
People often cringe when they think of Southie considering its former reputation as somewhat of a hell hole, but Southie really is becoming a respectable place to live. Traditionally, Southie is where the Boston "mafia" originated (think Whitey Bulger) and it wasn't safe for "outsiders" to visit. Now, however, it has seen an influx of young professionals seeking cheap rent. And the rent is indeed, cheap. The buildings are old Boston shingled houses, some of them are a bit ramshackle but it's a good value. There is also a beach nearby (although I wouldn't swim in it) which has become a fun summer hangout. I wouldn't say Southie is being gentrified by any means, but there is definitely a more mixed population now.
Mallory C.
When I lived in South Boston some twelve years ago, it was an up and coming area. It now appears to have made it there. I recently went back and saw the huge Green LEED Certified building near the red line train stop. That area used to look run down. Many of the restaurants and pubs I remember are still there or likenesses of them. The entertainment and dining landscape was still quite Irish when I was there (pubs and bars mostly) but changing. Despite this, I can't really say what has changed. I am sure it has so I will focus on what I liked about it.
At the time, it was cheap and I was just starting out my career in Boston. I doubt this is so anymore. But it was also right near the water and had a nice park for running, a cheap public gym and great walkways along the water. The walkways along Boston Harbor are the prettiest part of South Boston and this probably explains the higher priced high-rises down near the water. There are some shopping facilities in the area, but I remember the best ones a little bit south (South Bay Plaza) on route 93 from there. It isn't really a place where everything is right at hand. It mostly happened to be a good value with a decent location at the time. The walk to the train was a little bit of hike on cold mornings but close and parking was easy compared to other places I have stayed. It was just a short ride on the red line and green into town where I worked.
The people in my neighborhood were friendly and many community events such as road races and polar bear swims were a super fun. I can't speak for the prices in the market now or what is available but I remember liking the overall environment while I was there.
Zachary B.
Classic Boston Vibes in Southie
If you say "Boston" in front anyone outside of this city, chances are high their mind will conjure up images of Southie, the archetypal Boston nabe filled with classic accents, Irish pubs, churches, native pride, and a bit of grit. This nabe's well-known nationwide thanks in large part to its high-profile presence in Hollywood Blockbusters (The Departed, Good Will Hunting, Mystic River, and Boondock Saints, to name a few).
Even this classic nabe has been changing, though. Over the past few years, the smaller areas that make up Southie have begun to differentiate and distinguish themselves—an evolution most apparent in Southie's increasingly uppity (think yachts and luxury restaurants) City Point.
Amanda M.