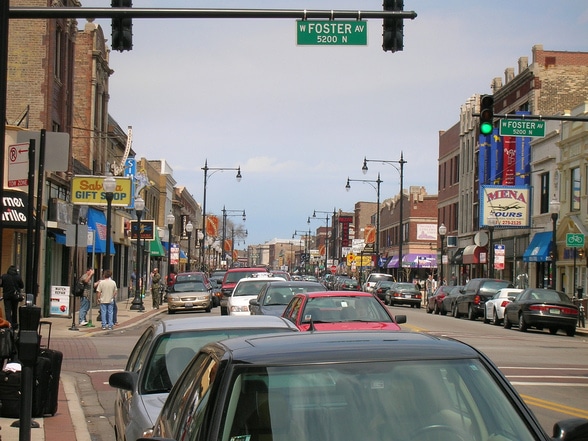 Andersonville
By Nabewise
Located within Edgewater, Andersonville is a northern Chicago nabe—a bit far from The Loop, but still close to the lake. A pillar for close-knit, gentle city living, Andersonville is known for its classic brick homes, most of them built right after 1871's Great Chicago Fire. Andersonville's commercial district is particularly intimate; a majority of the businesses are locally owned, which makes drinking, dining, and shopping here a unique Chicago experience. The nabe wasn't always so tame though… it allegedly took its name from a Viking.
Andersonville Data
Lowest Attributes
Andersonville Articles and Reviews
Quite Quirky
I have to agree that Andersonville isn't conveniently located for those commuting downtown or westward, but I still find this little gem of a nabe very endearing. Over the last few years I've watched various businesses (most restaurants) pop up along Clark Street and I can't complain. Recently a new addition came about in the form of Urban Orchard which is a small scale organic food store. One could go as far to say that it resembles a tiny indoor farmer's market as it was conceived in the likeness of Cleveland, Ohio's westside market due to the owner's Cleveland roots.
This place is pretty great to go out and wander during the day, stoping in Kopi Cafe, visiting the Swedish Museum, checking out some gems and spiritual healing at On the Rocks, or stuffing your face at Ann Sathers.
While it isn't the most conveniently located or the cleanest of nabes, it has a distinct character that appeals to anyone who rolls through. Families, students, or older folks can all find something appealing in this hub of quirky.
Marianne L.
Swedish Heritage, Local Flair
Andersonville is a real gem of a neighborhood. Fitting snug into the Edgewater community area, Andersonville was once a tight-knit settlement of Swedish immigrants. It still retains that heritage today with an array of locally owned Swedish businesses, such as The Swedish Bakery, Svea Restaurant, Simon's Tavern (which used to be a speakeasy in the 1920s!), and Chicago's own Swedish-American museum.
Andersonville's not just for the Swedes, though, it boasts a diverse and friendly population. Its tree-lined residential streets have mostly 3-flat apartment buildings and single-family homes. I often hear it touted as the older brother of Boystown, sporting laid-back bars and a few gay clubs in addition to its variety of small businesses on the main drag of North Clark street.
So whether you're looking for a warm glass of Swedish spiced wine to chase away a chilly Chicago winter, or just a nice neighborhood stroll, Andersonville certainly has something for everyone.
What's awesome
Family friendly, gay friendly, chill/laid-back, Swedish pride, awesome food and drinks
What's not so awesome
A bit of a walk from the train lines, many stores and restaurants close early
Cornelia S.
Andersonville is a north-side nabe with a lot of personality and plenty to keep you busy— this makes it a wonderful place to visit and an equally wonderful place to live. With dozens of fantastic restaurants that cater to any taste buds, quirky clothing stores sporting the latest fashions, and small boutiques selling knicks and knacks of every variety, this beautifully kept area is generally busy. However, the side-streets remain quiet and residential with plentiful fauna and flora. Dog and people friendly, Andersonville is a nabe not to be overlooked!
Gianina S.
Andersonville is a Best Bet
Chicago is full of great neighborhoods – but Andersonville is a real gem. It has personality, great eats, and totally reasonable prices. It's a bit far from the loop but only a 15 min walk to the lake. Especially if you're reverse-commuting (like I was), it's a perfect fit!
Alissa G.
Amazingly Creative Hamlet In Chicago
Whatever your looking for Andersonville has it! Great nightlife… early morning coffee… walks with the dog… amazingly friendly and creative people in this community nestled in the city confines!!!
Justin T.
An Over-crowded Disney World
After living in the Andersonville "nabe" for 10 years, I moved to Logan Square two years ago. I moved, not because there was a dearth of restaurants and bars, but because there had become TOO many of them. It wasn't because these businesses were necessarily over-crowding the Clark Street Entertainment Corridor (as I call it), but because there is a creeping corporate presence rearing its ugly head. The recently-built Walgreen's at the corner of Catalpa and Clark is one example. I also think that the locale is becoming too much of a tourist destination for what I believe is good for any neighborhood. The increasing presence of suburbanites on the weekends is evidence of this. So what's a resident to do? I took to staying away from Clark Street on the weekends and venturing out during the week, because there are certainly a number of noteworthy watering holes, restaurants and shops that make up the neighborhood, co-existing with Starbucks, Einstein Brother's Bagels, Potbelly Sandwich Shop, and (soon) Walgreen's.
What's awesome
Less and less. But there is still Kopi Cafe, Sunshine Noodle, Marty's, Women & Children First Books & (the new) In Fine Spirits Wine Shop.
What's not so awesome
All the double-wide baby strollers; the neighborhood is becoming an extension of the suburbs.
Richard Fox
Andersonville
Home to Lady Gregory's, In Fine Spirits and the infamous Ann Sather's, this enjoyable little slice of Chicago is perfect for those looking to enjoy an evening out while avoiding the downtown scene. Centralized around Clark St., Andersonville accommodates the health conscious (Cheetah Gym), academic (Swedish American Museum) and hungry (Calo Ristorante). This Swedish neighborhood will delight those of all ages and backgrounds.
What's awesome
Atmosphere, Community, Cleanliness
What's not so awesome
Always something but sometimes far away
Andersonville is an ideal neighborhood with lots going on, a whole spectrum of retail, and lots of tasty eats. The beautiful tree-lined streets are a great place to call home.
The only downside is it's a long way home if you work downtown, and it's a pain to get to things off the Blue line.
Brock R
Andersonville: A girl's wildest dream
Andersonville is a large neighborhood located on Chicago's Very Northside. It is a culturally rich neighborhood with a large polish population. However, it is mostly known for it's very large Gay, and specifically Lesbian population. There are many little boutiques and shops in its main square, as well as quite a few bars, restaurants, and cafes to choose from. The area is very friendly and family oriented, as there are many families living on each block. The town square is very quaint and could easily remind someone of a small European town. There are several CTA bus routes in the area, as well as quite a few CTA Red Line stops as well. It is easily accessible by the best Drive in the city, Lake Shore Drive. Although if one is merely stopping in for a quick visit, it would be best to take public transportation, as parking in the area can be a bit scarce. As for cost of living, it can be quite pricey; But the real question is how much is a close knit, quaint community worth to you?
Gabi N.
Boring, Dirty, but Swede prices
Andersonville is primarily home to young, middle-class families, wandering homeless people, and Loyola students who hate living in Andersonville. Why? Because it's boring, except for the occasional crime caused by the homeless crowd. Okay, the handful of Swedish bakeries are cute, but honestly? If you want cuteness, get a townhome in Lincoln Square or Ravenswood and buy yourself a package of Swedish fish; you will be safer and happier.
The neighborhood is inexpensive and is home to a large gay and lesbian population, and in the past 10 years has been gradually becoming more trendy. But I would NEVER call this a fun place to live; plus it's really dirty compared to surrounding areas like Ravenswood or East Edgewater.
Liz M.