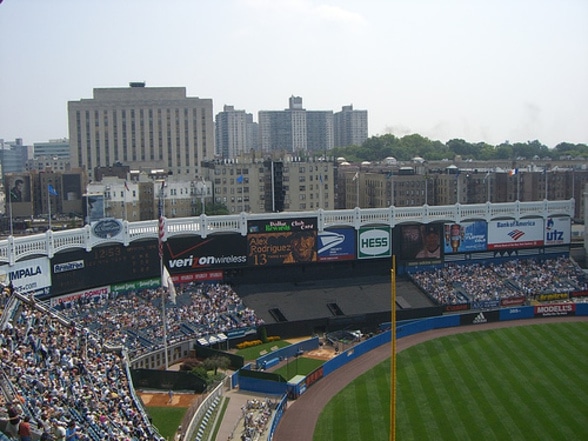 Concourse, The Bronx
by nabewise
Infomation
Defined perhaps by its centerpiece, Yankee Stadium, Concourse houses multiple government buildings and The Bronx Museum of Art on its hilly streets. The area has persevered through much tumult, and as a result, has maintained its facade of attractive apartment buildings. Concourse is served by the 4, B, and D trains, as well as Metro-North.
Top Votes – Score out of 100
Public Transportation 83
Gentrifying 75
Ethnic 60
Community 58
Seniors 55
Lowest – Score out of 100
Singles 40
Safety 38
Clean 38
Quiet 25
Income 1
Top Reviews from Travel Rentals Neighborhoods
More than just Yankee Stadium

Prior to and during the construction of the new Yankee Stadium, many Bronx residents were under the impression that the efforts of the city and developers hinged on one central praxis: To keep the feet of Yankees fans from ever touching the local Bronx pavement.

While that claim is debatable, what isn't is the reality that Concourse is more than just pinstripes, if only a bit. Concourse is, of course, the home of Yankee Stadium, which largely acts as center peice for the neighborhood, both visually, and on game days, audibly.

But there is more here. Joyce Kilmer Park and Macombs Dam Park not too far off, for instance, and are two attractive destinations that have recently experienced an increased quality in upkeep.

A similar level of attention should be paid to the Bronx Museum of Arts, which can be called the cultural equivalent to the commercial behemoth that is Yankee Stadium. It's a pivotal destination.

Visitors and potential residents concerned over the relative safety of the area have every right to be, as muggings can be common – or at least as common as any neighborhood in the South Bronx.

Concourse's location makes it a fairly short train ride away from Manhattan. You can catch the 2, 4, 5, B and D trains easily.

Ricardo B.
Who doesn't love coming to Concourse for a Yankee game? Though the area seems a little less charming since the old stadium left, plenty of people come up here to see the games. There's so many bars and restaurants, it's hard to pick which one is the best.

It's always crowded here so safety is a bit of a concern, though police are around a lot. There are good apartments in the area and a lot of cultural institutions, too. There is even a bowling alley and a movie theatre… Concourse never has a dull moment!Josie M.
Yankee City

The neighborhood of Concourse is often the first stop people make in the Bronx, whether it's to go to a Yankee game or to visit the courthouses along East 161st Street. Or, perhaps they're visiting the Bronx Museum of Art, or the Bronx Borough Hall. There's a lot to do in Concourse, and the neighborhood is always packed.

Marked by the Grand Concourse, the neighborhood is a must-see for architecture fans. Several art deco structures abound, with beautifully crafted lobbies. These days, the rent is increasing on many of these apartments as ex-Manhattanites realize the beauty of the Bronx.

There are several bars, restaurants, and shopping options. There are even a few healthy spots along East 161st Street to cater to the young, professional, legal crowd. Public transportation is not a problem here: the B, D, and 4 train make frequent stops here. However, trains can get very crowded during baseball season, so be warned.

New parks are under construction, which is always a welcome addition to the otherwise concrete-laden neighborhood. It's a good fit for nearly anyone, from young professionals to busy families. It's a nice slice of urban life in the Bronx.

Amelia Z.