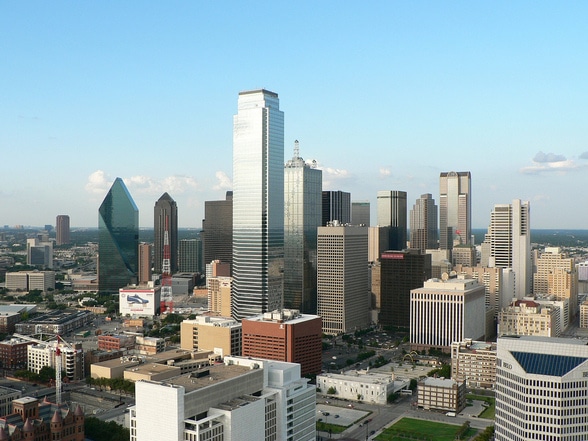 This is it–this is Dallas. Downtown has been booming over the last decade. New high rises are abundant, and cultural life has been revived through the opening of the Performing Arts Center. The American Airlines Center is just around the corner, and a Mavs game is sure to fill the streets with fans. Bars and clubs are found on every corner, and the restaurants here are among the best in the city. If you're the kind of person who passes their weekends in a W Hotel, go no further than Downtown.
Dallas Downtown Data
Top Attributes
Public Transportation 8.8
Dallas Downtown review
La' Shay W.
Business & Pleasure

Downtown Dallas is a very active and visually enthralling nabe of the city. You see characters from quite a few walks of life, as well as some beautiful buildings with a lot of interesting history to them. If you want an adventure during the day or night, this is the nabe to explore. If you are already in Dallas, you don't even have to drive to get there, and I wouldn't blame you. Take the train or bus. They run right through Downtown and there are several stations and stops, located throughout the area. It is also more fun to learn the nabe by foot than by car, and it gives you the chance to meet some of the characters I mentioned earlier.
Or if you aren't into socializing with strangers, have an impromptu photo shoot with friends. The busy atmosphere and buildings, both abandoned and occupied, make for a great back drop. If you like high end brands, make it a shopping trip. There are stores along the lines of Neiman Marcus and Chanel located there as well. Hey, if you want to turn your adventure into a hunting trip even, the job game is on point in this area. Take advantage of the hotels and other work places situated there. I could go on and on about it. But do you see what all this nabe has to offer from what I've told you about? And that's not even it. Basically, there is something for everyone to get out of a visit to Downtown Dallas. For business or for pleasure, perhaps even both, you decide.

What's awesome

The nightlife, I recommend Club Plush. Also there are great restaurants and cafes. Urban Market is a grocery store/cafe in this nabe, the food is yummy.

What's not so awesome

There are a lot of pigeons, which means a lot of crap. There are also a good many homeless people, so if you are bothered by that, beware.
Meredith L.
Concrete Jungle of Big D

This nabe is the perfect picture of what Dallas does best – business. Tall buildings filled with pretentious and hard-working professionals line the streets of this concrete jungle.

Centered in the middle of this nabe are a few apartments/lofts that are super spendy. If you want an easy commute to your office and the feel of urban life, consider moving here. Although you will have to get used to frequently walking past the many homeless in Dallas.

But what first pops in my head about Downtown Dallas is the Turkey Trot and White Rock Marathon. Both of these enormously popular races give you a nice tour of the busy streets in Downtown.

What's awesome

Bustling with life and activity

Tall buildings with lots of established businesses

Urban lofts

What's not so awesome

Lots of homeless people in the area.
Samuel A.
The Growing Heart

Downtown is the heart of any city. Consequently, downtown Dallas is undergoing the greatest amount of revitalization as the city makes a bid for increased coolness.

Downtown is the haven of the young and wealthy-is. Apartments come in all shapes and sizes, but lofts and luxury flats are the typical fare. There are nightclubs aplenty nearby, and the biggest music venues (House of Blues, American Airlines Center) in Dallas are footsteps away.

The realities of urban life are still present, however. Streets get dark when the sun goes down, and it's best to keep your wits about on the trudge home from the club.

What's awesome

Night life, trendy people, as close to the center of the city as you'll get, great access to the DART

What's not so awesome

High rents, eccentric folk roam the streets