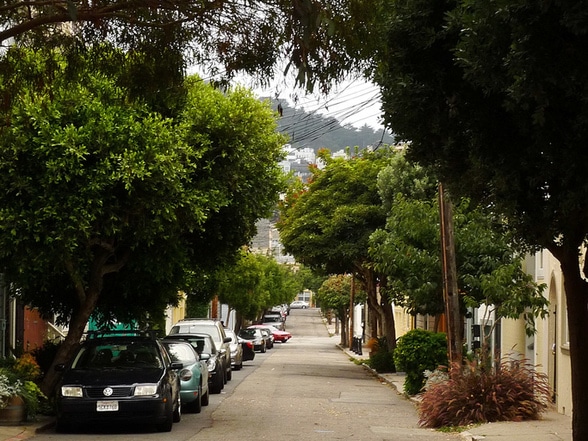 Duboce Triangle
by nabewise
Infomation
Situated at the center of several happening nabes, Duboce Triangle is a residential nabe where iconic Victorians stand tall along its attractive streets. With no central shopping zone of its own, residents can choose from the amenities of the Castro, the Lower Haight or the Mission District, all a short walk away. At the center of the nabe sits Duboce Park, a rectangular patch of green space loved by locals and their dogs. Nearly every Muni Metro subway line runs through or nearby, making Duboce Triangle a hub of transport within the city.
Top Votes – Score out of 100
Charming 96
Public Transportation 93
Community 79
Clean 63
Green space 63
Lowest – Score out of 100
Income 46
Seniors 44
Shopping 38
Dining 38
Nightlife 38
Top Reviews from Travel Rentals Neighborhoods
Triangles are the Greatest

The Duboce Triangle is right in the middle of the tri-force: that is, the Mission, The Haight, and The Castro. Each nabe comes with it's own set of superpowers, like unique restaurants, bars, and shopping destinations. So even though the Duboce Triangle isn't abundant with these things on it's own, it doesn't really even need them, since it's right in the center of the try-force. Think of it as a mostly residential, successful boy wonder superhero, flanked by three big best friends.

What's awesome

Location! Right next to The Haight, The Mission, and The Castro.
Duboce Park, bring your dog.

What's not so awesome

No restaurants (but not important because of the location)
expensive

Chloe N.
Lovely Little Nabe

I love this nabe. I always make an effort to pass through when I'm returning to my part of time after visiting The Haight. Duboce Park is just lovely and coming up on the crooked muni tracks always gives me the feeling I've made my way to some sort of "Stand By Me"-like town from the 1950s. Strangely, I consider the opportunity to pass through this nabe quite a treat.

A good day consists of grabbing a sausage dog at Rosamunde in The Haight and laying on the soft grass in Duboce Park on the way home, sunning and relaxing.

Kristine J.
Heaven on earth

Duboce Triangle is one of my favorite parts of the city. It always seems to be sunny here although I know that can't be the case in San Francisco. Duboce Park is a great hang out spot for a picnic or a nap and it fills up with sunbathers on nice days. One of the best parts about Duboce Park is its location. Five minutes and you're in theCastro or the Lower Haight and the Muni is extra reliable here.

Gena F.