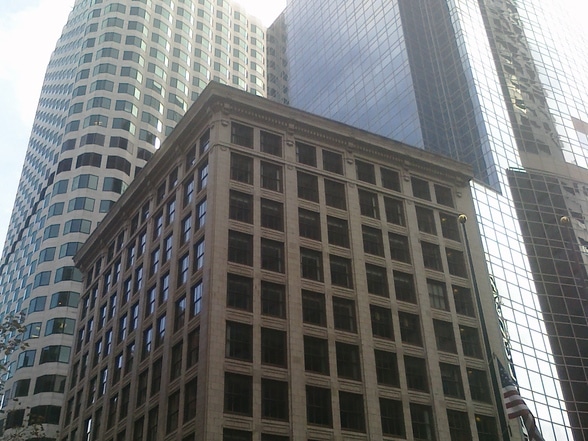 Financial District
by nabewise
Boston's Financial District's exact boundaries are rather nebulous, but it's fair to say this nabe sits between Chinatown, Government Center, and Downtown Crossing. Any given Tuesday in the Financial District, you're likely to see the following: lawyers hurrying accross the street, bankers eating at a lunch truck, mutual fund advisers sucking down Starbucks. Several upscale hotels have cropped up in the Financial District to accommodate visiting suits and tourists with luxe tastes. Dining options are plenty–ranging from grab-and-go lunch spots to swanky steak houses.
Top Attributes
Public Transportation

8.0
Lowest Attributes
Financial District Articles and Reviews
Business and Pleasure
Banks, business folk, hustle and bustle and a river of Starbucks—Boston's Financial District is pretty typical compared to most cities. Still, I like to walk through here every now and then to remind me that Boston is not all quaint historic districts and Freedom Trail.
Post Office Square offers a nice green respite from the district's concrete domination. There's fountains and benches and they even provide little cushions to sit on. You can find some pretty good people watching too. Skaters and roller bladers are also constantly trying to hit the long rails and interesting curves of the Financial District, to the chagrin of the building security guards and cops.
Steakhouses populate the restaurant landscape, and most are pretty "meh", but there are some chic bars. Boston Wine Exchange is by far the best wine and craft beer store in the area, with super helpful employees. And Biddy Early's is a perfectly trashy after work dive bar.
What's awesome
Post Office Park, people watching
Heather V.
Evening Hot Spot
The Financial District has long been associated with, well, finance…and business, and other boring stuff like that. While this association is accurate, there are lawyers, business people, financiers etc running around in crisp business suits, as all of the other reviews said, the Financial District is quickly making a new name for itself. I suppose when there's an abundance of businessy types, hip bars, fancy hotels and good restaurants for all of that wining and dining of clients they do, will soon follow. And it has. This is THE place to wine and dine, your fancy clients who you're trying to impress. That being said, even if you don't run around in a suit all day, crunch numbers, watch the stock market, or say things like "i object!," this is a fun place to visit for good drinks and food. Nothing comes cheap around here, however, so just be prepared to shell out the big bucks!
Mallory C.
Suits and Skyscrapers
I bet you have a pretty good idea of what you'll find in Boston's Financial District any given weekday at noon: Men and women in power suits, power-walking to or from any number of very important power lunches.
Most of these folks work at one of Boston's major financial institutions, advertising agencies, or law firms headquartered in this nabe. Chances are good that a few of your hard-earned dollars pass through their hands or across their computer screen each day, so I suppose it's only fair that they should wield so much power.
Boston's Financial District is a wonderful mix of old and new architecture. Historic landmarks such as the old Customs House on King Street, are offset by looming skyscapers on all sides. Such architectural overlaps provide Bostonians with sweet reminders of simpler times— before Goldman Sachs had anything to do with anyone's mortgage; before Bank of America perfected online banking; before Warren Buffett bought his very first stock.
Some of the city's swankiest hotels and best steak houses call the Financial District home. Restaurants and bars in the nabe do most of their business on weekdays, and tend to clear out by 9 oclock. The Happy Hour scene is intense, raucous, and (it is said) entirely necessary in the balance of the oh-so-precarious power dynamic.
The Financial District is reachable by any number of subway "T" stops and has ample—though expensive—parking garage options.
caite m.
Boston's Archetypal Financial District
Like theater districts and Chinatowns, financial districts seem to feel the same no matter what city you're in: super-tall skyscrapers, well-kept sidewalks, and rushed but relatively polite men in suits. Boston's Financial District is also one of the top spots in the city for luxury commercial hotels and high-rolling American restaurants (think big expensive steaks). While you're wandering around, be sure to visit Blackstone Block, one of Boston's oldest areas—it dates all the way to the 17th century! After a tour through history, take in some needed green at the Financial District's small, but super-charming Post Office Square.
Amanda M.