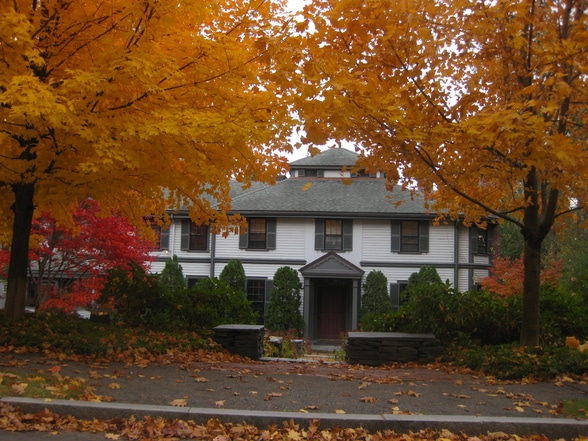 In Fisher Hill, you'll be hard-pressed to find a home without one of the following: a turret, a drawing room, a commissioned lawn sculpture. Built atop a hill bordering the Brookline Reservoir, Fisher Hill's streets wind through a beautiful, wooded landscape. At the very apex of the hill is Newbury College, once the grounds for an all-women's Catholic college. Fisher Hill is only a slight climb from the Green Line T.
Lowest Attributes
Public Transportation

3.3
Fisher Hill Articles and Reviews
pretending to be Boston
Fisher Hill likes to think it is Brookline's uppercrust. It is not as funky as Coolidge Corner nor Washintgon Square. Public transit is not an option. Everyone is in their mansion watching a screen, either the TV or the computer. Boring!!! The big issue is whether or not to be friendly to the Mormons. Yawn…
Ben N.
Another Brookline Gem
I live in neighboring Aspinwall Hill and walk through this neighborhood almost daily to get to the Brookline Reservoir where I run (it's very conveniently exactly a mile around). I used to run the route to the reservoir but I've started walking just because it's so pleasant. Like much of Brookline, the houses are large and somewhat rambling but they're old and interesting to look at. They have well kept yards that are groomed in that sort of wild English way with vegetable patches and wild flowers flowers growing about the place. It's a quiet neighborhood but always busy with kids running around (they can walk to nearby Brookline High) and people walking around the nabe.
This is a pricy area but it's great for families and offers that total bonus of being very close to the city.
Mallory C.
This nabe is not a far cry from Brookline's High Street Hill. The scale of wealth concentrated within a small area makes other parts of Boston feel dingy, even Third World. It also has its own lake, as mentioned above, the Brookline Reservoir. This becomes very charming when the cherry trees blossom, making the scenery a wee bit Monet. Unlike High Street Hill, Fisher Hill is home to Newbury College, helping to make things more manicured than average.
Ryan B.