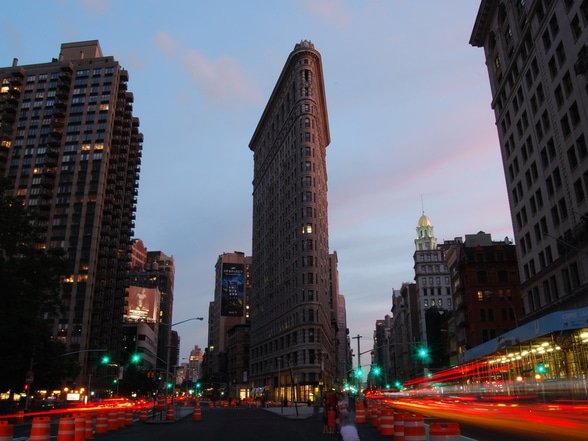 Infomation
The Flatiron District was renamed in 1985 after the famously triangular Flatiron Building. The area includes Union Square–where skateboarders, political protesters, and big box stores present a bustling diorama of city life–and Madison Square, the hub of Manhattan's tech start-up scene. Both of these open public spaces provide welcome relief from the Flatiron District's narrow streets of office and residential highrises. A standard offer of dining and shopping serves residents and commuters throughout the area.
Top Votes – Score out of 100
Public Transportation 88%
Safety 84%
Singles 78%
Shopping 78%
Students 77%
Lowest – Score out of 100
Green space 40%
Quiet 27%
Seniors 19%
Community 18%
Parking 15%
Top Reviews from Travel Rentals Neighborhoods
Work here. Live elsewhere.

If you can deal with masses of tourists all vying for the same picture (read: the same angle) of the Flatiron building, the neighborhood is actually a colorful gateway to the more lively downtown neighborhoods of Union Square and Greenwich Village. Madison Square Park always is tiny as far as parks go, but always has something going on (i.e. art installations, US Open Tennis on the big screen).

Living here would probably feel too much like a rat race, but working here is pretty awesome.

What's awesome

Madison Square Park, convenient transportation hub, close to Union Square's dining options, Eately & L.A. Burdick!

What's not so awesome

Super busy in the daytime, tourists taking picture of the flatiron building.

Diana S.
Busy Manhattan Neighborhood

Flatiron feels like a representative Manhattan neighborhood. It has a little bit of everything one might like about NYC. It's centrally located with access to almost every subway. It has the pace and tall buildings of midtown, some of the cute boutiques and shopping of Soho, and some very excellent restaurants.

The neighborhood has a diverse crowd, since it's in the middle of everything, so there's no real standout scene/culture. That said, the NYC startup community is largely clustered in the Flatiron district. The scene starts in the north at the Ace Hotel, runs down through Madison Square Park, and into Union Square. The startup community is famous for doing meetings at the Ace Hotel and lunching at the Shake Shack, and I know Fred Wilson was the Foursquare mayor of the Coffee Shop in Union Square for some time.

Fittingly, the NabeWise office is located here.

What's awesome

Central, easy public transportation, access to Union Square farmers market

What's not so awesome

Loud, bustling, feels a little commercial in parts, possibly not as tight-knit a community as a more residential nabe like Park Slope, West Village, or Williamsburg

Ann Montgomery
Midtown meets Downtown

This is actually one of my favorite parts of Manhattan, simply because it doesn't really belong to any one group. It's not quite as chock full of corporate headquarters as Midtown; ergo, the crowd of weekday office workers is a lot more chill. The shopping is neither trendy boutiques nor luxury goods. The cafes aren't all Starbucks or all organic fair trade mania. Just a good ol' "canyons of New York" feel amidst the skyscrapers and bustle.

NYC L.
Flatiron by day

I work in the Flatiron area and it's a fantastic place to be during the day. The restaurants are multiple, and with Madison Square Park in the area, you can't go wrong (it's one of my favorite parks in New York). My office is right across the street from Eataly and the rooftop beer garden. A close walk to Union Square and the amazing farmer's market, Flatiron is conveniently located. These days it's starting to fill up with Silicon Alley companies – it's hard to walk even half a block without passing a start-up or co-working space.

What's awesome

What's not so awesome

tourists, crowded during the day

Andrea M.
Central and Hectic

Flatiron is within arms reach of any sort of Manhattan you could wish for.

You'll find talent agencies, and corporations among the offices in Flatiron, and the life here is very fast paced.

Lucky for you there is Madison Square Park

Richard H.
Very Busy

Flatiron bustles with herds of business people and not so businessy people. While navigating the crowds alone can provide a bit of entertainment, Madison Square Park provides a place to kick back and enjoy some delicious Shake Shack.

Andrew K.
Great for work…not much else

This place is bustling till about 6 pm. After that it shuts down to anything except a few pizza joints and some restaurants that creep out of Chelsea. I wouldn't say it is too great for night life, but during to the day it is lively and a nice, enjoyable and safe place to work. There are some nice parking options. I suppose if you are looking for a large studio or loft in a quiet, kind of boring place it would be a good neighborhood to look into. Oh and the Shake Shack is really close by, which is the meca of all things burger and milkshake.

Polina M.
Union Square is the major center of Flatiron, and it's a lot of fun! Good palce to hang out and people watch during the day, and just a few blocks away from the East Village and Alphabet City for when it gets dark out. Would be expensive to live around there, I think, but I really enjoy spending time in that nabe.bbb
This area is really busy. Any situation has its pluses and minuses. Obviously, a ton of traffic really sucks but if you are living pretty much anywhere in Manhattan you have to be ready for that. The plus is that I am in an area where I can find most anything I want. The other night my buddy and I went out looking for sheets of seaweed at like 3 in the morning and we found them no problem. There are lots of great places to eat, which is awesome, and lots of great bars, which is awesome. It's also pretty sweet how easy it is to get home for me.Bill B.
I work in Flatiron and it's great for that. It's a little busy but that just means to me that there are plenty of places to get lunch and it's really easy to get to. I like more of a quiet home lifestyle though so I don't know if I would ever come down here for anything but work.bbb