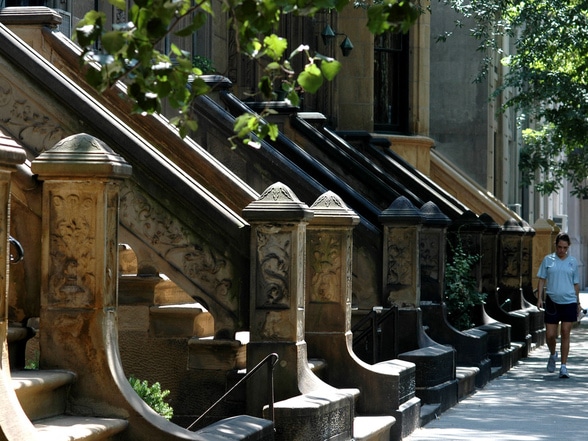 Upper West Side
by nabewise
Infomation
New York's elite Upper West Side borders the west side of Central Park, and presents itself as a slightly more intellectual, casual alternative to the vibe across the park in the Upper East Side. Stunning performances at Lincoln Center and streets of brownstones dotted with newer luxury condos typify the Upper West Side approach to classic Manhattan living.
Top Votes – Score out of 100
Families 98
Safety 93
Public Transportation 92
Green space 85
Empty nesters 85
Lowest – Score out of 100
Community 67
Nightlife 67
Singles 61
Parking 43
Income 42
Top Reviews from Travel Rentals Neighborhoods
My life's journey in New York-Growing into adulthood in the '70s and '80s

This is part 2 of my review with historical perspective of the neighborhoods I lived in in New York.

After my dad and mom divorced, I moved in with my dad-ecstatically, in 1973-to Park West Village, a housing complex (having nothing to do with the West Village, so don't click on that link yet—I'll get to it in a later review) between Central Park West and Columbus Avenue spanning 3 blocks from 97th ot 100th Streets. We lived at 400 Central Park West, on 100th Street. It was a great one year of an exciting life in this thriving middle class neighborhood at its border with Central Park andHarlem. My most vivid memory was walking every day, passing the police station and crossing the exciting Broadway on my way to a synagogue on 100th and West End, though it may not be there anymore—and back again. That walk spanning 100th Street is the one vivid memory of that year.

But my real life in the Upper West Side begins in 1974, the year I moved into the heart of it on 77th Street between Columbus and Central Park West, prime landscape across from the landmark American Museum of Natural History when my dad remarried. In many respects, this feels like my true home in New York. But I guess, then, one's heart will gravitate to the choicest spots. Back then, it was an affordable middle class neighborhood, and a better part of it, in a city that was crumbling in economic chaos. But the middle class shopkeepers on Columbus Avenue and the neighbors really made this feel like a close-knit community, perhaps the closest and most community like it ever would feel. These were people who had come up from a less favorable past and were happy to enjoy the life of this thriving community. But one fascinating exception and sign of the freedom of the '70s that was a huge part of this vibrant community was the trannie hotel on the corner.

I went away to college and then when I came back in 1981, it was to a New York that was fast changing and reviving. The middle class storefronts were slowly being phased out as more upscale places, boutiques and chic and classy restaurants started populating Columbus Avenue south of 77th Street. The trannie hotel was gone and a group of doctors' suites had replaced it. Pretty soon, all traces of the middle class vanished and my dad's apartment building went coop. This would be the start of the accumulation of a vast fortune, which manifested in 2002 as the real estate bubble, a year or two before my dad sold the apartment and is now living on the money he made from it. Minus that great apartment. Oh well! Still on the Upper West Side, though, in a nice building on 97th and Columbus not far from the original location we lived, complete with gym, garage, and a Whole Foods right across the street.

I could talk about Zabar's, the other famous landmarks of the UWS, but, you know, I'll leave that for another blogger. I wasn't thrilled when I visited an old friend, Ahava, on 81st Street for her father's 90th birthday in that same apartment I knew them in 20 years ago, and had to pay more than I liked for parking because every spot on the street was filled that Saturday night and no one was budging.

Then there are also my wild moments in Central Park. But enough of that. Central Park speaks for itself. You'll have to discover your own moments of memorabilia for yourself in it.

Marc G.
Always Bump into People I Know

My favorite thing about the Upper West Side is how much it feels like a tight knit community because it's so residential. Most of the people I know who grew up inNYC were raised around the Upper West Side, and even though I've never lived there I usually bump into someone I know or recognize while I'm walking the streets. Lots of little kids running around, lush parks and an easy walk to busy midtown for great restaurants (all somewhat pricey of course) while still remaining quiet and calm itself.

Nina B.
Love the Diversity

Walking the ten blocks from my flat in the 80's to Cosi on Broadway and 77th feels a bit like walking through a Williamsburg that's grown up, gotten married, and had a kid or two. Designer shops, outdoor food marts, and a bevy of tidy cafes share the scene with an endless stream of knee-high toddlers and uniformed adolescents. But while strollers and kids may sometimes be the ubiquitous sidewalk attraction on the Upper West Side (UWS), by no means are they the only charmers on this side of Central Park.

The Upper West is indeed its own little microcosm of Manhattan. For students, there's the college-town feel of Morningside Heights, a UWS niche located at the foot of Harlem and rapidly gentrifying in the last few decades due to efforts on behalf of Columbia University. For bargain hunters and well-heeled shoppers alike, boutique stores and high-end retailers like Montmartre and Club Monaco cohabitate with the likes of Filene's Basement and T.J. Maxx. For food aficionados, the explosion of sidewalk cafes, diners, and delis splits the scenery with more upscale grills, bars, and three-course-meal types – all of which reside on clean streets largely devoid of trash and grime. For the avant-garde and artsy types – there's the Met Opera House, Lincoln Center, and the Beacon Theater to indulge your tastes. And for runners and triathlon trainees, you're never more than two or three blocks away from two world-class urban parks with miles of road to wear.

Betty J.
Family oriented, scheek, Central Park on one end and the Hudson on the other

Very residential, no business traffic and noise like you get in midtown.
Broadway provides the action, Central Park provides the outdoorsy calm – in between – very family oriented.
Not enough dining above 85th Street.

Avi F.
Home on the Upper West Side

The Upper West Side (UWS) is a great place to live for many reasons whether you're young and single, or raising a family. One of the big things that distinguishes the UWS from the Upper East Side is the Sunlight. The UWS side has it's share of beautiful pre-war apartment buildings (many are coops) on Riverside Dr., West End Ave., Central Park West and Broadway that range from 14-20 stories. What it is thankfully missing (with the exception of the Lincoln Center area) are the many skyscraper apartments that block street sunlight on the upper east. Most all side streets are lined with brownstone buildings giving the neighborhood a relaxed feeling. People are walking everywhere all day long, you'll see your neighbors on the street.

The restaurants and bars are plentiful and getting better each year. The food shopping at Fairway and Zabars is fabulous, and Fairway is open 24/7. Transportation is less crowded due to two subway lines, one on Broadway, one on Central Park West, giving easy access to the rest of the city without a cab. If you like the performing arts Lincoln Center is close, as is Broadway. It is surrounded by Central Park and Riverside Park, giving access to plenty of outdoor space for sports and leisure. Lastly, the Hudson River is to the west, creating a lovely broad border on the west side, where sunlight is not blocked in the early evenings and a sunset walk or bike ride can be had along the water.

geoff j.
The Upper West Side is a bit grittier than its East counterpart. Still, in the last few years it has really taken strides in improving the overall quality. There are far more restaurants and bars than the Upper East Side but it is still a great place to raise a family. There is a nice mix of new apartment buildings and recently renovated older ones. The Upper West Side also has access to Riverside Park, complete with running paths, dog runs and plenty of green space. It may not be as fashionable as the Upper East Side but it is definitely much less stuffy and a lot more fun.Beverly W.
I might be done with the UWS

The Upper West Side has a lot of things going for it – good subway access, located between two parks, plenty of grocery stores. Honestly, it has started to feel a little like the suburbs. There are some smaller businesses and independent restaurants, but are primarily located on Amsterdam and Columbus below 86th Street. Most of what you find on Broadway though is pretty generic, and there is very little that I would describe as neighborhood flavor. The closest thing to a local hangout seems to be the many Starbucks locations in the neighborhood. The restaurants are mostly just meh…not great, not terrible, just so-so. Nightlife seems to consist primarily of a few bars on Amsterdam in the 80s populated by ex-frat boys. This neighborhood seems to be best suited to families with money to spend. I've lived here for about 3 years, but I find myself wishing for more cool places to hang out close by and cursing the noise and traffic congestion on the entrance/exit to the West Side Highway. If you don't mind being un-hip (which is pretty much what you will be if you live on the UWS)and all you want to do is shop at Whole Foods and get your latte at Starbucks anyway, then you might as well just move to the suburbs where you can get more for your money.

What's awesome

Riverside Park, Central Park, very walkable, not too pretentious

What's not so awesome

Becoming increasingly generic, not very diverse, not a lot to do for the no-kids set, expensive

Lindsey
Love it

Such a great place to live. Great for families and seniors. I think singles would be happy here but there's not a lot of singles here.
Great food, parks, transportation,….everything you need.

Elisabeth O.
Between Two Parks

Between Central Park and stunning Riverside Park lies a charming neighborhood served by two subway lines. From the West 60s to the West 110s you can find block upon block of stunning turn-of-the-century brownstones and classic period architecture. Columbus and Amsterdam are lined for miles with every type of restaurant and bar imaginable, and if you don't feel like going out, they all deliver. Riverside Park offers an oasis for a quiet walk, run, or bike ride, and has numerous dog parks. Express trains will whisk you to work in midtown in minutes. The only major downside is that things tend to be expensive; pay attention to the prices at the local shops before you end up paying $1 per egg at the grocery store.

What's awesome

Dining, tree-lined streets, transportation, parks, historic, charm, old-world, culture

What's not so awesome

Christopher M.
More Residential than its Bustling Eastern Counterpart

There are lots of brownstones and older buildings in the Upper West Side. Many school aged kids in some parts.

As a kid going to school on the Upper West Side, I was always intrigued by the stone sculptures on the buildings and the complex architecture. It's gonna cost you though. The Upper West Side is home to some of the most expensive buildings in the city, the El Dorado, with its historic twin buildings is up there.

Be sure to make a stop at AMNH and the attached Planetarium. The imported Shake Shack is great for cheap eats, Ocean Grill is a bit pricier.

What's awesome

architecture, schools, parkside

What's not so awesome

Richard H.
Perfect for day trips with a few great museums and Central Park. Very pricey and fancy, though. Don't know if I'd like living there, but it is nice to walk around.