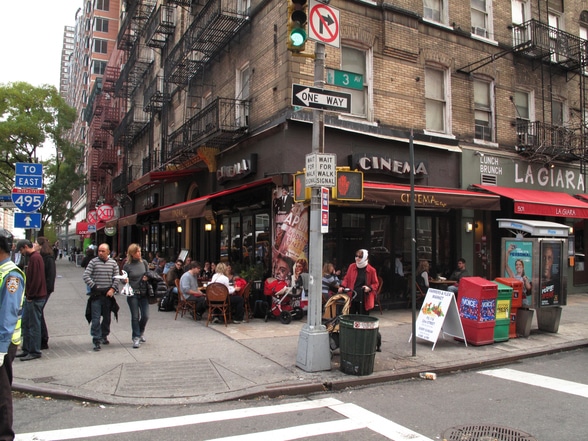 Infomation
Murray Hill is a small neighborhood on the east side of New York known for its 19th century townhouses and beautiful pre-war buildings. Professionals fill the restaurants and party spots along Third Avenue and enjoy the convenience of a central, high-end residential community. The neighborhood enjoys access to the Midtown business district and the 4, 5, 6 train to the Financial District. The neighborhoods ofKips Bay and Tudor City lie to the east and southeast, and Midtown lies to the west and northwest.
Top Votes – Score out of 100
Public Schools 98
Safety 88
Singles 85
Families 78
Pet friendly 75
Lowest – Score out of 100
Seniors 54
Parking 50
Shopping 48
Community 43
Green space 43
Top Reviews from Travel Rentals Neighborhoods
Anything but "Over the Hill", Bridge and Tunnel is Here to Stay

The scene is a balmy Saturday night and parades of young, heel-clacking, polo-wearing, garrulous twenty-somethings are pouring into the 31 story-towers on east 31st street. Swallowing up a full block bounded by 31st and 32nd street and Lexington and Third Avenues, the sandy bricked towers known as "Windsor Court" have become a residential landmark for the youthful Manhattan neighborhood called Murray Hill.

The groups of post graduates come in swarms as they bound down east 31st street carrying shopping bags full of twelve packs, sofi cups—-inevitably destined for beer pong, and without a doubt other crucial "pre-gaming" instruments. From the doorman's perspective, who sits behind a large desk in neutral territory between the two towers, the visual is as if the large revolving doors are birthing hoards of preppy, white, bud-lite enthusiasts.

Though by day and during the week the area is calm and exudes all the quiet respectability of a restful suburban neighborhood, on Friday and Saturday nights a spell is cast upon the colossal structure, and from the lobby to the penthouse the building is transformed into a post-collegiate, Manhattan adaptation of a mammoth fraternity party. In fact, the weekend ritual has become so routine that the doorman, evidently jaded, no longer bothers to announce guests but rather acknowledges visitors with an almost imperceptible nod of his uniform designated cap. Such lax procedures imbue the building with the feel of more of a college dormitory than a New York City rental complex.

Murray Hill, known by outsiders as the trendy hot spot to live, and insiders as the suburbia infested stretch of land to be avoided like the plague, has irrefutably made a name for itself. It is one of those neighborhoods that begs the question, "Which came first the chicken or the egg?" or in this case, "The long island-er or the swimming pools?" The influx of burgeoning adults and the slew of establishments catering to them occurred in a nebulous, parallel fashion, muddying whether the neighborhood seduced the inhabitants or the inhabitants inspired the neighborhood. Either way the two live in harmony, the residents enjoying the convenience of nearby mexican restaurants, undistinguished in character by reliable for moderately priced margaritas, and the proprietors enjoying the profits.

Erected in 1988, "Windsor Court" and other similar buildings in the area have since become the welcome wagon for fresh college graduates, eager to integrate themselves into the excitement of New York City, but hesitant to sever their ties with the comfortable collegiate cocoon they have left behind. Complete with a health club, pool, concierge, doorman, garage, driveway, bicycle room, video security, valet service, and a sun deck and laundry room on every floor, "Windsor Court" offers a friendly transition to young adults not quite ready to fly the coup but itching for a Manhattan address.

Perhaps tired of the nightly commute in trains and cars from places like Great Neck and Hoboken, or simply having had enough of native New Yorker's incessant jeers at their flagrant foreignness, these bridge and tunnelers have found a way in. Pure bred manhattanites may not like it, but that will not keep New Jersey-ians and the like from climbing the hill.

"Windsor Court", cultivated out of a vision for hotel-inspired comfort coupled with relative affordability, the complex is an ideal starting point for young professionals who have not quite cut ties with their cushy suburban roots. It also helps that they have not quite cut ties with their parents' bank accounts, as rent is often assisted by generous parents who are happy to shell the dough as long as their precious babes are safe from the harrowing horrors of the New York City streets. And so the word continues to spread within the parental gossip sphere—-consisting largely of upper-middle class families from the more affluent areas of Philadelphia, Pittsburgh, New Jersey and Long Island, that Murray Hill is the "safe, clean" place for their fragile offspring to live.

Though heralded as the real estate king of the "hill", "Windsor Court" has inspired many similar rental buildings to sprout in the twelve block stretch from east 31st to 42nd street. As for the space that is not reserved for migrant inhabitants, many mainstream bars and restaurants have taken advantage of the promising business of the young clientele, eager to spend their parents hard earned cash.

As suited bankers and pencil-skirted marketing assistants drain their final happy hour beverage of choice, an eerie stillness descends upon the neon-lit bars in the two hour interval between post-work drinks and full-fledged endless rounds of tequila shots. However, this brief intermission proves an innocuous hindrance for business as by 10 PM made-up blonds in north faces and slinky dresses, and cologne slathered, gym addicts donning button downs and eager grins are stampeding towards the bar, their thirst piqued by another successful round of beer pong.

Maya K.
Good Food, Nice Gems.

I used to live in this neighborhood and though I found some of the establishments tacky with their boorish patrons, there are some really nice spots. The whole "Curry Hill" districts have some great Indian/Pakistani restaurants. Curry Express is a spot with great food but horrible decor. They recently renovated but the food is still great. Penelope IMHO is an odd fit in this neighborhood but it was my favorite and staple for brunch (if you didn't mind the wait). Vezzo is a fantastic restaurant serving some of the most unique styled pizza. One MUST stop by here for lunch.

If you have a car and don't want to put it in the parking lot, there is a fair amount of alternate side parking spots. Just get them early or else you'd have to circle around several blocks for an hour.

the 6 is pretty convenient. It would be more convenient if the 2nd ave train arrives sooner than 2015. Cross town buses are the way to go to get to the West Side.

I didn't get to interact with the neighbors too much…then again, who does in Manhattan. People seemed very friendly. Having the Kips Bay theatre at such close proximity is a plus. In terms of convenience and price, Murray Hill is hard to beat

Jeffrey N.
Post-College Kids

Murray Hill is an imported Long Island or New Jersey. There are plenty of post-college kids living and hanging out in this year. It seems like a small college of its own, due to the high levels of nightlife and party-friendly 20-somethings.

What's awesome

nightlife, party scene, good for post-grads

What's not so awesome

Richard H.
Murray

Murray Hill really is a neighborhood for everybody. If you need to walk to work inMidtown, it's a great place to have a crash pad. If you have a family, as I do, there are great parks and the public school on 33rd Street is very good. For singles, it's a no brainer. The bars and restaurants are jumping every night of the week — especially on game day. In terms of real estate, any budget can find find something in Murray Hill. There are simple studios and glass and steel modern penthouses. It's centralized and accessible, which is why I've been here for two years and hope to stay for quite a while.

Pauline Millard
Amazing neighborhood for the SMART renter!

I love living in Murray Hill. I've lived here for 2 years and have loved every minute. It's safe, convenient, easy access to public transportation and walking distance to a lot of places, I can always get a cab too. There's tons of bars and restaurants right out your door! I have had 2 awesome apartments for a much cheaper rent than you'd get in a super trendy neighborhood like the West Village, and I have more space and live in a great elevator building. Everyone should check this out if they're looking to make an intelligent renting decision instead of just following the herd to an expensive neighborhood because someone told you celebrities live there.

What's awesome

Bars and restaurants, great (CHEAP) nail salons, 6 train easy to walk to, buses right there, bustling but not too crowded.

Kate G.
Murray Hill is a cool place to live. Lots of young people and low key bars, restaurants. Great place to go to get your nails done 🙂 Cheap prices for a good job. Getting to the subway is trek though, nothing super close.sf
Top 10 NY Nabe

I was completely charmed by Murray Hill the first time I visited a friend who lives in the nabe. This is a hotspot for young professional singles and couples seeking a charming little nabe. Rent is affordable if you've got a steady job and my friend even bought her apartment, albeit it's an itty bitty studio, but it's in a great building in an awesome nabe. It's also super safe which is key. The nabe itself really has it all: a park, great access to transportation, fantastic restaurants (think, french bistros, great sushi, gourmet delis) and bars that are sure to make the keep the most cosmopolitan of your friends happy. It definitely has that hip, New York feel without the skyscrapers, grubby streets, and chain stores and restaurants.

Mallory C.
too quiet for me now

Murray Hill is beautiful! It's an actual hill and kind-of off the beaten path. There really isn't much to do in the neighborhood except walk around and look at pretty old townhouses. I would love to live here when i'm old with kids but it's super expensive!

Carrie C.
Murray hill is cheaper then the UES or Midtown. It's a nice place and there are a few bars around! There's not so much going on at night which is a good thing sometimes but other times I just want to have a funner spot on the corner that I can go to for a party instead of having to hop in a cab.Carl S.
Murray Hill is where those who work in Midtown migrate to after 5 p.m. Happy hours can turn into all-night affairs. Restaurants and bars abound. It is a great neighborhood for young professionals or people just out of college. Rent is slightly cheaper than Murray Hill's southern neighbors of Gramercy and the East Village, but more and more people are being lured by the area's transformation into a nighttime hotspot.Beverly W.