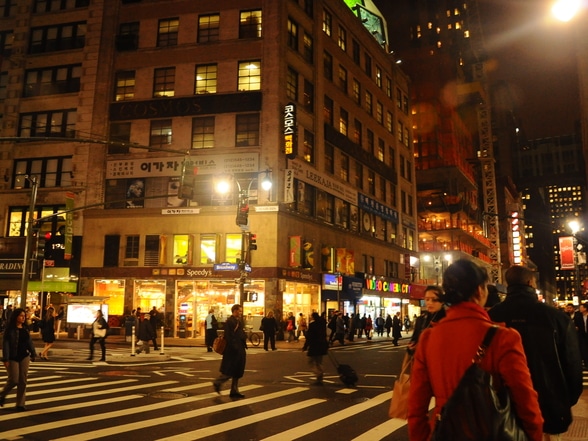 Infomation
Koreatown is a primarily non-residential sliver of southern Midtown also dubbed "K-Town" or "Little Korea." The nabe is home to a great number of restaurants, shops, and grocery stores to serve the high volume of foot traffic between the tourist sites in and around the area: the Empire State Building, theGarment District, Times Square, and Macy's. Aside from being a destination for shopping and dining, Koreatown also boasts a nightlife scene to be envied.
Top Votes – Score out of 100
Ethnic 99
Tourists 96
Public Transportation 85
Dining 80
Community 74
Lowest – Score out of 100
Green space 24
Quiet 24
Families 21
Seniors 19
Parking 15
Top Reviews from Travel Rentals Neighborhoods
Koreatown: My Favorite Nabe in Manhattan

A cultural haven in Midtown Manhattan, escape the office blues in this cleaner, calmer, more compact alternative to Chinatown. It may be small (five blocks by two avenues), but there's gems in its little radius: For lunch, find the city's cheapest fresh-made takeout sushi rolls (20 futomaki rolls for $5) in its authentic Korean grocery stores. For dinner, dine at one of the abundant Korean Barbeque restaurants (massive family style meals grilled right at the table and served with tons of tasty side dishes) praised by NY food critics. Not tired yet? Walk into one of K-town's karaoke bars and belt out a late-night serenade. When you're ready for home, pick any train you'd like—the B; D; F; V; Q; N; R; W, A, and C lines are all close by.

Katie P.
Best place for a cheap eat north of Astor Place

Good, cheap food saturated in soy sauce and the Empire State Building are K-Towns claims to fame. I should say first and foremost that this is not a place that would be great to raise kids as you will be living next door to night-and-day throngs of tourists who insist on overpaying to ride the elevator up the Empire State. K-Town is also unfortunately flooded throughout the day with tourists and New Yorkers making a spring to Port Authority. Using generous prose, I'd say the area is slowly but surely inching towards a second coming of gentrification, but as of yet it looks, feels, and sounds like an industrial work horse.

With food that tastes as if it's been home-cooked. 32nd Street, as mentioned by another critic, is indeed the holy mecca of all things related to Asian Food but are not situated on Canal Street. You can find anything from the perfectly spiced stir-fry dish to the perfectly soft-at-the-core mooncake on the stretch of street straddling Broadway and 5th Ave. There's even a Pinkberry, if you're watching the diet bank. Plus, location-wise it's a breath away from Chelsea and Flatiron as well as walk to everything Midtown and Hell's Kitchen has to offer.

Betty
32nd Street is awesome

If you can fight through the tourists visiting Macy's and the Empire State Building, 32nd street is definitely worth checking out. Koreatown is pretty much this street for the average visitor. It's a great place for Bibimbap or Korean Hot Pot. Other than that, Koreatown really seems to be a shopping area for the Korean community and people who like Korean food more than anything else. It's definitely kind of a trip walking down this street at night neon lit signs in hangul.

Ronnie G.
The food and the nightlife are great here. I have to walk through here to get to work and I hate the friggin tourists always around here and sometimes walking down the street is unbearably annoying. I like the feeling of the neighborhood don't get me wrong but then I see a big, fat Minnesotan family on there way to the Empire State Building and it grounds me.danny
I love coming to the bars here. Oh, and the food! I just moved to Murray Hill, which is great, from a small town a couple of weeks ago and having all of these things to do and people about is just grand. I'm from Colebrook, NH where everything is closed at 8 and if you wanted a piece of dragonfruit you might have to order it online. Not here! I was up here to see the Empire State Building and man do I love NY.Dave