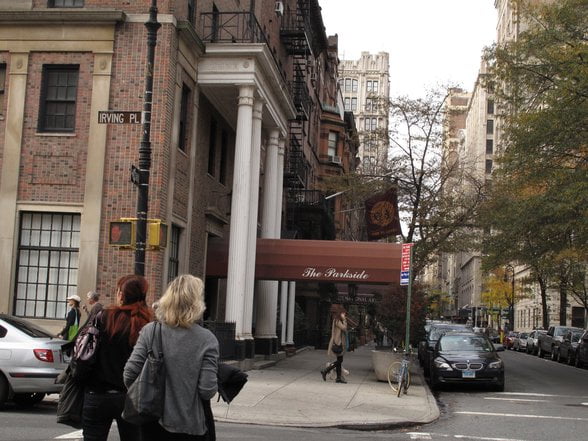 Infomation
Gramercy is a beautiful and quiet nabe centered around Gramercy Park, a well-kept gated square not open to the public. Gramercy's architecture consists of a mix of pre and post-war co-ops and brownstones. Gramercy is a quietly luxurious contrast to the hustle of nearby Flatiron and Midtownnabes. Its institutions–the Gramercy Park Hotel, Pete's Tavern, and a few private clubs–have been fixtures of the nabe since the turn of the century.
Top Votes – Score out of 100
Charming 98%
Safety 85%
Families 82%
Singles 80%
Clean 77%
Lowest – Score out of 100
Green space 62%
Community 56%
Shopping 56%
Parking 52%
Income 38%
Top Reviews from Travel Rentals Neighborhoods
This is one of the most exclusive and beautiful neighborhoods in New York. From historic townhouses to a garden only accessible by residents with a special key, not just anyone is going to be living here. Gramercy is like a little oasis in the heart of the Union Square area. The streets are tree-lined and there are a handful of fine-dining restaurants and the famous Pete's Tavern. There are also a few music venues. For party-goers, the only time Gramercy may be of interest is when there is a band performing. Otherwise the area is pretty much family- and retiree-friendly, and only the wealthiest of these.Beverly W.
A Good Mix

Surrounded by a mix of different schools (The School of Visual Art's main building is on 23rd and 3rd, while several public schools can be found within a few blocks of each other), the neighborhood runs the gamut from high-end to accessible.

Within walking distance to several mass transit routes, a handful of parks (not counting the inaccessible namesake park), and the waterfront (though with the FDRhovering overhead, there isn't much to enjoy there), there's a lot to like about the area. Though there are signs of transformation popping up, it's still easy to find cheap food and drink amongst the pricier offerings. Having dorms for SVA, The New School and NYU all in the area seems to keep this area well-balanced – at least, it keeps the bodegas and drug stores in business.

Taking a walk down some choice blocks here, you will feel transported to a different time (hint: not 23rd street).

Paul S.
It's offensive that a green space like Gramercy Park is privatized. With so little space in New York devoted to parks, I find it terrible that it is actually only open to people with astronomical salaries. What is this, the 1800's? How can you say a park like this is private anymore?Alex
Gramercy — A Neighborhood For Everyone

I moved to Gramercy in June of 2003 and left in June of 2008. After eleven years in Manhattan it's the best place I ever lived. I walked to both jobs that I had while I lived there. I could stay out late and felt safe walking home late at night. There are plenty of grocery stores and restaurants. If I needed a subway, one was right there on 23rd Street, but I would also often take the bus down Second Avenue to get the Eat Village and Lower East Side.

Pauline Millard