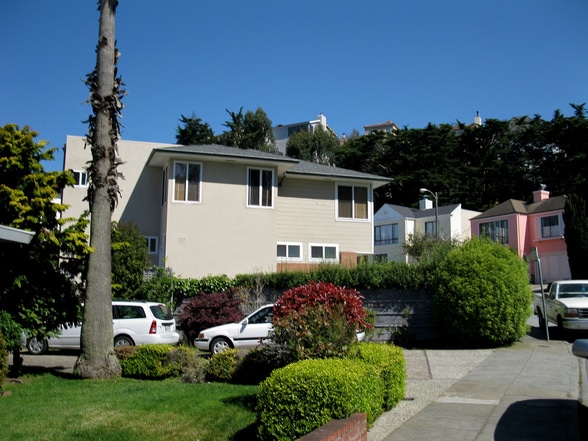 Monterey Heights
by nabewise
Infomation
Stately homes line the windy streets of Monterey Heights, a nabe with suburban appeal amidst urban surroundings. Making its way down the southern slope of Mount Davidson, this strictly residential nabe is an oasis for residents in San Francisco. Free standing Tudor homes and Mediterranean villas are common, as are manicured lawns and plenty of greenery. Close neighbors Westwood Park and Westwood Highlandsare similar in appearance and vibe. Muni Metro provides service to the nabe and Monterery Boulevard offers quick and easy access to Interstate 280.
Monterey Heights, San Francisco Data : Neighborhoods & Travel – Score out of 100
LOWEST ATTRIBUTES
Dining 42
Nightlife 25
Shopping 25
Green space 25
Singles 25
Monterey Heights, San Francisco Reviews
Architecture! Families! Hurrah!
The best part about Monterey Heights may be the variety in the styles of houses. Or, it could be the family-friendly atmosphere, tight-knight residents, and manicured lawns. Or, it could be the calf-sculpting hills the nabe is stationed on. Actually, it's all of the above.
Chloe N.
Families: Look Here
Those looking to purchase a single-family home in San Francisco should definitely look in this nabe. I'm sure it's a nabe that is often over-looked or not known at all. You won't find any restaurants, any parks, any retain shops or, well, much of anything. You'll simply find rows and rows of pretty homes with nicely manicured lawns (yes, lawns! Strange I know).
If settling your family down in a quiet, secluded, well kept part of San Francisco that is close to commute and public transportation options, and middle schools/high schools/colleges is your goal, Monterey Heights is a neighborhood you'll certainly want to consider.
Kristine J.
Family-Friendly
Most people don't even know about this neighborhood. I certainly wouldn't if my aunt hadn't lived here for nearly a decade. It's ridiculously family-friendly, quiet and uneventful, but I'm thinking that's just the way the inhabitants want it to be in order to maintain the peaceful and serene kinda thing they have going on there.
Michaela Ann M.
Burb Heights
Monterey Heights is another SF nabe that feels more like the burbs than the city. Its streets are quiet and tree-lined and the homes are detached. It's pretty small and bordered by neighborhoods that have a very similar vibe and appeal. It's mostly single-family homes and be prepared to shell out the dough for a piece of property here.
Gena F.