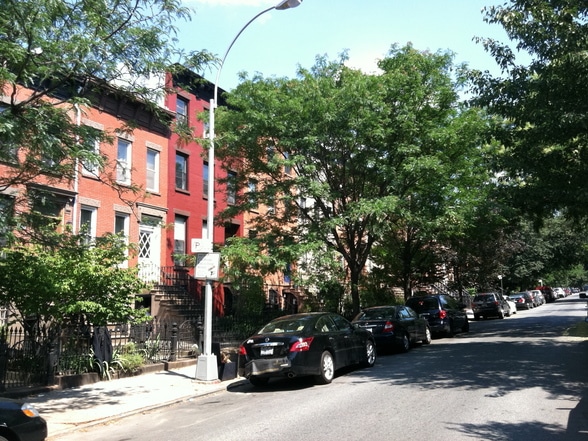 Infomation
Little bro to Park Slope next door, South Slope (aka South Park Slope) is quickly evolving into a hot nabe of its own. With more readily available real estate and commercial space than Park Slope, South Slope is welcoming an ever-increasing influx of residences and businesses, swiftly garnering a colorful and bustling vibe (read: restaurants, bars, and boutiques galore!). And while the 'park' may be missing from its official title, part of South Slope does border Brooklyn's pride and joy, almost 600 acre Prospect Park.
South Slope, Brooklyn Data : Neighborhoods & Travel – Score out of 100
TOP ATTRIBUTES
Pet friendly 83
Safety 83
Quiet 75
Dinin 67
Empty nesters 55
LOWEST ATTRIBUTES
Community 50
Clean 50
Singles 50
Public Transportation 42
Income 14
South Slope, Brooklyn Reviews
It's A Little More Mellow Down South
While many people don't distinguish South Slope from Park Slope as a whole, there is a noticeable change of vibe when you go south of 9th Street, it's northern border.
Along the main commercial streets of 5th Avenue and 7th Avenue the storefronts are less populated, the side streets are a little more sparse of foot traffic, everything is a little quieter and more reserved. The housing is slightly less stately and there are fewer ornate brownstones. It's as if Park Slope just got a little mellower.
This is still a neighborhood for upper-middle class families, though. Park Slope and the South Slope area started gentrifying before most other popular Brooklyn neighborhoods, with a steady economic revival a good decade prior to other now trendy neighborhoods like Williamsburg or Prospect Heights. The roughness and crime of the 70s and 80s is a hard-to-believe memory for those who have been here for years, and a total non-memory for those came here after the 20th century.
The properties are what drew people here, that and its border with Prospect Park to the east. These are really some of the prettiest streets and most beautiful buildings you can find in Brooklyn. It's likely one of the safest areas as well.
The F train is your closest route to Manhattan, with the N/R bordering Gowanus to the West. The G train is at 2 stations for trips to north Brooklyn and Queens. These aren't really great options and my greatest complaint is the accessibility. It's a long trip toUnion Square from there. The G train is notoriously infrequent and there's often construction and limited availability. It certainly cuts back my trips to the area. Also, it's not exactly a place known as a destination for nightlife or hotspots, even though there a few fun bars and a music venue or two.
If you're financially secure and want a safe, quiet place to raise your family and Park Slope is a little too congested or too expensive for your taste, consider South Slope. The difference might be what you're looking for.
What's awesome
Architecture, Prospect Park, safe
What's not so awesome
Not very diverse, not very exciting
Justin N.
Love it here
Park Slope and South Slope are super classy, not boring, and very balanced places to live. I love it here! I moved in this summer with some friends and we have a blast. You can have a balanced life here. We play pick-up baseball in the park into fall and go for jogs around the MANY trails in the park. You can go to the Digital Pavilion to see movies and there are some great food options. You can get a great deal on rent here too, but don't tell my landlord or he might hike the rents on me.
Amy N.
For the cheap money I pay to live here with my family I certainly am afforded a lot of great options for things to do. I lived in Williamsburg for a while and I liked all of the independent options I had there and it was a must to have those in a new place. You can find that same independent spirit here, plus increased safety and better access to the park.
Great shopping, great dining, -many families, more affordable home prices -plus a near guarantee that any investment you make will increase in value since brooklyn -and this area in particular -just keep getting nicer.
Don P.
I have spent most of my life in Park Slope, having moved here at the cusp of its popularity and trendiness, and more than anything else it is like living in a small town in the middle of the biggest city in the world. It has two main streets, the family-centered 7th Avenue, and the more bar and restaurant centric 5th Avenue, and between them you can find just about anything you'd ever want. The park is the real reason to live here, though: several great playgrounds for the kids, a satisfying loop for the exercise-oriented, and just a beautiful place to go for a walk.
Danny L.