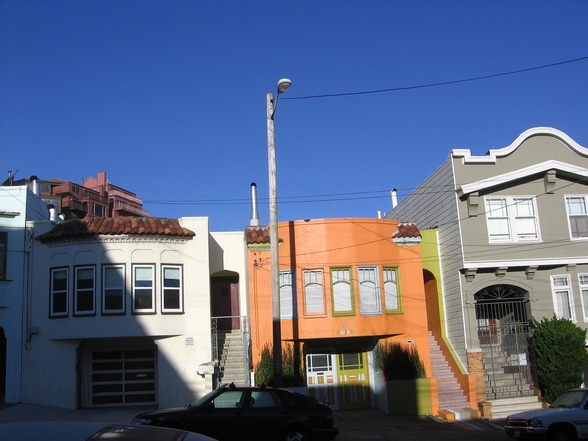 Infomation
Rows and rows of stucco homes line the Outer Sunset–part of the larger district that includes Inner and Central Sunset–where the salty ocean air is palpable and the fog is ever-present. Although primarily residential, a few stretches like Noriega and Taraval Streets offer commercial activity. At its western boundary lies Ocean Beach, popular with locals who stroll its length while a few brave souls surf its frigid waters. The neighborhood is serviced by the N-Judah and the L-Taraval, which shuttle residents to and from downtown.
Top Votes – Score out of 100
Green space 87
Pet friendly 83
Safety 79
Families 78
Beautiful people 75
Lowest – Score out of 100
Public Transportation 58
Nightlife 50
Shopping 38
Singles 38
Income 20
Top Reviews from Travel Rentals Neighborhoods
Outer Sunset (what sunset?)

Depending on the time of year, the Outer Sunset is ironically named. Being at the west end of the city, there is no natural barrier between your home and the fog tsunami that steamrolls in. And that fog is sometimes beyond description. Thick, wet, cold, it cares not what is in its way, because nothing is in its way in the Outer Sunset. On a sunny day though, the ocean, the park, the sunset, it's all just awesome. Outer Sunset is one of those districts you have a love/hate relationship with. You hate how far you are from downtown, you love all the parking. You hate that many of your neighbors seem to be spawn from the very coldness of the fog itself, but you love that many of them are actually very quiet, and don't keep you up on a worknight with loud parties. There is still a presence of the original Irish Catholic contingent that originally settled the Sunset district (and tend to be conservative compared to the rest of SF for whatever that comparison is worth), as well as the Russian crew that came in later along with Filipino. The Asians have also made their presence known, and have opened up some great restaurants, mostly at the inner edge of the Outer Sunset. You hate that the N-Judah or the L-Taraval take almost 40 minutes to get you downtown, then again you love the lack of traffic in your nabe. You hate it, you love it. It's not for everyone. I lived there for 13 years, and am still ambivalent about it. What are ya gonna do…it's a great city, and sometimes, you just gotta live where you can. The free summer concerts at Stern Grove – priceless. Because it's cold and the people in the City consider the Outer Sunset "far", it's relatively one of the cheaper nabes to live in, while also being very safe. This is not a ritzy nabe, it's strongly middle class, with only a few blocks interspersed here and there randomly that seem to have nicer homes than the rest, but they are the exception, not the rule. Most are classic middle class Outer Sunset stucco type homes, though they tend to not be as smooshed together as they are in other nabes.

What's awesome

Golden Gate Park RULES! Proximity to Ocean Beach, Marnee Thai (at 22nd ave, that technically makes it Outer Sunset as 19th ave is the border), Durty Nellie's Irish pub, Thanh Long Vietnamese seafood (killer crab!), Beach Chalet Brewery and restaurant, funky surfy hippy Java Beach Cafe, Cliff House is close, it's next to Inner Sunset (great neighborhood), Stern Grove (killer free summer concerts!), Sunrise Deli – holy scheissenheimer they've got the best falafel in town, seriously!!! Ah, and the SF Zoo of course. There's more but just too much to list here. One very important thing, it's a very safe neighborhood!

What's not so awesome

The cold wet fog; the N-Judah and L-Taraval streetcar lines are like molasses in a San Francisco summer; you are on the extreme West end of town, so not having a car can be rough sometimes; many of the neighbors are not outwardly "social" let's say. The parking meter wh*res are diligent about coming around and ticketing any car that wasn't moved off the street on cleaning days, but then again that will be the case in any SF nabe, I garontee.

Alejandro M.
Some fog, some surf

Since the Outer Sunset is more removed from the center of the city, it's a great place to head for some peace and quiet. Though it's often foggy and a bit colder because it's right next to the ocean, the residents of the Outer Sunset don't seem to mind, since it's such a friendly neighborhood. The rent is usually pretty moderate, and are lower that the city average, so combined with the laid-back atmosphere (and the nearby zoo!) it makes for an awesome place for families with kids just starting out. With Golden Gate Park nearby and the beach down to the West, there are plenty of little outdoor escapes from the city.There are a lot of options for the foodie here, with cozy independent coffee shops and delicious restaurants, including a fair amount of options for the vegetarian or vegan. If you don't mind seeking alternatives to the sun for your main vitamin D source, the Outer Sunset is definitely a worthwhile spot to contemplate relocating to. If you're a tourist looking for a relaxed, beachy alternative to the kitschy Fisherman's Warf, be sure to make a stop here.

What's awesome

Great for families with kids
Affordable
Friendly
Relaxed

What's not so awesome

Not much sun
Not much nightlife
Takes longer to get to by public transportation from the center of the city

Chloe N.
Outer Sunset Not Just For Families

There's recently been a quiet buzz surrounding the Outer Sunset. What used to be a quiet sleepy neighborhood on the Western edge of San Francisco is suddenly waking up from its nap.

Recently mentioned as the best place for families in San Francisco by 7×7 magazine and likened to the next Mission district by the New York Times, this neighborhood is experiencing an amazing transformation.

It's always been a place for those that love the outdoors. With Golden Gate Park to the North, Ocean Beach to the West and the San Francisco Zoo, Lake Merced and Fort Funston to the South, there is a new breed of San Franciscan that is actively seeking to live in this neighborhood.

Businesses here are small but well supported by the community.

We adore our restaurants and coffee shops – Java Beach (both the Outer Sunset and the Parkside locations), Trouble Coffee (coffee AND coconut juice?), Mango Medley (mostly Asian cuisine with a few other dishes thrown in), Toyose (KoreanBBQ! YUM!), Than Long (secret crab recipes I'd kill for!), Outerlands (listed on 7×7′s list of places to eat before you die), Picses (seafood & more), The Pizza Place (yes, it needs no other name, but try the sweet potato fries and you'll know there's more to it than amazing pizza and beer!) and Judahlicious (juice bar featuring raw, vegan & organic treats.)

We brag about our produce stores, both Other Avenues, a co-op that sells a variety of healthy organic food, vitamins and fresh produce AND Noriega Produce (known to locals as Dimitri's) that packs an amazing about of stuff into a small space and hasEVERYTHING you need for a gourmet meal – from locally raised beef to wild caught salmon to Mt. Tam Creamery cheeses and beyond (and some of the BEST produce I've seen at prices that many times compete with farmer's markets when the items are in season.)

We have a variety of Surf Shops, and new local shops like The General Store and The Wood Shop that add variety to our retail shopping experience.

Public transportation is easily accessible, be it the N Judah, the 71 Noriega, the 48 Quintara or the L Taraval. One drawback is that it does take a little longer to get downtown on MUNI from here – but most people don't care because the neighborhood's laid back vibe can't help but rub off on you.

Rentals in the Sunset fall below the average of the rest of the City and the median home price is also lower than the many parts of San Francisco. But these home prices are usually for a house, with a yard and a garage.

Those of us that live here often fear that word about the neighborhood's re-awakening will spread. It's not sleepy anymore and in fact, it's sort of a little hidden piece of paradise – and who doesn't want to keep paradise all to themselves?

And even with all of this, the Outer Sunset

Luba Muzichenko
Beach Bum and Concrete

If you're heading to Ocean Beach on a summer day, you'll likely drive through Outer Sunset. I tend to feel like I am traveling through a small surf town in the midst of urban SF.

Jessie W.